All updates for
July 2023
Yaay, I found another new model locally! Luz is a super pretty blonde, and she is very excited to try my metal bondage gear! I like her already! We started with a RigidFiddle, but instead of just the regular position, I also did the under-knee predicament, which is super hard and it makes the model very very helpless. Luz was determined to escape, and she was really making a big effort to get the key and open the padlock. Her wild struggle made her fall over on her side, which made her even more helpless. Like a turtle… poor Luz!
Luz Luna is available for custom videos and pictures!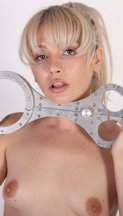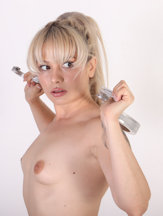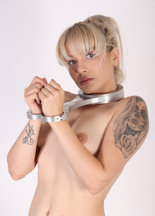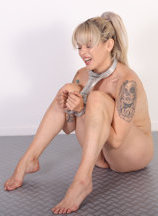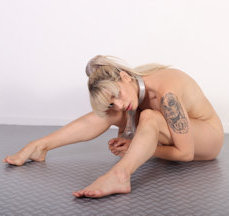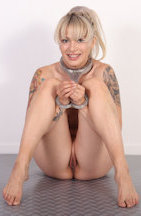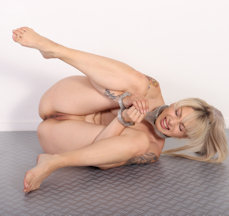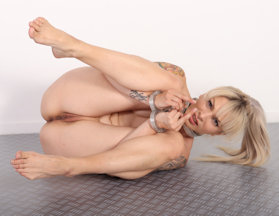 Two famous playmates together in one shoot? I was quite surprised to find out that Dominique knows Aubrey, they are best friends! I worked with both of them before, but they suggested to come to the studio together this time. Soon, they were locked in their personal belts (the trusty custom style chain-back for Dominique, and the rigid NeoSteel belt for Aubrey). They have been belted so many times, they didn't even comment on it. It's just normal for them now. I told them to neck cuff themselves together with two pairs of neck cuffs, and then to kneel by the slave post. Perfect belted playmate slave girls! Who wouldn't like to own these beautiful friends?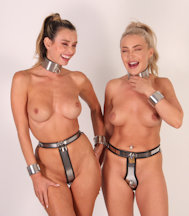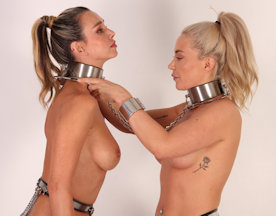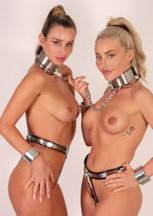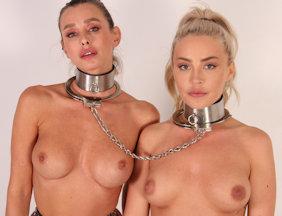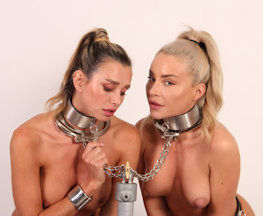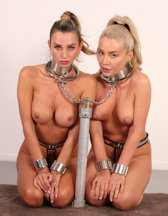 Latex Rapture wanted to try the Steel Hobble Dress! In fact, she want to try all of my gear, so we will be busy for a long time. The dress is perfect on her, with her large boob sticking out. It is very restrictive, you can only stand in this dress (it is impossible to kneel or lie down), and walking can only be done in small steps. With a heavy collar and cuffs, it is the perfect party outfit! I can even lock her wrists to the sides of the dress to make her completely vulnerable and helpless. She loved it!
Did you know I am organizing a Doll Day with Latex Rapture in my studio on July 22nd? It's a unique opportunity for a peek behind the scenes of MetalBondage.com. Check out https://fetlife.com/events/1331933 for more information!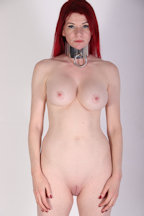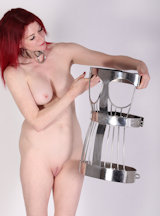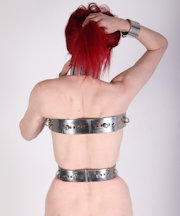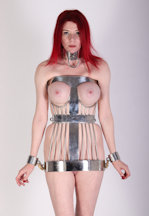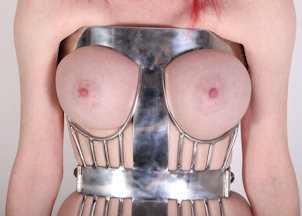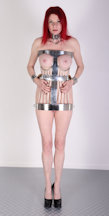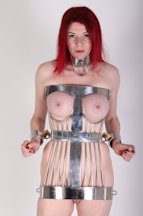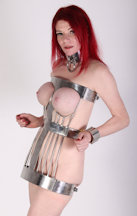 Yes, this is the original Pichard Cage from House of Gord! I am so honored to be able to shoot with this device, think of the famous models who have been in this cage! Lady Lyne was a bit too curious about it for her own good, so she got locked into the cage wearing a heavy metal collar (which made it harder) and thick metal wrist cuffs. The position is incredibly hard. The arms over the bar require constant balancing in a very cramped space, but that's really difficult to do with a big dildo holding you in place. Lady Lyne was exhausted after this shoot!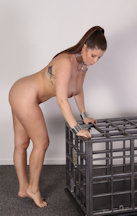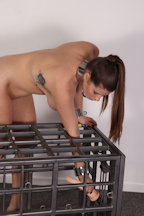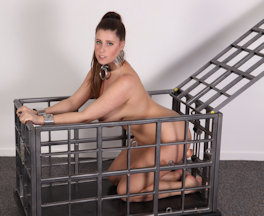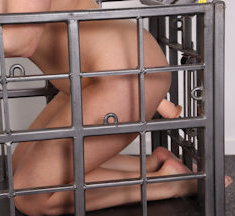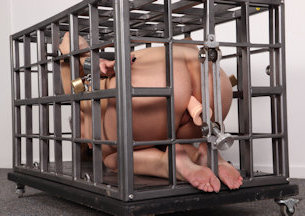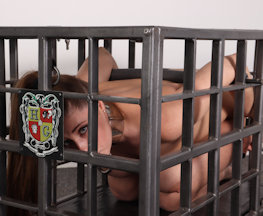 Rachel Adams always suffers so beautifully! She is a tough one, living the life of a true bondage model. Rachel gets tied up and gagged every day, and she never stops! Such dedication and toughness is rare. I decided to test her with the heavy posture trainer, locking her wrists behind her. A large ballgag is a must for Rachel Adams of course! Then I clamped her nipples to a 2 kilogram weight (even more than that, because I used a metal cuff as well), and she was left there. Suffering, moaning, drooling. It's Rachel Adams! She is incredible!