All updates for
July 2021
Please welcome Lady Lyne to MetalBondage.com! Her beautiful body just demands metal devices! We might have the perfect contraption for her first time here: the Steel Hobble Dress. It is just her size! Lyne's large boobs stick out through the openings and her butt is exposed. This is a very heavy and very restrictive device. You can't sit down, and with your hands locked to the sides, you can't even reach the key that is on the floor, as Lyne soon finds out. Perfect metal bondage struggling!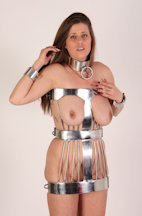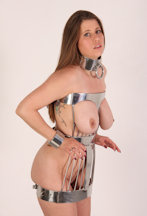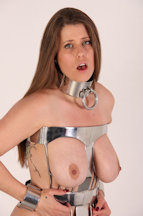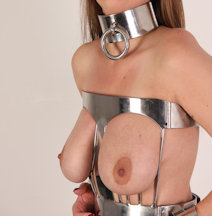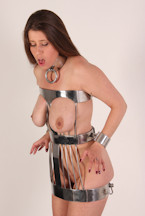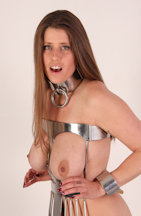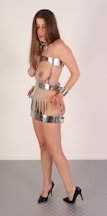 Two tiny slave girls with ultra sensitive nipples are going to get a training they won't easily forget! They are told to ballgag each other, then lock the collars to the double slave training post. The dreaded nipple clamps are locked to the post as well and their hands get locked behind their backs. Will they be able to free themselves? Or will they just cry and drool because their poor nipples hurt so much? Don't worry, Polina and Nedda were fine, although watching this video is not for the faint of heart, it is really a nightmare for these tiny sub girls!!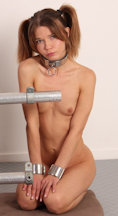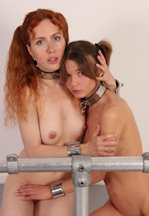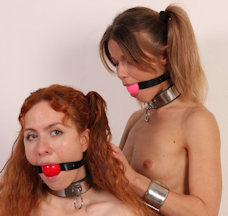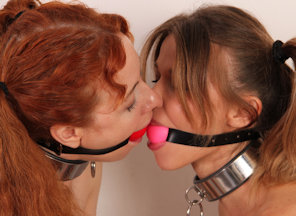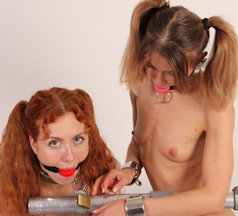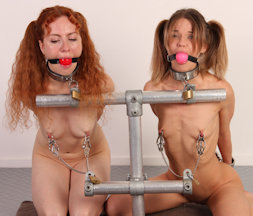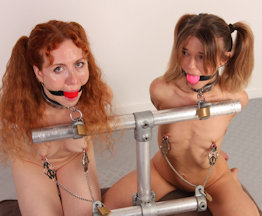 What if a One Bar Prison could move up and down? I just had to try it! Combining the One Bar Prison with a Fucking Machine makes a very fun challenge for new girl Nina Grace. She is standing in extreme Pleaser Domina heels, so she can't lift herself up, she is already on her toes. The dildo can move freely inside her, up and down, but it is still holding Nina in place. This turned out to be a rather difficult situation for her, as she got more and more aroused, but she still needed to focus on standing straight. Don't try this at home!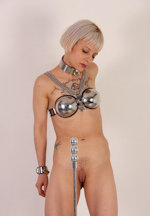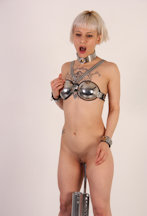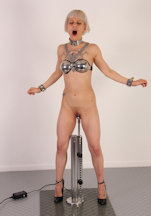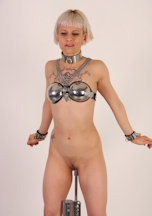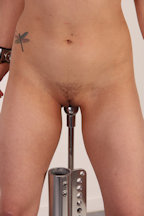 Julia Green! Such a cheerful and happy creature. She is just amazing. Locked in her My-Steel belt and her big collar, she was eagerly awaiting what was in store for her. But unfortunately, it was not something to smile about: dreaded clover clamps! Julia hates these, they hurt her so much. She put them on herself, and before she could take them off, her hands were locked in steel mitts already. She was gagged – another thing she doesn't like because she is a massive drooler – and soon she was on her knees with her nipples locked to a 2 kilogram weight on the floor. She tried everything, but there was no escape!