All updates for
July 2010
Our submissive pet slave Christina is back! She is in a chastity belt, heavy collar, wrist cuffs, and ankle cuffs. A five point restraint system is assembled to keep her in a nice sitting position. This device is very heavy, but Christina doesn't complain… she never does. For the video, we put Christina in a doggy style position, securing her collar, wrists, and ankles in a very rigid way. It will be nice to watch her cope with this. Sit back and enjoy… a classic beauty in steel!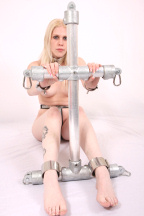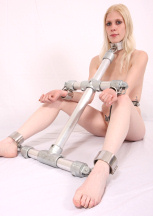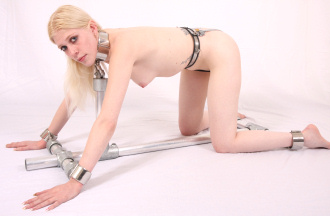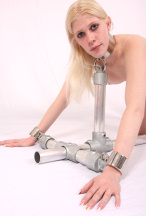 Blonde and tanned Natalie is a little peculiar, she insists on keeping her panties on, even when she has to wear a chastity belt. It makes her feel less vulnarable. Well, we think that being locked into a Rigidstock and chained to the ceiling is vulnarable enough ;-) Natalie soon finds out that being nipple clamped really hurts, and there is nothing she can do to stop it. But wait: there's one thing that hurts even more… can you guess what it is? Find out by watching this week's great video clip!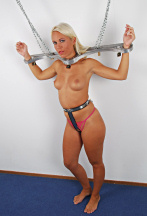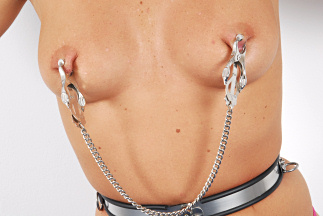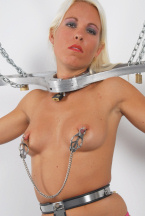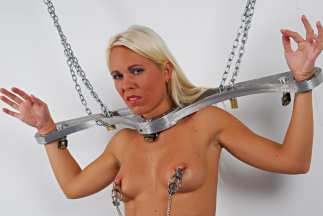 We found another pet slave for our collection! Penelope is very tall, proud, and full of temperamental spirit. In other words, she is someone we love to see completely helpless in metal bondage! And Penelope has a problem already: she is very tall and our waist belt is a custom made one-size only. Will it fit? As you can see, it does, although it is very very tight on her, giving her that great hourglass look! This is hot! We make her sit on a low rail and lock her ankles and wrists to the ends. Penelope is collared, waist cinched, and on her knees. Not bad for a first time! She already promised us she will be back for more, so we can't wait!!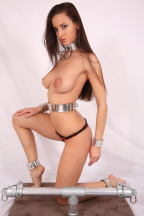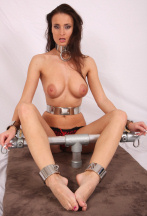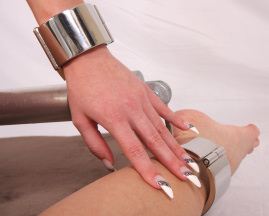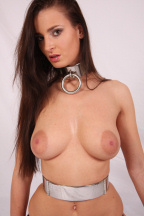 Jenny is still not serious about being a MetalBondage pet slave, she loves fooling around, no matter what we do to her. Oh well, as long as she is not escaping, we don't care. When we showed Jenny our RigidSpreader she immediately grabbed it and wanted to try it out. Don't you just love her enthusiasm? We took the opportunity to try out a new RigidSpreader position: Jenny's arms go under her knees and then into the spreader. This makes her bend over even more :-) For the video, we filmed Jenny lying on her back, unable to get upright, playing with the RigidSpreader. She really seemed to be enjoying this one!