All updates for
March 2017
Uh oh! Darina is in some trouble! Well, that's how these 'peril' websites would describe it. We would just say: Darina is locked into a lot of heavy metal restraints, chained to the wall, with a magic wand vibrator pressed against a strategic spot. This isn't peril, or trouble, this is awesome! Darina's neck is firmly fixed to the wall, her arms and legs spread out wide. There is nothing she can do to stop the magic wand from doing its job. Maybe she doesn't want to stop it, we can't really tell. It looks like she is having a good time, what do you think?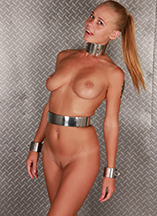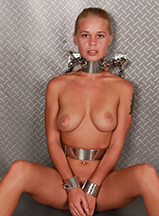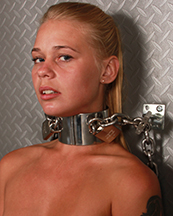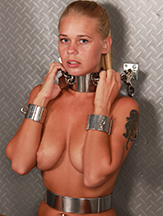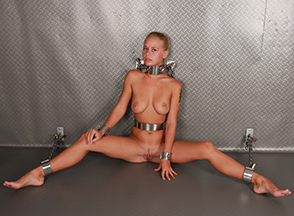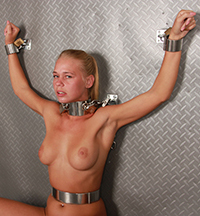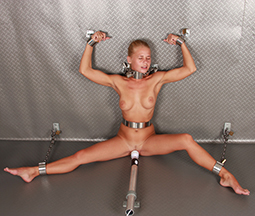 We found some awesome new pipe connectors! They open, so we immediately wondered if a girl's wrist would fit in them. There's only one way to find out, so we invited the awesomely gorgeous exotic Yasmine to do a little experiment. Yasmine is a real life sub, which is a good thing, because she can hardly be dominant with those innocent eyes and cute lips! She was locked back into her chastity belt before she knew it, and she was a bit scared of the metal bits lying on the floor. These pipes are heavy! Yasmine's wrists fit in the connectors perfectly! We attached her spreader pipe to a fixed pipe in the floor, so Yasmine could only kneel and wait. No escape!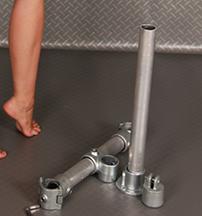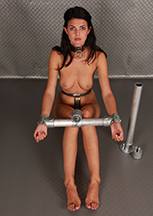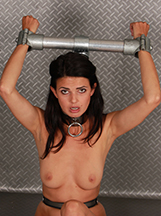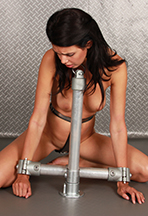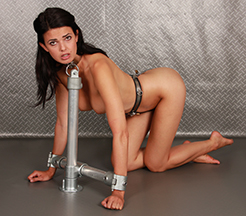 We took our heavy One Bar Prison with the missile dildo to an empty office building to shoot something different. We just needed a reluctant model for this idea, and there was no one more reluctant than the famous and gorgeous Tina Kay! She wasn't sure what we wanted to do, but she likes anything with dildos so she went along with it… at first. Once we got her stuck on the One Bar Prison, she found out that there was no way she could get off. Because she was wearing high heels, she was completely stuck, impaled on a heavy steel pole. We told her to put her dress back on and moved her closer to the window. Now Tina was displayed for everyone to see, standing in front of the window, but she couldn't move. And no one could tell she was stuck. Awesome!