All updates for
August 2017
Our custom made heavy stocks are really HEAVY. Cobie could barely lift them. So we were kind enough to lock her into the stocks, because the weight is divided much better when you are actually IN them. Cobie struggled a little, but there was no way to get out of the stocks. We added a ballgag so Cobie wouldn't protest to our next evil idea: adding heavy chains and clamps to the stocks (making them even heavier). The evil part was: the chains were too short for Cobie to stand up straight. She would have to bend over or kneel down, trying to balance the weight of all this steel. All she could really do is kick off her high heels to make things a little easier. But Cobie was stuck in a real heavy metal bondage predicament!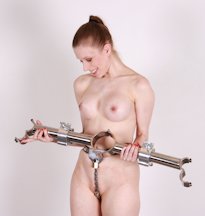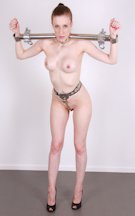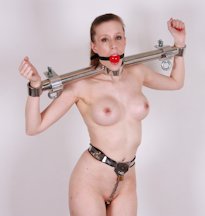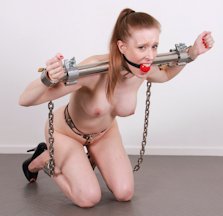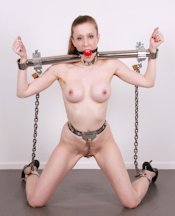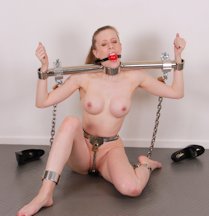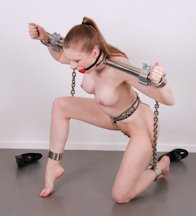 Stella Cox is so cute! She wants to try everything in our studio! Really everything? Yep, she loves it all. She had seen the One Bar Prison with the solid missile head, and she really wondered if it was inescapable. Stella asked if she could have a go, and we were happy to let her try. But not without a few modifications though! We changed the missile head for a much larger (and longer) 3-ball dildo. And we also added a spreader bar with heavy ankle cuffs to make sure Stella wouldn't go anywhere. Actually, the ankle cuffs were not needed of course, it is a One-Bar-Prison! There is no escape, even without any other bondage going on! Stella loved it, she exclaimed: "I'm impaled!!". That's a good thing apparently.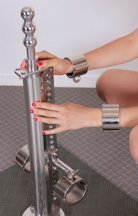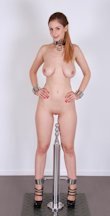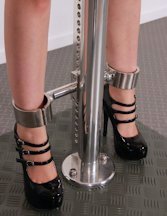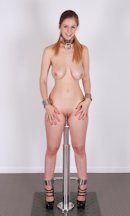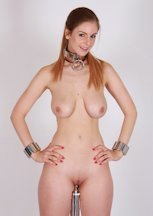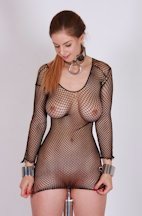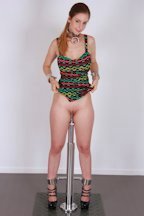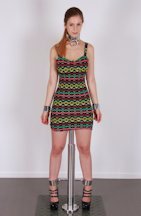 New girl Charlotte is super tall! But she still fits into our gear, because she has an amazing figure. Small waist, neck, wrists and ankles. Perfect for our heavy custom gear. Even elbow cuffs fit her very well. It's been some time since we built a metal hogtie frame, so let's chain her to one of those! Charlotte thought this introduction was a little harsh, she couldn't even move at all! The heavy collar was pretty tight on her, so she had to keep her head up all the time. Poor tall Charlotte… she really got challenged on her first shoot!