All updates for
November 2014
People ask me: 'why does Tegan get the harsh treatment on your website?'. True, she has been in the extreme Posture Fiddle, chained with heavy shackles, and nipple clamped. Plus she never got her first shoot without a chastity belt. It's because she is just so much into bondage! This cute blonde angel is a true sub and she likes hard bondage!
This time, a belted and collared Tegan encounters a strange pole with two heavy chains hanging off it. She wonders what might be in store for her this time! I tell her to put the ankle cuffs on and lie down with the pole between her legs. She is then hogcuffed to the pole, and there's no way she can get out! Her awesome boobs are hanging over the edge of the platform, and she starts begging and sobbing after a few minutes already. Don't fall for it, she loves this stuff! My gorgeous bondage angel Tegan! Can't get enough of her!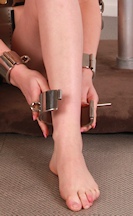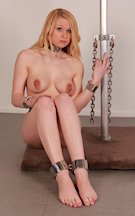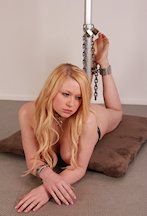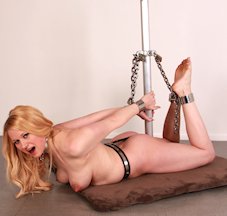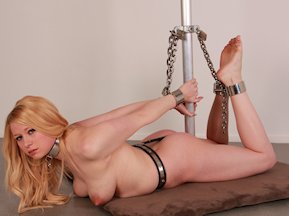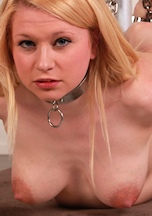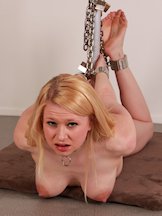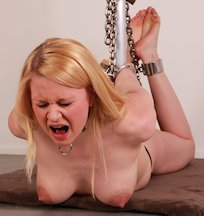 As requested, we managed to get young Emily from India back in our studio for a second shoot (for the first one, click here), and we all know what happens on a second shoot: a chastity belt is mandatory! This exotic girl wasn't exactly happy in her tight belt. She really loves escaping things, so she attacked the belt in every way she could. In the end, we just had to lock her into a RigidFiddle model '8' to keep her hands away from the belt. Of all the girls I have fiddled (over 200), only 2 ever managed to escape when the padlock was underneath the fiddle. Will escape artist Emily be the third girl ever to manage this feat!!?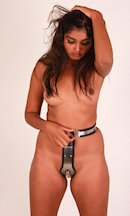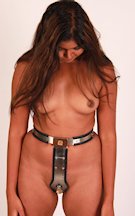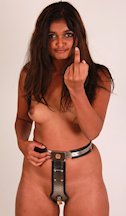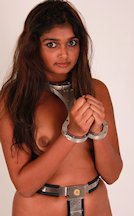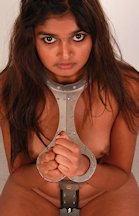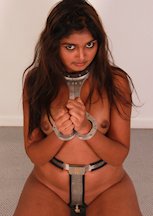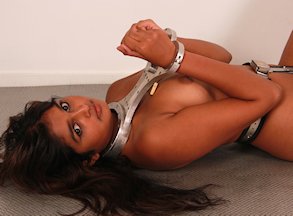 As I had the amazing Hannah Claydon in a chastity belt and collar for 24 hours anyway, why not play with her a little bit!? I mean, what's the harm? Unlike most models, Hannah actually has 8 attachment points instead of 6. Yes, work that one out in your head… ;-)
A pair of neck cuffs are such a perfect fit for Hannah's boobs, it just has to be seen to be believed! Yes, she is really cuffed to an overhead frame by her boobs! I restrained her wrists to spread her arms out, and a chain across her lap, to prevent her from standing up. But all this wasn't really necessary, as I found out later in the shoot. Even with all other restraints removed, Hannah could still not escape from the frame. Cuffed only by her boobs, she was completely stuck until someone with a handcuff key would help her. Watch her get frustrated by the idea that her boobs can keep her from going anywhere!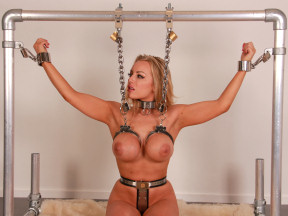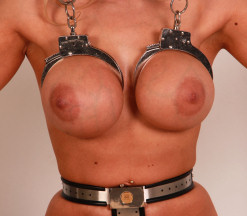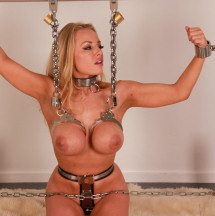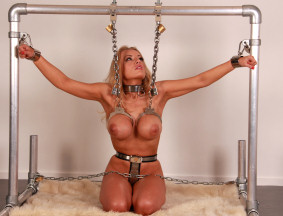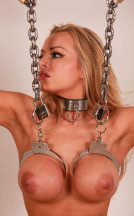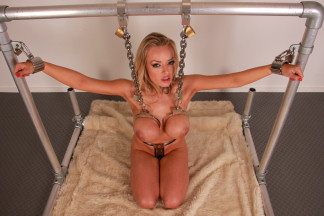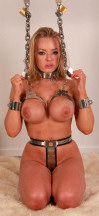 Yvette Costeau likes to call herself 'Yvette Extreme'. Well, let's test her a little to see if she can live up to this title! One of the toughest bondage girls in German, Yvette is used to being contorted in all kinds of rope bondage positions. But metal is different. It is unforgiving, and heavy. We built our favorite hogtie frame again and chained Yvette to it. Ankles, wrists, elbows, and her head. The heavy collar is a real challenge, because it is a bit too tall and heavy for her head to be tilted back by the suspended harness gag. This is the perfect storage device for 'extreme girls'. Let her struggle and drool (a lot!!) for a while. She will get tired eventually.