All updates for
June 2018
The spectacular Dani Divine is back! Wearing one of her many amazing outfits (and towering heels), she seems ready for a new challenge. We add a tight collar and heavy wrists cuffs, because we think it makes her outfit look even better. Dani liked it and she posed like it was a fashion shoot. Until we added the custom made Upper Body Harness to her collar with a huge padlock… now Dani was getting a bit worried, especially when we crossed her wrists behind her back and chained them to the steel harness. She was helpless now, even with the key right in front of her there was no way to escape this metal contraption. A stunning girl helpless in metal, don't miss it!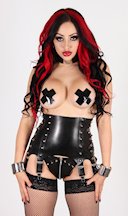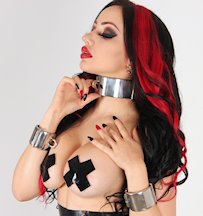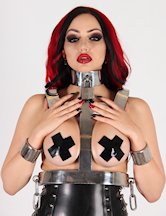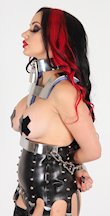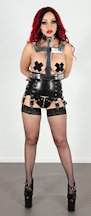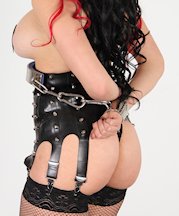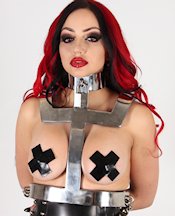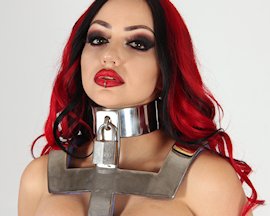 Cute blonde Misha has been in metal bondage many times before. Today, she brought her friend Bridgette to be locked in steel for the first time in her life! Exciting! We decided to have this belted duo on the double kneeling post, to see if they were submissive enough to actually padlock their own collars to the steel bar. In their chain style chastity belts, locked collars, and wrist spreader bars, they were probably feeling quite sub already, as Misha showed her friend how to lock their O-rings to the metal pipes. Kneeling next to each other, they waited for their next instructions. Very good! Bridgette is a nice addition to our model collection!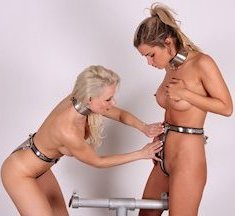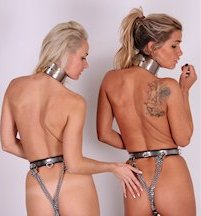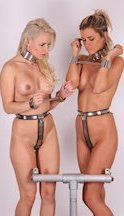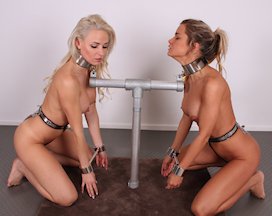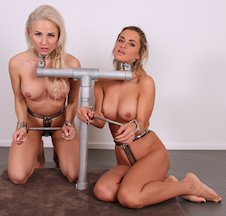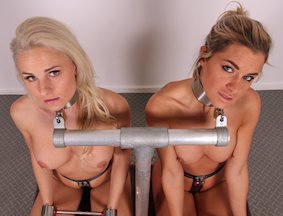 We have done some stork (or scavenger's daughter) devices in the past, but in a true MetalBondage.com fashion, we needed to upgrade it a little bit with some heavier steel. And more spikes! More spikes are always good. Cute girl Kerry just happened to be around so she was the first one to be locked in this extremely heavy contraption. There was absolutely no way for her to move (at all). All she could do is sit there. Which is not easy in a chastity belt either. We even added a ballgag, Kerry was completely helpless! She loves it, don't worry. It was a very frustrating and HEAVY experience, according to Kerry, who has already contacted us to come back for more extreme immobilization soon! She is so awesome!