All updates for
July 2020
Nina and Nelly are back! These girlfriends can't stop touching each other, so we locked them in chastity belts (of course). As you may remember, last time they kept trying to kiss each other, we had to separate them by locking their necks to the slave post. Today, we have a better solution: two Scold's Bridles! Now they can try to kiss all they want, but their masks are locked on and can't be removed without the keys. Nelly is locked in a Carrara Locking Mask, and Nina is locked in our own Scold's Bridle. We neck cuffed them together, which was even more frustrating. Now they are stuck together but their chastity belts and masks prevent any intimate contact! Very unhappy metal girls!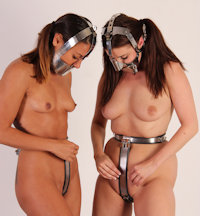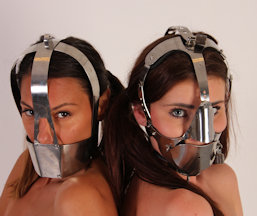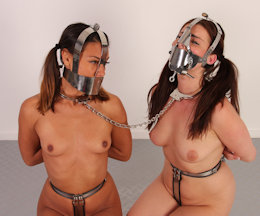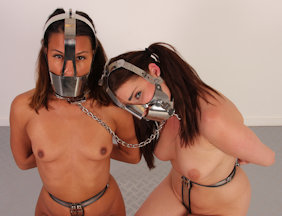 Let's try something new today: we put Cindy Dollar on the One Bar Prison, but we didn't fix the dildo in place. Instead, we attached strong springs to it so it would move up automatically. Now this was extra frustrating for Cindy, she could push the dildo down by bending her knees, but every time she went on her toes to escape her impalement, the dildo moved up with her. Even without high heels (normally required for a One Bar Prison) it was impossible to escape, and a lot of fun to see her move up and down with the dildo staying firmly in place inside her. Of course, she would have been able to push it down with her hands and step off, so we had to lock her in the Iron Crown for extra security. Don't miss our latest invention video and picture set!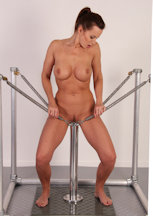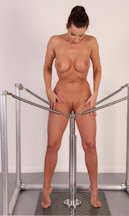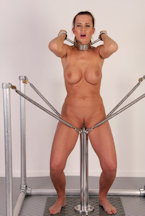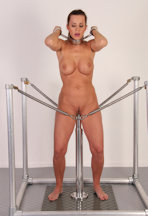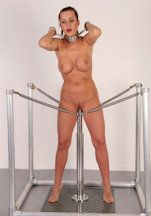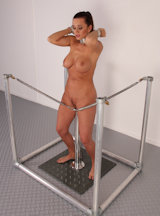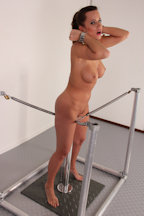 Tiny Little Lanta always seems to get herself stuck in the most impossible ways. Well, actually we like to help her get stuck, she is so flexible! Curious about the RigidSpreader, Little Lanta was soon locked in this device, rolling around on the floor. Until we secured these stocks to the floor. Now Little Lanta was completely helpless, exposed, and in a very interesting predicament. She couldn't wriggle around anymore now. It's a really awkward position to get stuck in! Don't miss this update, the poses and video are awesome!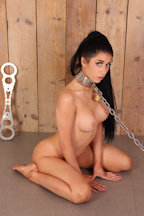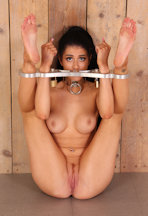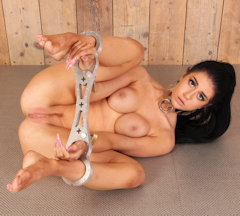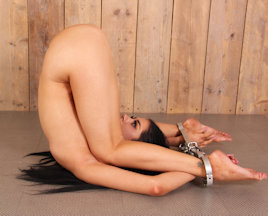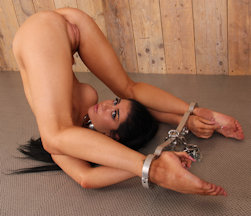 Young Diamondly is only 20 years old, but she already knows she wants to become a big bondage star! She will need a lot of training and experience for that, so we decided to help her a little. Diamondly can't really handle clover clamps very well (yet), and we thought it would be great to build a training machine for her. We secured Diamondly firmly into place on a metal frame, her legs, neck, and arms locked. She couldn't move at all, very essential for the Nipple Clamps Training Machine! A huge ballgag would hopefully stop her from making sound. It didn't. Diamondly drooled, screamed, and cried as the relentless machine did its job of pulling her clover clamps over and over again. And then we turned up the speed…