All updates for
January 2017
Lola! She is so funny, thinking the RigidSpreader Jo-2 is a futuristic weapon of some kind. Locked in nothing but a heavy custom collar, she does some classical poses, with this device, turning it into a bow, a bat'leth, or an axe. Very fierce, but after about 10 minutes of this we had seen enough and locked Lola into the device, the way it is supposed to be used. Turning this wild red head into a helpless nude slave, unable to struggle, is much more fun than any pretend warrior stuff. Of course, Lola protested she wasn't done playing around, but we quickly stopped that using a huge ballgag with a locking chin stap, which muffled all sounds from our nude helpless warrior girl.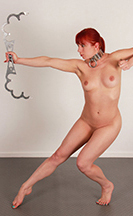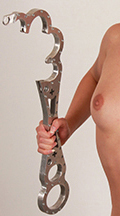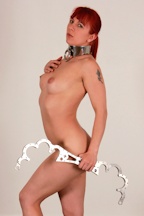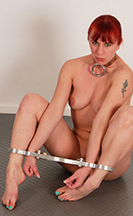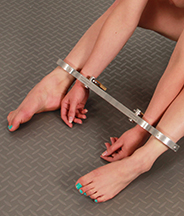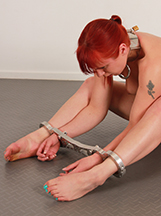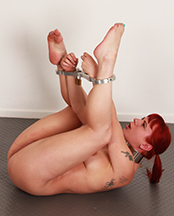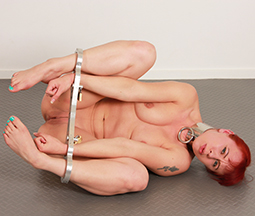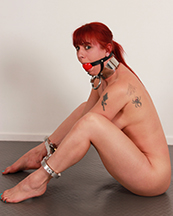 The awesome Little Caprice is back! Locked in a chastity belt, of course, she is way too naughty to go without some protective device. She wondered what would happen to her this time, and she soon found out. She was locked in the custom made Posture Fiddle! This rigid fiddle with a tall posture collar is very harsh. It is impossible to move at all, and Caprice was clearly hoping she wouldn't be in this device for very long. But it only got worse: her ankles were padlocked together with very heavy ankle cuffs. And she was chained to a post. When she tried to complain, a ballgag was added, much to her surprise. Don't miss this incredible update, it is Little Caprice in unforgiving metal bondage, it really doesn't get much better than this!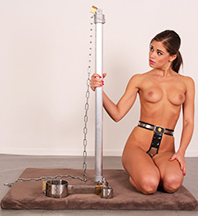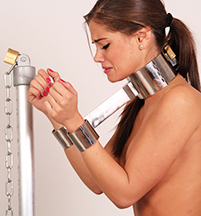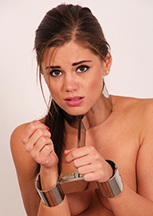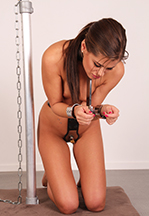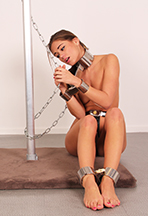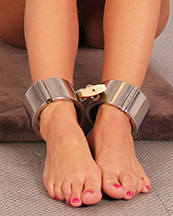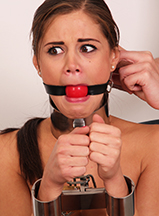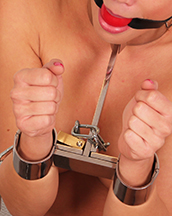 We found a shoot from a few years ago that was never published. We were trying out all kinds of new equipment and one of our regular test subjects was the beautiful Leyla Gold. The locking Breast Press was one of the items we tried on her, even though here boobs probably didn't have the ideal shape for this device. Still, we were able to tighten the screws on her boobs, and since the device is locked behind her back, there is no way she can get it off her chest! Of course, Leyla always looked amazing in a heavy collar and heavy waist band, with her arms crossed and locked behind her back! Definitely worth a look!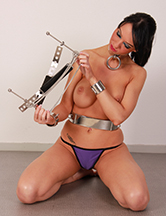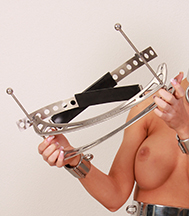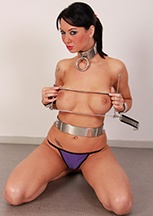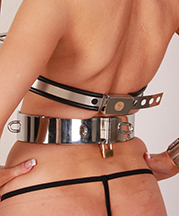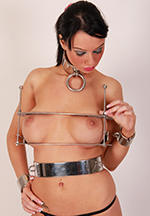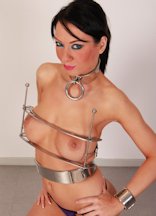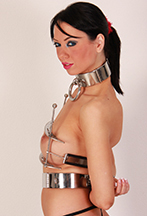 Mea from Hungary wants to become a bondage model! She has applied to all websites she could find, and she is quickly learning and eager to try everything! We must have triggered something when she was here two years ago, captured in heavy shackles and chains. Or probably she just needs money. Anyway, we are going to have a great time playing with Mea. Since it is her second visit, she will be locked in a tight chastity belt from now on. And the first device she is going to try is the awesome RigidStock TL! Let's see if Mea still wants to become a bondage model after today!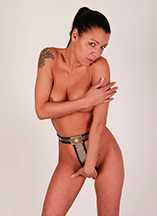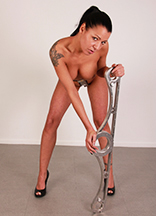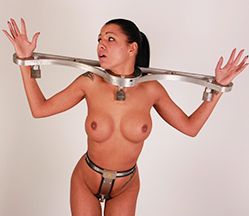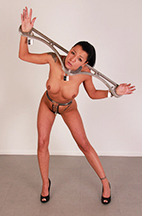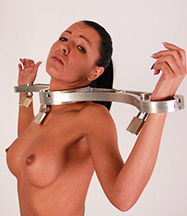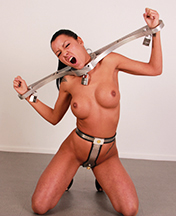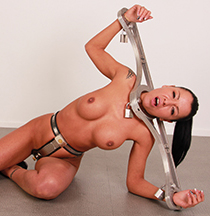 We thought it would be fun to lock heavy metal onto Cobie's slender arms until she literally couldn't move them anymore. Cobie thought that would be fun too, but after a few minutes she realised that this wasn't an easy predicament. We placed the key inches away from her fingers, but she simply couldn't move her arms to grab the key. The metal was tight and heavy, handcuffs alternated with custom wrist cuffs, and a pair of handcuffs on her elbows plus heavy elbow cuffs above those. Cobie is easily flexible enough to have a regular pair of handcuffs on her elbows, and to be honest, that would have been enough to restrain her without hope of escape. But we like overdoing it, and Cobie loves it too!