All updates for
January 2021
We found this new incredible life style submissive called Ballet Sub Ella! She is every bondage rigger's dream! Ella has been trained for decades to walk on her toes and she always does so. She is incredibly flexible and can be tied and restrained in any position! Imagine a professional ballet dancer gone full time nude bondage slave, that's Ella! Of course, we put her in a heavy steel collar and cuffs, and then we just chained her to the wall in a full split pose! Wouldn't everyone just love to have a wall ornament like Ella? Stay tuned for more Ella soon! The possibilities are just endless!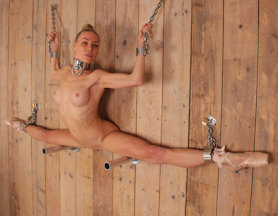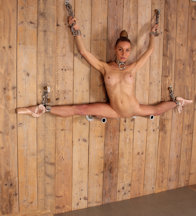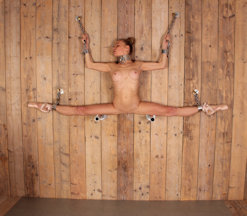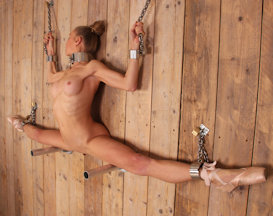 Please welcome Nora Sparkle to MetalBondage.com!! She is a local fun loving girl, a submissive, and always in for a new challenge! The first thing we made her try was the RigidSpreader Jo-2, because we know it's always fun to see girls try this unique contraption, rolling around on the floor, unable to escape. Nora is also locked in a heavy collar, which looks amazing on her! Of course, she rolled around too hard and she ended on her back like a turtle, completely helpless. This new girl-next-door, with her blonde hair, blue eyes, and large boobs could be our next big star! She wants to try EVERYTHING we have!
Nora is available for custom shoots! She would be happy to do whatever you have in mind for her! Email [email protected] to order your custom video!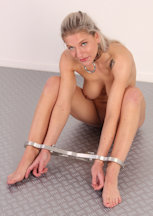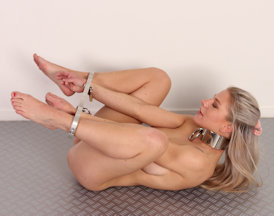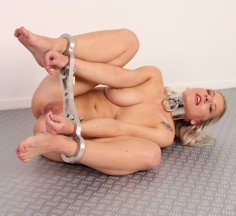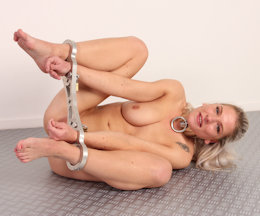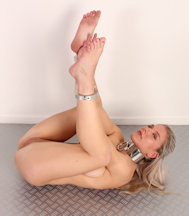 Our newest invention is the spring loaded One Bar Prison! Members have asked if it is possible to put a spring mechanism inside the One Bar Prison, so the dildo will be pushed up all the time. We found a very high tension industrial spring that fits! Lucy Lauren was brave enough to try it, but it was pretty scary! The problem, of course, is that it's no longer a real Prison, because she can push down the dildo pole with her hands and step off. She we fiddled Lucy, now she couldn't escape anymore. It was very frustrating, she could go down but she could not step off it. We even made her take off her high heels, which was a HUGE challenge! You have to see the video to see how well this worked! Amazing!
Also: don't try this at home :)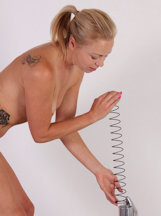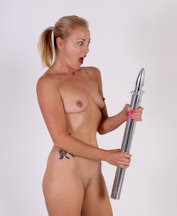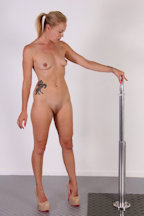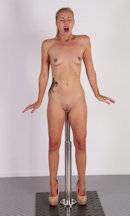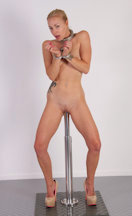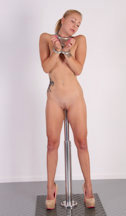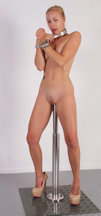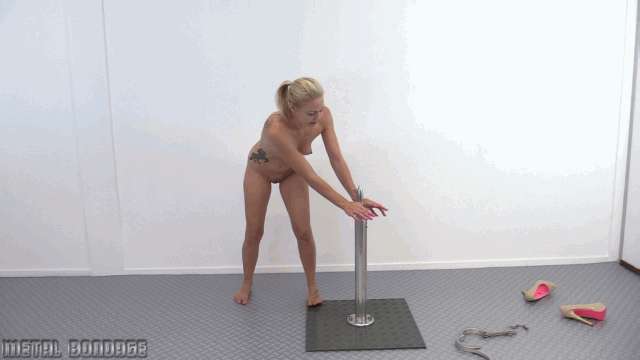 I can't believe I never challenged my freckled big boobed friend Lisa to a MetalBondage.com shoot! It's about time this beauty got locked in steel! Lisa had no idea what the shoot was going to be. I locked her wrists and ankles to a frame, so she was very stretched out. Then I attached nipple clamps to the frame above her using a high tension spring. Lisa was now stretched in three directions. Every little bit of movement hurt her nipples. Lisa soon started to regret saying yes to my challenge!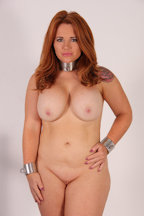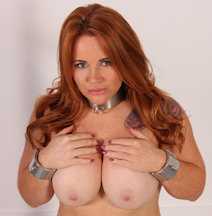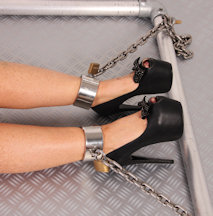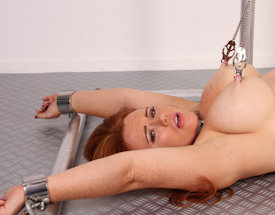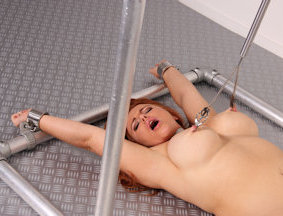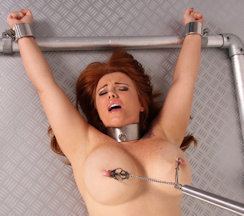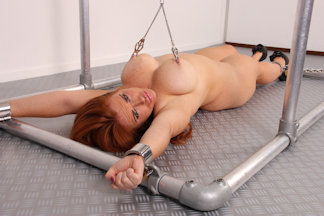 Thiccy Niccy is a real life submissive fitted with a permanent nose ring. We like her piercing a lot! It's so easy to lock her to a slave post, it only requires a small padlock, and there's nothing she can do about it. We lock Niccy's nose to a heavy attachment point on the metal pipe and tell her to wait. She is locked in heavy steel: collar, cuffs, and chained ankle cuffs. Her wrists are locked behind her back. It's nice to watch her, she can't get away from the pole, locked by her nose. Then we come in and lower the attachment point all the way to the floor. Niccy has to move down with the short chain. She is now in a real slave position, no way to get up! All slave girls should get a permanent nose ring!