All updates for
March 2014
For years, scientists have tried to find a solution to this age-old problem: how can you get a girl to wear a chastity belt AND a waist belt at the same time? We even did quite a few shoots without chastity when a metal waist band was required for the bondage position. But now, with the help of the stunningly tiny fashion model Sylvie, we think we found a solution! We figured if we just use elbow cuffs and attach them to the waist band, it will keep the waist band high enough to allow for a chastity belt to be fitted. The problem is, the elbow cuffs and waist will drop down inevitably… so we solved this by keeping the arms slightly bent with a spread bar! Brilliant! Take that, scientists!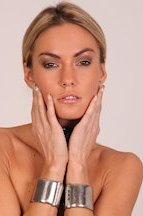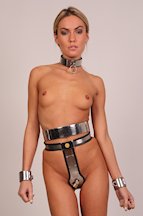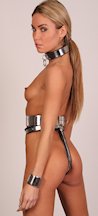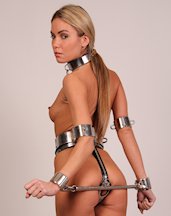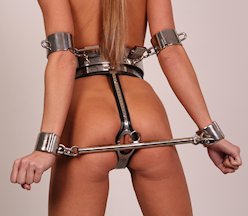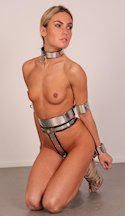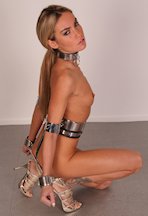 Long haired Pling was feeling a little playful (must be the chastity belt that she now wears almost permanently)… very playful even! Toying and hanging around the Globe Cage, we think she just asked for it: a nice afternoon in this steel round prison! A whole afternoon? Yes, why not? Pling loves bondage, and we love seeing her in bondage, so we gagged her, locked her wrists to the cage, locked her ankles outside the cage, and she was all set for an afternoon of fun! Well, maybe she didn't like sitting on hard metal and drooling after about 2 hours, but that's not our problem! Enjoy watching Pling trying to plea her way out with her sad eyes and whimpering!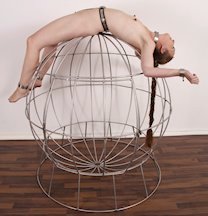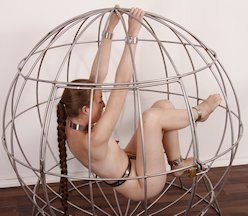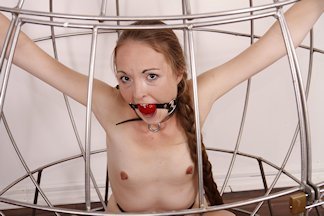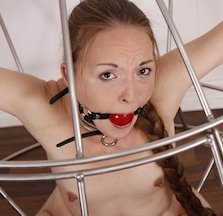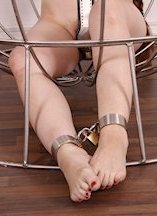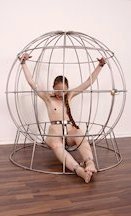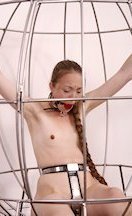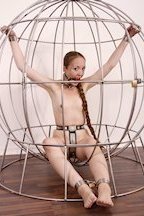 Your requests have finally landed Dany in a chastity belt! This agressive woman did not want to be belted, and she definitely didn't want to get used to it. She just kept tugging and pulling on the belt so much, we had to chain her wrist overhead to prevent her from grabbing her belt. And when she kept complaining, we ultimately had to put a spreader bar between her heavy ankle cuffs, to sit her down with her wrists cuffed high above her. She will get used to the chastity belt, don't worry, some girls just take a little longer…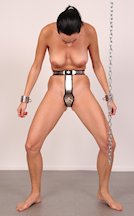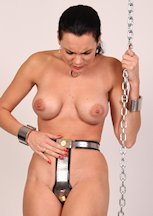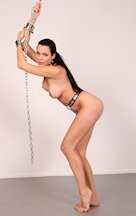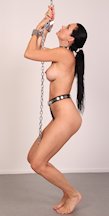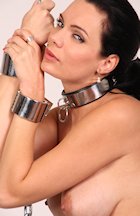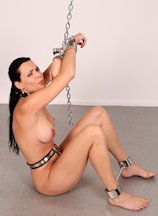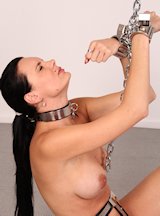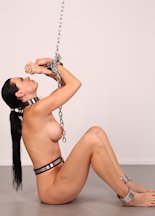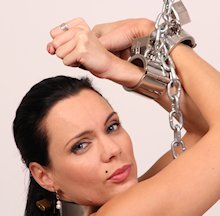 'Yaaay a fiddle!', exclaimed tiny young fitness model Megan when we pulled out the RigidFiddle model 8. Completely naked except for a tight chastity belt, Megan's innocent wide eyes betrayed the fun she was having. This girl loves metal! She is new to MetalBondage.com, and a fiddle challenge is always good to break the ice. Megan smiled when we dangled the key above her, just out of reach, she couldn't wait to try to escape! We have to admit, she tried very hard, but it wasn't until we told her a special little trick that she managed to escape from a RigidFiddle model 8 with the lock underneath! Curious? Check out the video!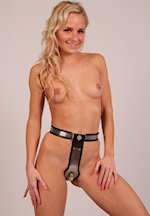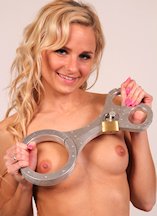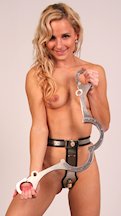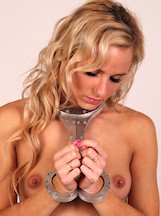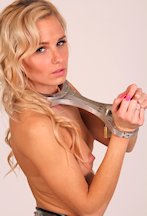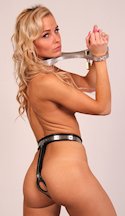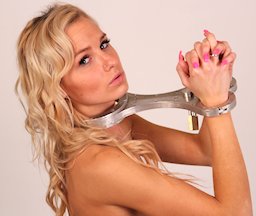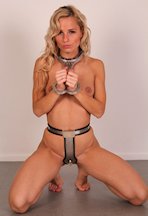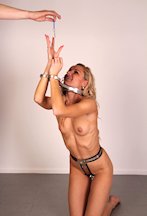 Gather round! We have created another awesome device, it is mind blowing! After months of testing and adjusting, we are proud to present: the Posture Trainer! This seriously heavy device features a tall posture collar connected to a wide waist belt. It is also fitted with upper arm cuffs, and wrist cuffs. Everything is adjustable but completely rigid. The device weighs in at almost 10 kilograms, so we suspended it from a frame to lock our gorgeous Nicole into it. She is completely powerless, her upper body and arms are in total rigid metal bondage. Every part of her upper body is fixated. We then proceed to unhook Nicole from the frame, leaving her completely helpless with all the weight and rigidness locked onto her! This is a must-see update! Don't miss it!