All updates for
June 2016
Don't you just love it when models return after a few years! They just can not resist! Kayla Louise is even more beautiful than before and getting her nude and in steel is always a good thing! We have a brand new device for her: a RigidFiddle model '8' in a smooth steel finish! It may look familiar, but if you look closely, you can see it is a new fiddle, made entirely out of solid steel. Don't be fooled by the sleeker look, it is actually more than twice as heavy as a regular RigidFiddle (which are made from aluminum). Kayla is also locked in a waist belt, connected to her ankle cuffs, so she can not stand up (not really anyway). Great to have her back!!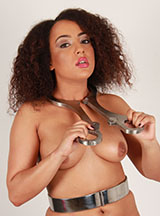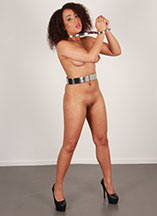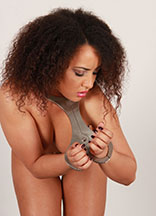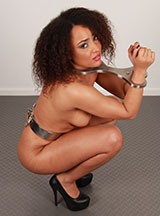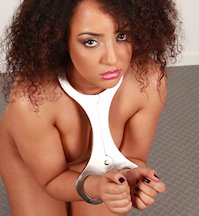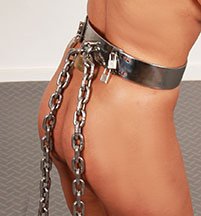 Please welcome the incredible Sophia Smith to MetalBondage.com!! We are so proud to have her (in metal)! Sophia likes a good bit of bondage, she told us. And by that she means rope. But we don't do rope. We do very heavy metal devices. And we make sure the models don't get too naughty by locking them into tight metal chastity belts. Sophia was in her FancySteel chastity belt within seconds. And the Ballet Stocks are an even better tool to stop her from touching herself. She was determined to escape from this seriously heavy device that made her keep her hands raised high above her head. Sophia is so awesome, we could watch her struggle all day long!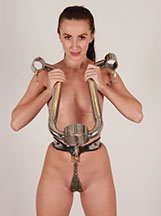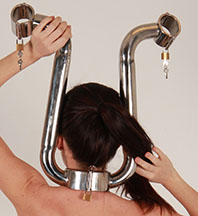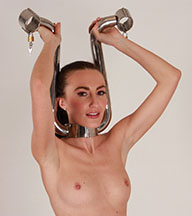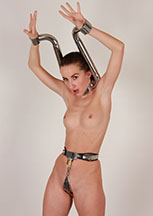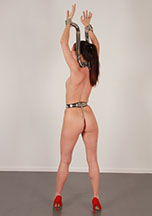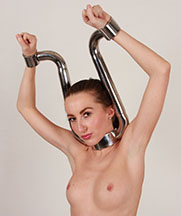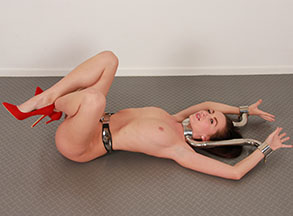 What if… a girl has awesome boobs and you want to play with them all day? She will probably try to stop you, at some point. Or at least cover them with her hands. Well, there is a device that will leave her defenseless and available for you to grab whatever you want. It is called the RigidStock TL and Katie Thornton is about to discover how effective it really is. Actually, she wanted to try it herself, and we didn't stop her. She is so spectacular, and Katie in a RigidStock… it does not get much better than this. Well, at least she is wearing a chastity belt for some protection. But those booooobs!!