All updates for
December 2013
Pictures don't really show how petite Cory Spice is, but we managed to find her a collar and chastity belt! And to get out of those, she will have to take the nipple clamp challenge! Training Cory has been going pretty well, she even obediently folds her arms behind her back when she is waiting for instructions. Her huge boobs have very sensitive nipples, so this self clamping will be pretty hard on our poor slave girl! Will there be a sound? An expression of pain? Will she take them off right away or can she manage a longer clamping? And does she realise taking them off hurts even more than putting them on? Don't miss it!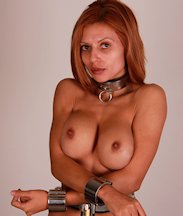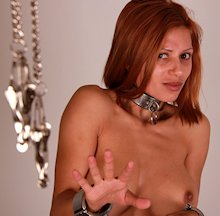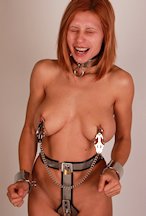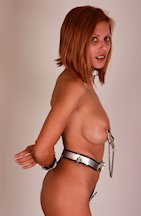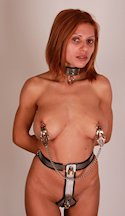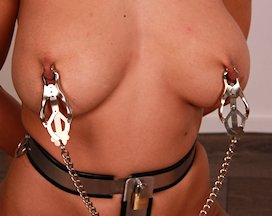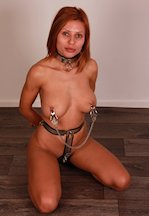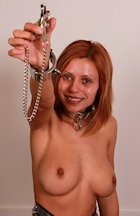 Ashley Bulgari introduced many of her friends (Tea, Tiffany, Tracy) to MetalBondage.com, and today it is time to bring in Eileen Sue. They appeared together on www.chastitybabes.com before, where they were custom fitted with colorful full chastity outfits! Of course, they had to be locked into those for today's shoot! Ashley and Eileen look incredible in their belt and bra, and we thought they would look even better in RigidFiddles! As a special challenge, we locked them into the fiddles with their arms around a horizontal bar! The key is on the floor, so they will have to grab it with their toes to be able to free each other! Will they be able to do it, or will they be stuck and angry?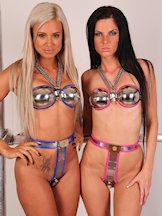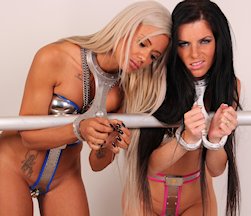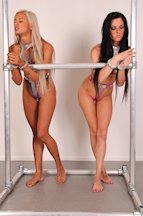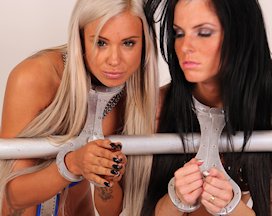 Cute submissive Tegan was our bondage find of 2013! Remember her awesome introduction in the extreme Posture Fiddle? And she was chastity belted right on her first shoot! This girl is a real bondage angel, with her blonde hair, big innocent eyes, flexible body and big boobs! You just get a feeling she can handle anything and everything, she will never say no, and accept any challenge, no matter how hard. This week we locked her into a massive amount of heavy cuffs and chains (and a chastity belt of course). The chain and restraints weigh in at several kilos, and soon Tegan can not stand anymore, she has to kneel down. She even has to lie down at the end of this heavy metal bondage endurance challenge! We will definitely invite her back again soon!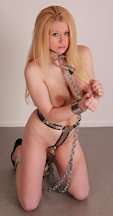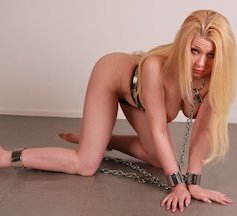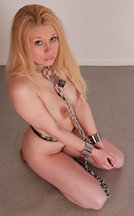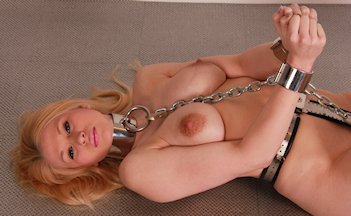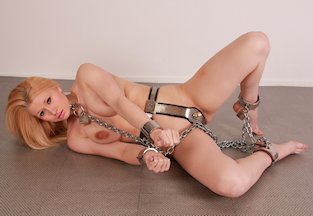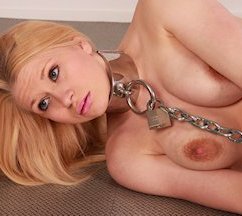 The Red Lady returns! Even though she says metal bondage is beneath her, she keeps coming back for more! Maybe she secretly likes our heavy gear? That's what we tried to find out in today's update! Looking at Roswell Ivory's curves, we realised she might be a perfect fit for our Steel Hobble Dress. The dress is super heavy, and once it is bolted on, it is primarily held up by the waist belt, the smallest part. It looked incredible on Roswell, her boobs are just the right size for the dress. Of course, she complained about having to hold up the dress to relieve pressure on the top of her boobs, so we helped her by padlocking her wrists to her waist, so she could support the weight whenever she liked. There are some incredible pictures and a video for you to study the fit of the dress on Roswell's body! Don't miss this one!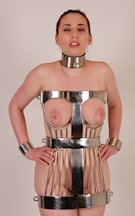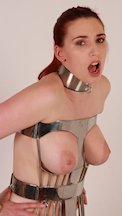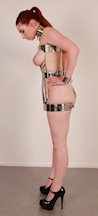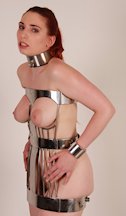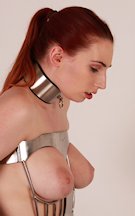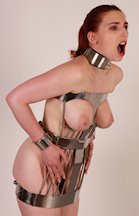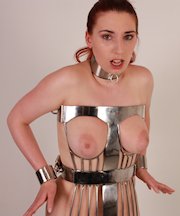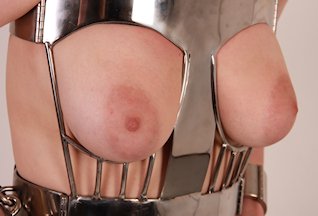 Swedish bondage model Pling is probably the only one of our girls to actually have her own steel restraints! She has a full set of custom made SM-Factory restraints (neck, wrists, and ankles), and a chastity belt that she wears regularly! How can we challenge a girl who already loves her steel so much? Well, since she was locked into her SM-Factory gear, we decided to connect that to our doggy-style frame. Pling thought that would be easy, but we spaced her wrists very far apart so she could not really lean on her arms. She had to work really hard to relieve pressure from her collar! The strength in her arms soon started to fail, and the simple position becomes a beautiful static struggle! Don't worry though, Pling loves this kind of challenge!