All updates for
June 2013
MetalBondage.com is very very proud to present its newest piece of heavy metal bondage gear: the custom built Posture Fiddle! We have used RigidFiddles since the start of this site, and they are nice quality products. But we always want to take things to the extreme. And to do that, you have to build it yourself! Our Posture Fiddle features a very tall double hinged posture collar that locks with a heavy padlock in the back. Then there's a rigid frame connecting two tall wrist cuffs, locked by another heavy padlock.
But there are more new things to play with today! We have found a young golden-haired girl called Tegan, who was locked into a chastity belt and this seriously restrictive device from the moment she entered our studio! Tegan is this year's bondage discovery! She is amazing, loves a challenge, and looks gorgeous in metal! She is inexperienced, but we have a feeling this will change in the next few months! Our very own bondage angel locked into our tight new Posture Fiddle! Don't miss it!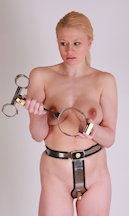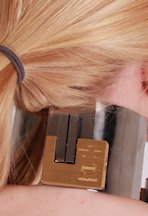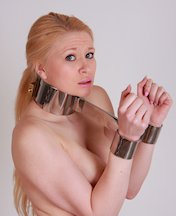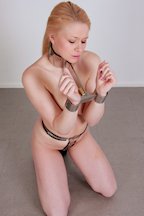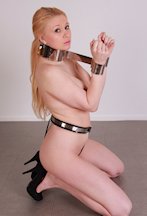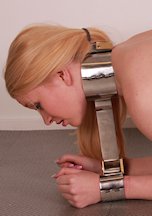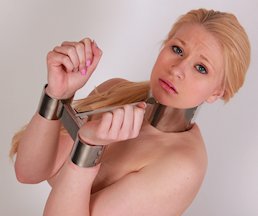 Now here's a sight to behold: Victoria Sweet in a tight heavy metal collar and chastity belt! It is quite hard to work with her, because she is very agressive. We tried to come up with a pipe construction that would keep restrain Victoria in a way that is uncomfortable enough to make calm down a little. We bent her over a horizontal pipe and then locked a pipe from the base right up to her collar. With her wrists cuffed out of the way, the only thing she could do is bend over awkwardly… if her chastity belt wasn't in the way. The collar pipe is heavy, and it is not fixed, so Victoria has to do her best to keep her head up or be pulled forward by her neck! This worked out well… but she still gave us the finger :)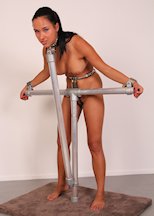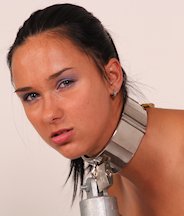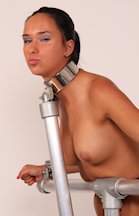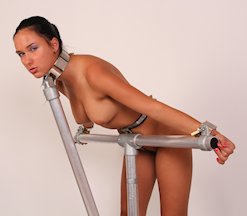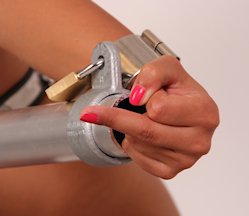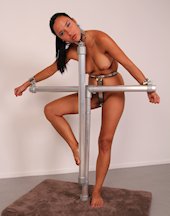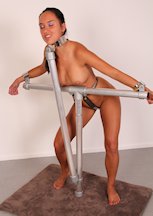 Cute bondage model Pling really loves metal bondage! She said she would come over every day if she could, to be restrained in the heaviest and most restrictive gear we have! Not only that, she also loves chastity belts, and owns and wears one in real life! Nice! We just had to lock her to this construction of steel pipes, using upper arm and wrist cuffs, knowing Pling would not mind if we left her there for a while. A pink ballgag kept her nice and quiet, and then we waited to see her wriggling about in this uncomfortable position. The pipes are just too high to sit or kneel, and too low to stand. But Pling didn't mind at all, she would stay there for days if we didn't release her!!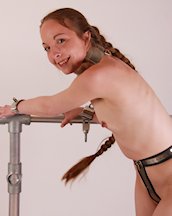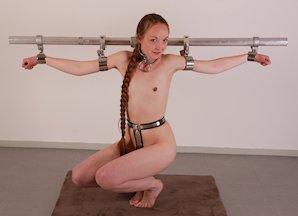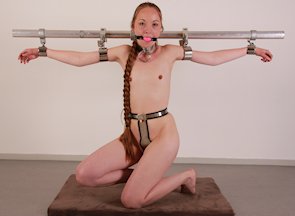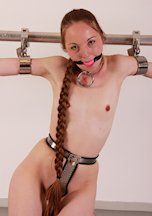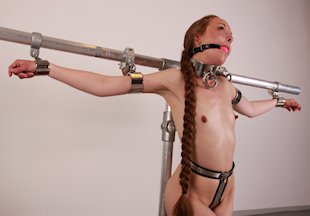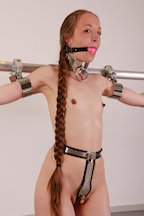 Lovely US swimsuit model Sarah Jain (reluctantly) agreed to model the super heavy metal stocks for us, but the whole shoot turned into quite a scene! We locked a naked Sarah into a custom steel waist belt and attached two heavy chains to it. Connected to her ankle cuffs, this made sure that she could not even stand up, because the chains were just a little too short for that. Frustrating! Sarah Jain is a fierce fighter, and she did not really like being locked in a metal device she could barely lift! It looked like she was trying to break the stocks! We took a lot of pictures to delay her release, and when it was time for the video, Sarah just lost it. We may have forgotten to tell her she had to do a video clip as well… and she had a really bad itch on her back…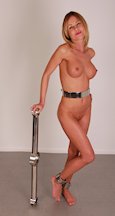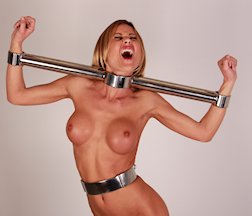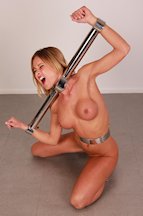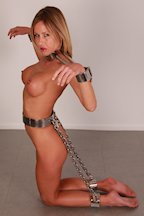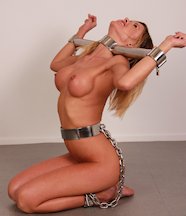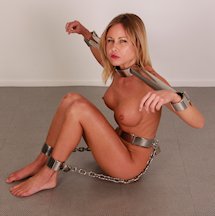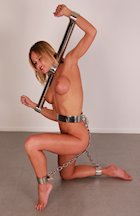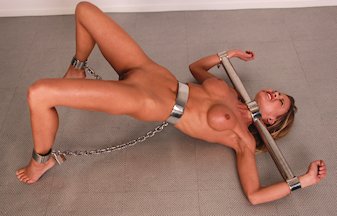 Naughty little Venezuelan girl Ruth Medina is back! Last time we locked her into giant metal stocks. And a chastity belt. On her first shoot. That was just amazing, this girl can take anything! So we just had to gag her this time, and for a challenge, we put her in the RigidFiddle model 'oo' with her wrists in line to her neck. This makes it extra hard to escape. We throw some keys on the floor and tell her the gag will only come off if she can get out of the fiddle. She doesn't know that there are 4 different keys, only one of which fits the padlock. She doesn't even know that there's only one girl who has ever escape the RigidFiddle 'oo'. Who cares! It's just fun to see a gagged Latina in a chastity belt struggle around! On-screen gagging in the video!