All updates for
November 2023
Cute submissive Ivy Red is going to hate me, but she is going to do the FoToRo padlock challenge today! Locked in steel with her hands behind her back, Ivy is drooling heavily already in her massive 2 inch ballgag. Her challenge? To move 4 padlocks, increasing in size and weight, to the other side of the room, using ONLY her nipples! This is going to hurt! Especially because Ivy is probably going to drop one or two of them. Don't miss this video of Ivy Red suffering and drooling!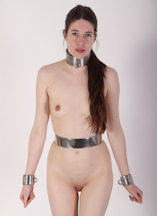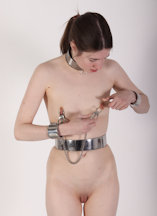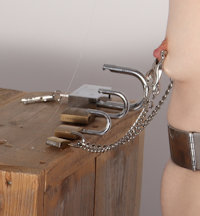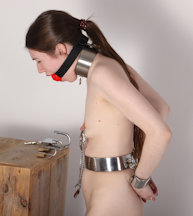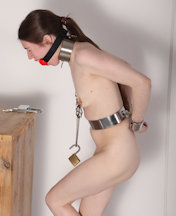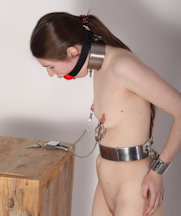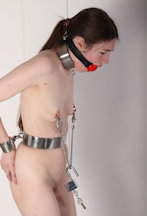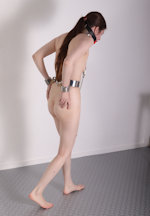 My newest model is Anna Lemon! She is the smallest model ever to appear on this website, she is SO tiny! That gave me an idea: locking the 12 kilogram (26.5lbs) Power Chain to her wrists! She wouldn't be able to lift the entire chain, just a little piece of it. Anna had never been locked in this much steel before. I think all of the steel combined is almost as heavy as Anna! She tried moving around a little, but it was way too heavy for her. Then I locked the chain to her collar, and it was even harder for her to move! I think tiny girls and heavy steel is a great combination!! I am going to keep her around for a while, so if you have any custom requests for this beauty, just let me know!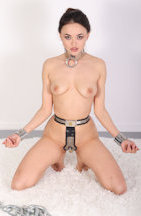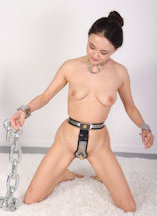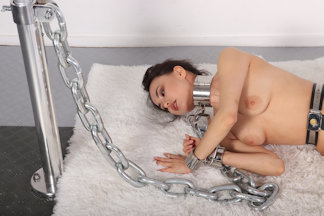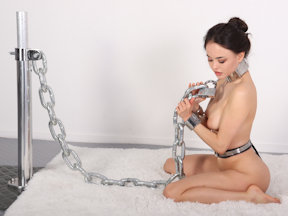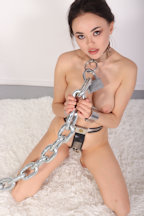 Anc1lla is a famous mysterious babe with huge boobs, and today I will test her nipple strength! Can Anc1lla lift all four of these padlocks with her nipples? Dressed in a sexy fishnet catsuit, Anc1lla is locked to a frame, making her bend over on her knees. The perfect position to play with her nipples! She gets clover clamped and I hang the padlocks from the nipple clamp chain. The locks get heavier and heavier, until I try and hang a massive padlock from her nipple clamp chain. Can she hold it up? Will she make a sound? Watch the video to see Anc1lla's nipple clamp training!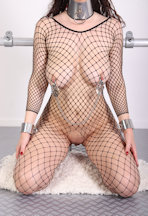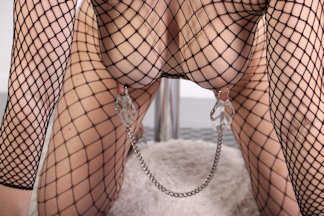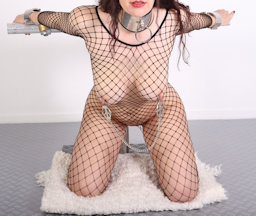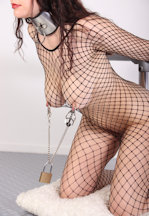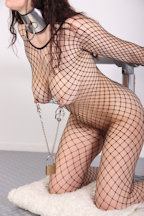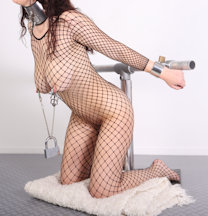 I finally managed to get Lil Missy in my studio! She is so cute and flexible, and she absolutely LOVES bondage. Especially hogties and hard challenges. Well, this extreme hogtie challenge is one of the hardest, even for experienced models like Missy! Locked in a lot of steel (wrists, ankles, elbows, waist, neck), she was super excited to start. Her eyes just light up in expectation of a nice arched hogtie. I locked her wrists to her waist belt, and then started to attach her to the frame: ankles, elbows, and harness gag. She couldn't move an inch! Maintaining this position is very hard, but Missy is a real trooper, she did so well! I definitely enjoyed working with her, hope she comes back soon!