All updates for
March 2012
Natalia returns for the second time, and she knows she will be belted for this one. No problem for her, she was also belted on ChastityBabes.com and she is starting to get used to it. Still, her chastity belt is tight, and her hands go to the padlocks immediately. To prevent her from touching her belt, we decide to lock her into the very heavy metal stocks! These custom built stocks are very tight on Natalia's neck and wrists! We even give her the keys, but escape is impossible, even more so because we made sure the locks are on the backside this time. Natalia lies down on the floor to take the weight off her collar bones, but soon she realises it will take a lot of muscle power to get up again… can she do it? And then what?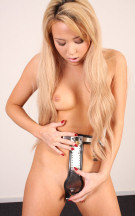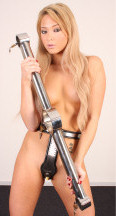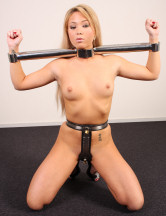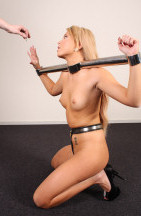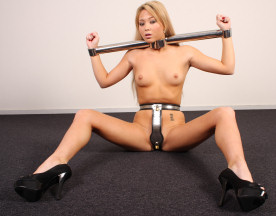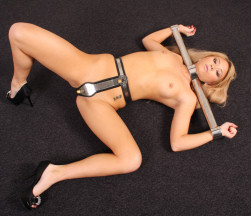 Locking petite bombshell Cory Spice into a tight chastity belt was incredible. Cory is known for her free spirited sexual personality, and to see this tiny big boobed girl in a tight chastity belt is a real stunning image. Her pussy lips are neatly locked inside the secondary shield, as members will see in the downloadable picture set. Of course we added some frustrating heavy bondage, because we still needed to discipline Cory for escaping the RigidFiddle last time. Cory is kneeling, ankles locked together, unable to stand up. Her arms are stretched high over her head by steel cuffs and a heavy chain. We add a shiny red ballgag to keep her quiet, so this time Cory is a perfect slave, no escape, no talking, not able to protect herself from groping hands…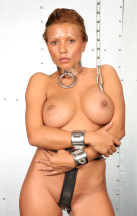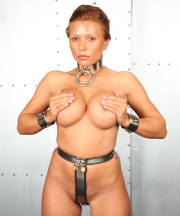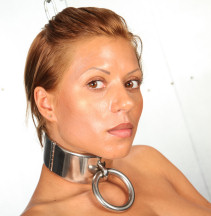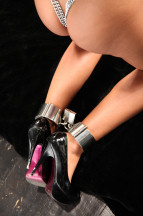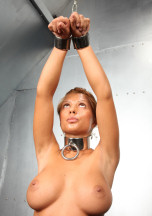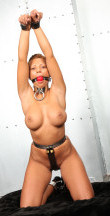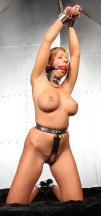 Davon Kim returns to MetalBondage.com and she brings her girlfriend Ting! Let's put this hot asian duo in a nice challenge! Our plan is to see who is more dominant of these two metal slave girls. We locked them both in tight fitting heavy metal collars and cuff them in our wrist cuffs. Then we chain their necks together, with the chain threaded through a fixed piece of pipe on the floor. When one of them sits up, the other girl has to bend down all the way to the floor. We expected a tugging war, but these girls get so turned on by bondage that they had other things on their minds!! Next time we will definitely have to gag them!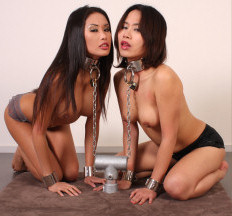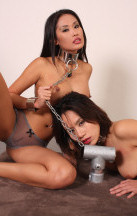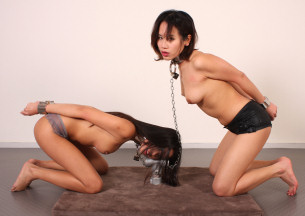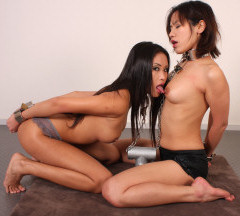 New girl Cindy is not like any of our other girls. She is curious and cautious at the same time. She wrote us for a bondage modelling job, but she has little experience with heavy metal. Or gags. So we give her this first challenge after being locked in the RigidFiddle for the entire picture shoot: this tight ballgag will only come off if you can escape the fiddle. We thought that would be a good motivation, and it was! Cindy really does not like being gagged, so she works very hard to find a way to unlock her hands and neck. Unfortunately for her, it is impossible, especially for a beginner like Cindy.