All updates for
August 2021
Back to my favorite hobby: impaling models on the One Bar Prison! Especially new models, who don't know what a One Bar Prison is. It is very simple: it's a metal dildo on a pole. If a model is wearing high heels, she can't go on her toes anymore, so she will be stuck. She can't remove her heels either (please don't try that at home). Basically, she will have to stand there until the pole is lowered again. I wanted to try the spring loaded version with Alexandra, but the spring is so strong (and Alexandra is quite tiny), it was too much pressure. So she was on the normal (locked) version, which was equally challenging. Especially for a brand new model!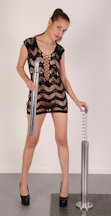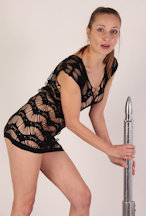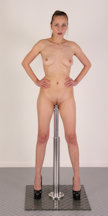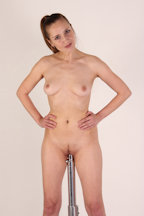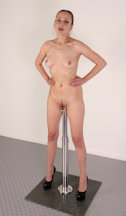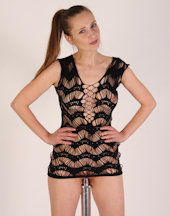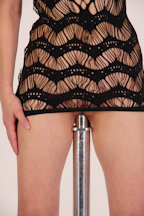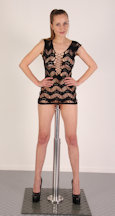 Thiccy Niccy is back for a new predicament! She is wearing the tallest heels in our studio, and her breasts are cuffed tightly. I chained those locked tits to the ceiling and cuffed her hands behind her. Now Niccy was balancing precariously on her high heels, if she would lose her balance it would be very painful. To make things worse, her pierced nipples got clamped with mean clover clamps, which didn't help her concentration. Niccy is a perfect sub, cuffable boobs, always in for a challenge, and very obedient! I just love playing with her!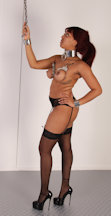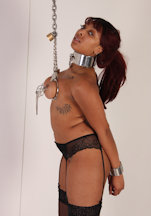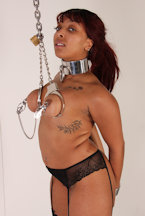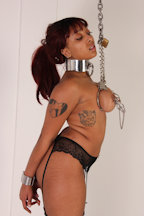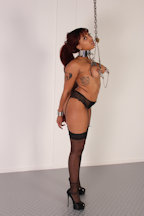 I did a very fun experiment with Liz Rainbow and Blondie Fesser! Liz was locked in full chastity (with plugs) for a day, and she could give her friend Blondie as many orgasms as she wanted. All day long. Blondie was nude and not locked in any chastity gear. At first, both girls thought this would be a very fun day. But as the day went on, Blondie got very tired and Liz got very very horny and jealous. We filmed this experiment mostly for ChastityBabes.com, but of course, we had to lock Blondie to a Sybian during the day. Her collar and wrists are attached to a pole, and Liz was free to play with the remote. It was fun for Liz, but her frustration was growing when she saw Blondie reach another orgasm!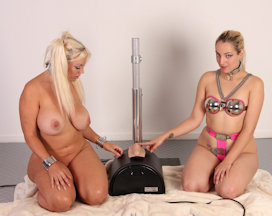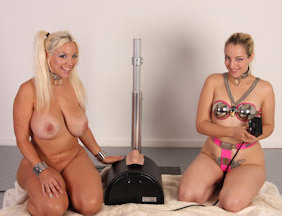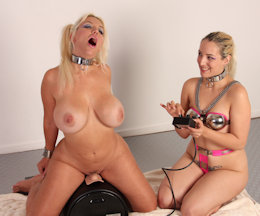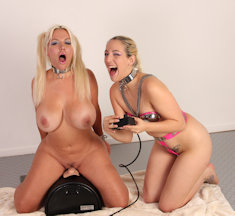 Nora is the next model to try nipple clamp weight lifting! It's not easy, but she is determined to set a new record! Our weights are: 250 grams, 500 grams, 1 kilo, and 2 kilos. Of course, various combinations can be made, like 250+500 or 1000+250 to take smaller steps. Nora has quite sensitive nipples so hanging big weights off them on clover clamps is a real ordeal for her. Still, she managed to get quite far in the nipple clamp weight lifting competition. Is it better than the other models who have tried? Watch and find out!