All updates for
August 2011
Remember this girl? Giovanna is not a model, but a local girl who wanted to try out our stuff! She is a real life submissive and she loves to be restrained! So we shot her in 2009, letting her try out some of our gear. Here is the other shoot we did that day: Giovanna in lockless cuffs on her wrists, ankles, and neck, connected by equally lockless spreader bars. No escape, no locks, no keys, it is not even possible for her to reach her other wrist with her hand. And did we mention local girls always look better ballgagged? ;-)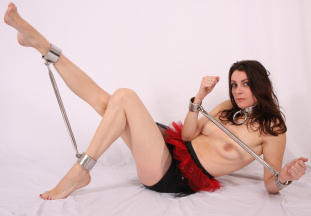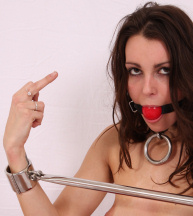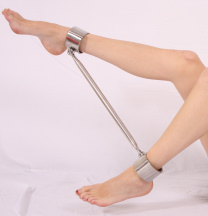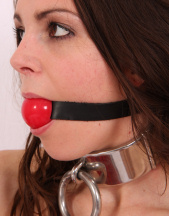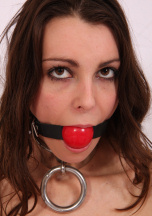 Allow us to introduce Yasmine! This Greek beauty is a curious submissive who loves the touch of cold metal on her skin. We use our hex tool to screw five restraints onto this new pet slave: wrist cuffs, ankle cuffs, and a tight waist cinching steel belt. Yasmine was very curious about this locking system, no visible locks, no keys, and still no escape. No collar either, but then we told her the cage would be her collar, gave her two padlocks and told her to figure it out. Curiosity got the better of Yasmine… watch her lock herself into a perfect slave position, with no hope for escape!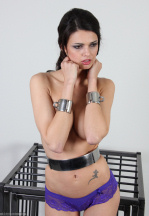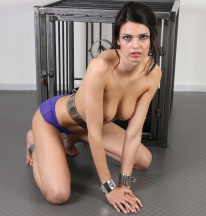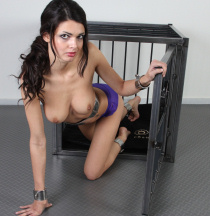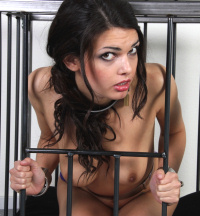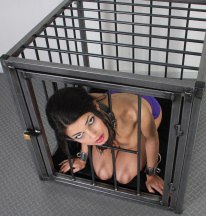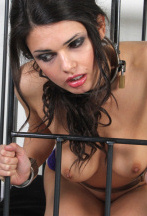 Pretty little miss Melissa seemed like a perfect victim to further test our modular Connect-A-Model system. She is now tightly belted, so she is on her way to become a good MetalBondage slave girl. Melissa is a natural submissive (we call her 'Submissa'), she loves being told what to do. So we created a kind of stock out of our modular bars and cuffs and made her a short ankle spreader. This Connect-A-Model system reminds us of toys we used to have, only now we get to play with metal restraints and the most beautiful girls on the planet! It turns out Melissa needs some more training, as she tries to escape the devices we built for her, but okay… that is fun to watch!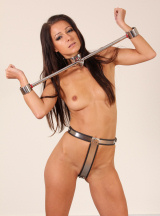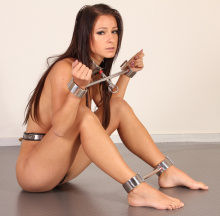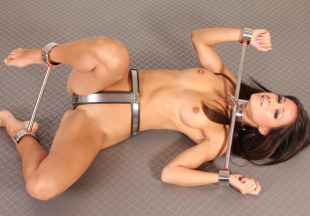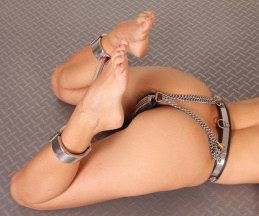 Laetitia, our young pet slave who (up till now) thought every shoot was very funny. Maybe because we did not put her into something really heavy yet? We constructed a huge anchor out of heavy steel pipes to test Laetitia's strength and obedience. Fully cuffed and collared (and belted of course, it is her third shoot), Laetitia tries to lift the anchor. She can barely lift it off the floor. So far, so good. We attach her five steel restraints to the anchor, but the anchor is so heavy that it is pushing her over backwards. We decide to give her some more movement by adding a little chain to the collar. Now it is perfect! Have fun, little Laetitia!