All updates for
December 2015
Only 2 bondage models have done this before!! Of course, when Australian bondage model Cobie saw this, she really NEEDED to try this as well! It is brutal! Cobie's arms are pulled up so high she can touch her collar's padlock! There is absolutely no way for her to escape this predicament, and it is exhausting to even be in this position. Cobie can not move her arms at all! Of course, I gave her the keys to frustrate her a little bit more! This is hard metal bondage! Enjoy watching Cobie's struggle and don't forget to read her chastity adventures at ChastityBabes.com!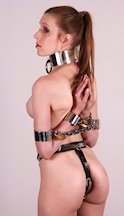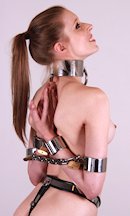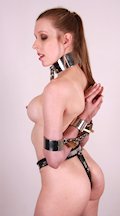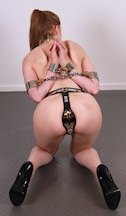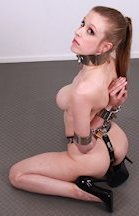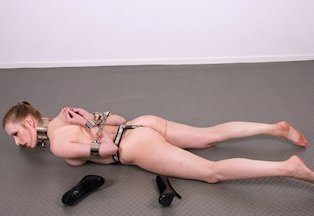 Aaaaaaaw super cute Rosie is 20 years old and she is a 'super big fan' of metal bondage! Unfortunately, she is also super shy. And scared. No worries, we will take it easy on her. A beautiful collar and some heavy cuffs to begin with. Rosie is eager to learn, but she does not really know what to do. What poses does a slave girl assume? What is expected of her? Her huge eyes beg for more information. Everything about Rosie is so innocent and cute, her mouth, her perfect body… she could be the ultimate slave girl… with a lot of training. What do you think? Get her back for more metal bondage sessions?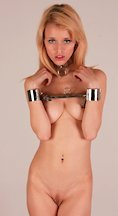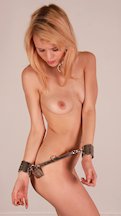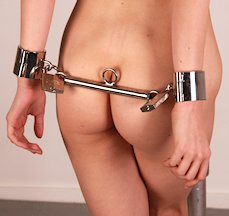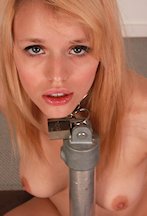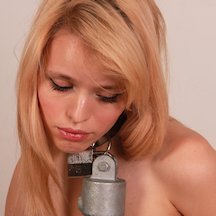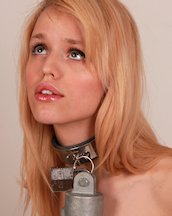 Here it is!! The new heavy duty version of the One-Bar-Prison! Super heavy base plate, heavy sliding adjustable pole, various metal dildo shapes, and hex screw locking! This one is scary! Young Vina was curious though. Is it really impossible to escape? We made a deal: if she couldn't escape she would have to put her dress back on and stand there – impaled – for at least 45 minutes. You can see from the previews: Vina lost. The One-Bar-Missile wins. Yes, this is bondage, this device is inescapable. If you don't believe it, come to the studio and try!!