All updates for
November 2015
She's back!! The tiny busty gorgeous lady is back and locked in a chastity belt! This super tight small chastity belt is custom made, and it is made of hardened steel, so it can not be cut off easily. If the key is lost, Hannah would be in serious trouble. And there is more trouble ahead, because she stumbled across our RigidStock TL XXL, three times as thick and heavy as a regular RigidStock TL! Will Hannah be able to handle this? We threw the keys on the floor to tease her, but she did not really seem to appreciate this joke….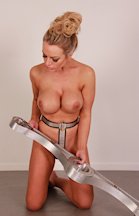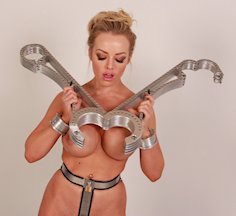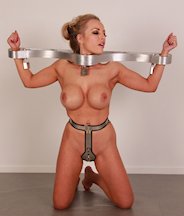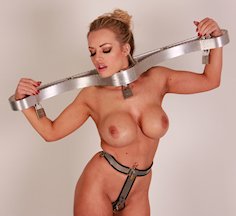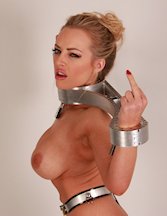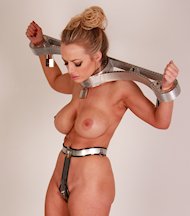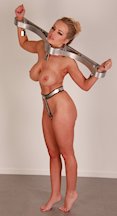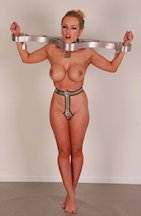 What if… we attached Ariel Anderssen's super tight chastity belt to a frame? The sides of her waist belt are padlocked to a narrow steel frame, not wider than Ariel herself! Her heavy collar, wrist cuffs, and ankle cuffs are locked to the frame too! The position is great, her ass sticking out, she can not move at all, no chance to take off her heels… it's just perfection! Poor Ariel! What can she do but stand there and be totally helpless in metal bondage!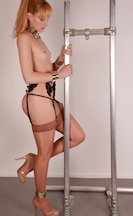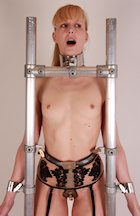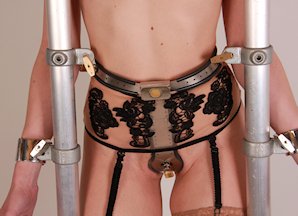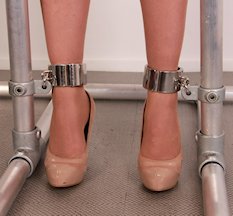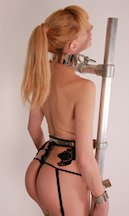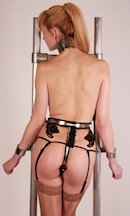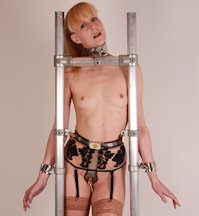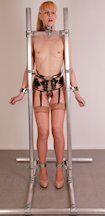 New young slave girl Alina has arrived!! She was a bit scared, so we went for a nice and easy spread eagle wall cuffing. At least, we thought it was easy, but the heavy cuffs were weighing on poor little Alina and the position was no fun anymore after a few minutes. Arms raised high, legs spread, Alina is completely defenseless and naked. It is her first visit, so she doesn't have to be locked in a chastity belt yet, but nudity probably works a lot better for this position anyway! We love Alina, let's hope she will get into it and try some more metal gear!!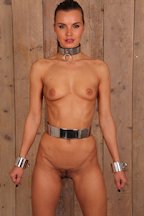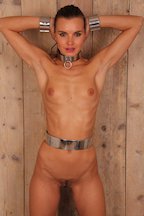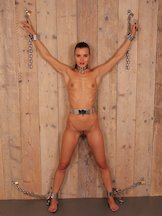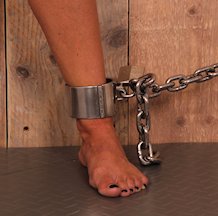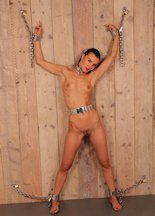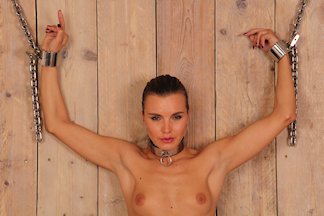 Cory is a tiny girl, but she is very tough! You can add kilos of metal to her and she will just keep struggling and moving! So she would be the perfect candidate to test if it's possible to walk in heavy thigh bands on the treadmill! Well, she will have to! There is no way she can stop the treadmill since her wrists are cuffed behind her! The thigh bands are so heavy they pull her waist belt down at the back, but the waist belt is also held in place by chains to the metal frame. Cory is in high heels on this unstoppable machine! Can she manage this with her eternal smile? Or will it be too much?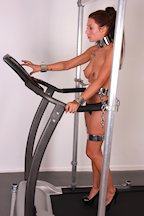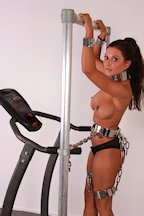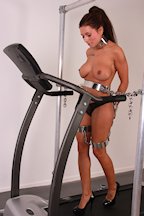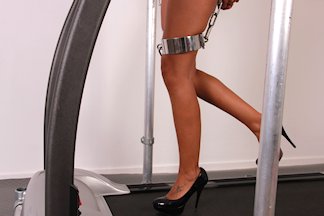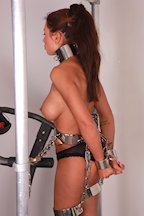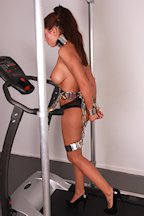 Not one, but TWO new girls this week!! Locked in chastity belts from the moment they came in, best friends Kacie James and Roxy Mendez look so hot and frustrated! They look like they want to play with each other, but their chastity belts are tight and there's no way they can any satisfaction down there. But that's not why there are here! They need to learn some patience! These untrained girls are not used to waiting around, so we locked their collars to a metal frame to make them kneel and wait. But of course, that did only work for a few seconds, until they got restless again. We have our work cut out for us with these two!