All updates for
July 2012
Roswell Ivory is back, and there is no excuse this time: she needs to belted as per popular member request. We barely give her time to get used to the metal chastity belt, presenting her with her next assignment: to lock herself in the cage and its built-in collar. The padlocks are provided, the keys are not. Once she locks the heavy cage door and then the collar around her neck, there is no escape until we release her. But Roswell Ivory is a very tall lady, will she fit in the cage? It will definitely not be comfortable, belted, on her knees, neck locked in unforgiving metal. And then we cuff her hands out of the way… What a lovely view, we are not going to let her out for a while, that is for sure!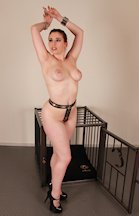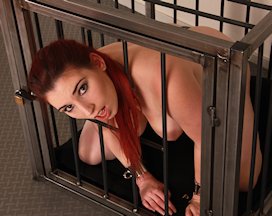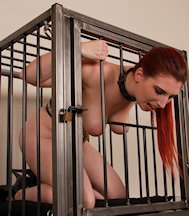 It has been a while since Ashley Bulgari visited us, but we managed to lure her back with an interesting dare. She is to lock herself in the Sleepless collar and make herself comfortable. Sounds easy! Of course, Ashley is belted, but she does not even notice that anymore, she is now very used to being locked in a chastity belt. Nope, the thing that concerns her more is the insane height of the Sleepless Collar, and its massive spikes. It is very heavy and very tall, so sitting up is not very comfortable. But when Ashley finds out that she can not lie down at all, she loses her temper a little and starts to complain. Well, let's keep her locked like this to see what happens!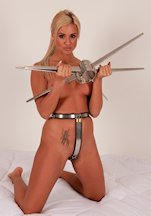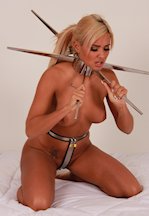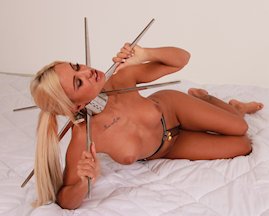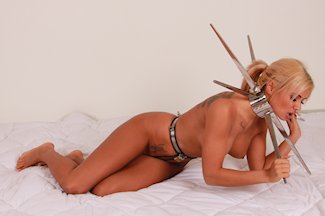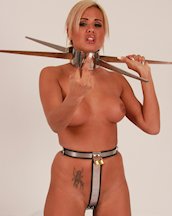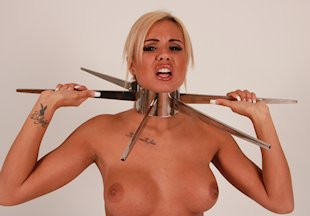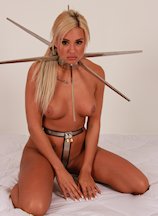 When two new girls show up, it is always best to make them feel a little more comfortable by starting off easy. We just gave the long-legged duo Claudia and Nelly two RigidFiddles and told them to strike some poses. All fun and games. Until we locked Claudia's wrists to Nelly's neck and vice versa. Now every movement becomes very painful to the other girl unless they coordinate and communicate. Fun is over, keys are on the floor, and it will take a lot of pain and effort even to get to the keys. So it was a rough introduction after all for two of the most beautiful tall girlfriends you have ever seen locked in metal!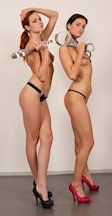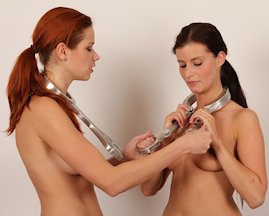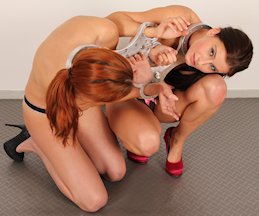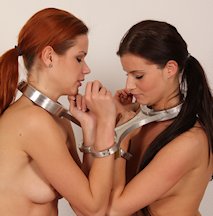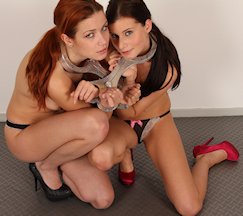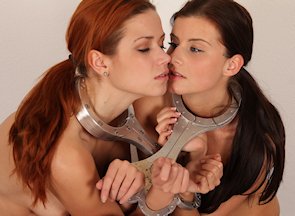 Natalia Forrest needs so much training… she is a spoiled English girl, complaining about even the easiest bondage. Granted, this time we made things a little hard for her. She is locked into the very heavy solid chastity belt, a big cold chain running down her ass. It is very tight on her. The giraffe collar might be a bit too tall for her, but we lock it on anyway. Natalia complains about not being able to breathe, she wants out, and she simply does not stop screaming. We have a very simply solution for that. It is called a ring gag. It worked, and it is a great way to get a good look at Natalia's heavy gold double tongue piercing ;-)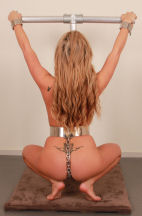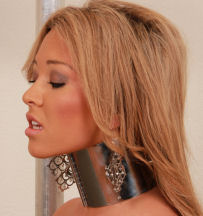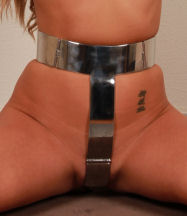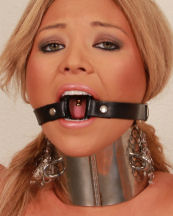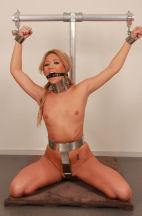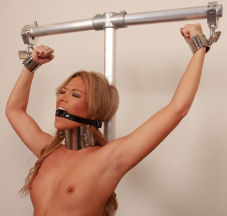 We witnessed it last time: Victoria Sweet is not sweet at all! She gets very angry when she is locked in tight metal restraints. Members loved that! So here she is again, now in a full restraint set, wrists locked to her waist, collared, and her ankles spread. This girl has a perfect body, she is young, energetic, and eager to get out of her bondage. So we give her some means to escape, just to see her reaction!! And next time: no escape and chastity belt. She will not like that at all!