All updates for
June 2019
Tiny Polina is back! Remember this exceptional bondage talent? She needs more training though, today will be her first time trying clover clamps. And they suck, we all know that. Polina tried them and wanted to take them off straight away, the sting was a lot for her! We had to put some steel mitts on her to prevent her from removing the clamps. Polina tried, but without her finger she couldn't do anything about these evil clamps. Which gave us a great idea: what if we attached the clamps to a 2kg (4.4 pounds) weight? Polina would be stuck, without any bondage! Check out the amazing video, she really couldn't do anything about her predicament!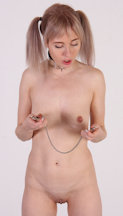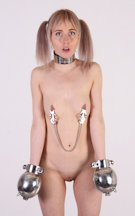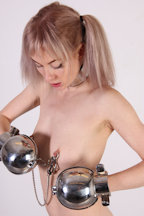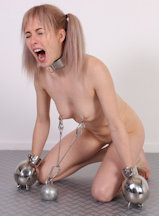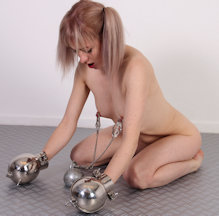 Lina is a local girl who wrote us about our One Bar Prison challenge. She thinks she can escape it! Well, wearing high heels it is impossible to escape the One Bar Prison, so we invited this 18-year old girl to come over and try! Once she was impaled, Lina had to admit she couldn't escape, so we told her to put her dress back on and just stand there for a while. We eventually gave her the hex key so she could have a better shot at escaping, but she unscrewed the wrong screw so she was still stuck! Check out the picture set and the video of this brand new bondage talent, she wants to come back to try a lot more of our gear!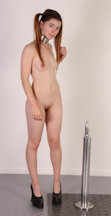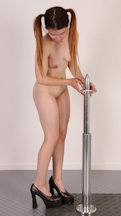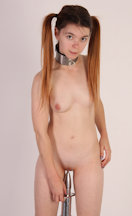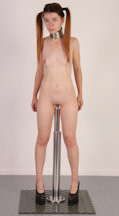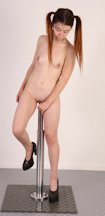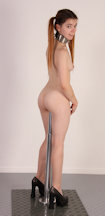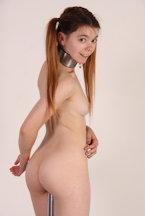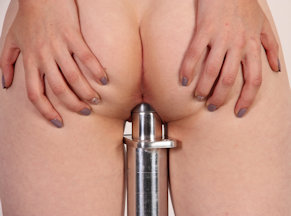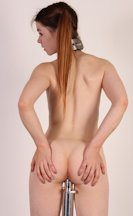 So Keira Lavelle is not very submissive at all. Last time, we tried to make her into a serving wench, but she did not like the cold tight metal very much. She seemed more interesting in doing her own thing, and her favorite thing is touching herself! So we fitted her with a Carrara chastity belt. Obviously she hated that too, so she tried to pry her way into the belt, testing the lock, pushing her fingers under the belt… We had to take some extreme measures to stop her from touching herself, but we did it! If you want to see pure frustration, watch this update!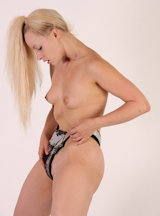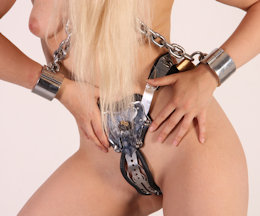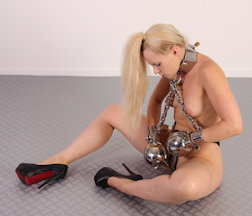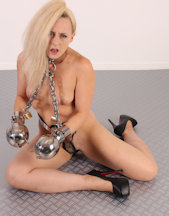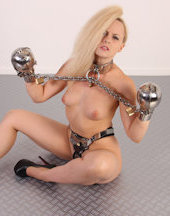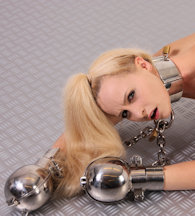 Having a Sybian machine in the studio attracts all kinds of people! Young Mira wrote us if she could go for a little ride on it. Just a tiny ride, nothing else. She is so cute! Of course, this is MetalBondage.com, so we locked some cuffs and a collar onto her. And she was not allowed to ride the Sybian unless we could lock her wrists to the wall. Mira quickly figured out that it wasn't going to be her who would be in charge of the controls. This brave young girl did it anyway, and the end of the video definitely gives away what her body thought of this ride on the strongest vibrator in the world!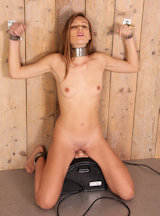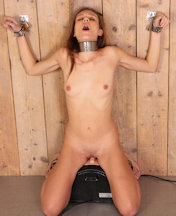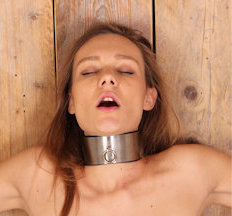 Can 8 chains hold Cobie? We will have to try it! This was actually her own wish, she wanted to see how it would feel to be held by 8 chains. It turned out to be very interesting, because a chain on all 4 sides of her waist and neck means that she can not move at all. She is held in the middle, unable to even wriggle. It was a lot more restrictive than Cobie had expected! Also, the tall Giraffe Collar meant she couldn't move her head, and we locked her wrists behind her with her arms spread out. Yes, it is safe to say Cobie was very stuck in this spectacular position!