All updates for
October 2018
Super flexible ballet dancer Crystl was locked in steel on this site in 2016. She was a bit hesitant to use her flexible skills for fetish photography, but she seemed to like the extreme bondage position we put her in. Locked in a full split, don't try that at home! When Crystl was back at ChastityBabes.com doing a little deal over there, we used that time to get her back in metal bondage (of course). Crystl is awesome! And she was with her very pretty girlfriend Lynn, who was also locked in a chastity belt. Two gorgeous lovers in chastity! We told Lynn to lock her awesome ballet girlfriend in an extreme spreader bar split again. They are so sensual and romantic together, don't miss this update!!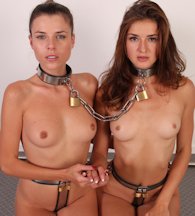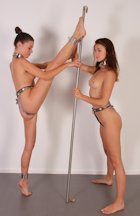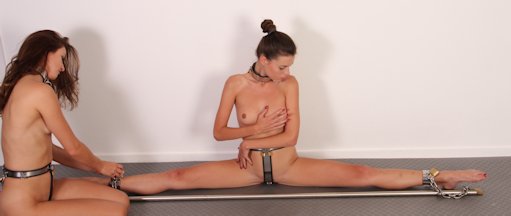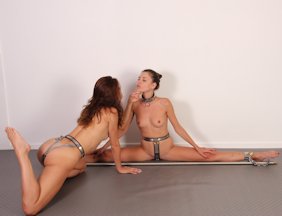 We continue our quest to develop our own steel heels (locking of course), as the previous attempt was only moderately successful. Today, we can present you with a brand new pair of heels! Different style, a platform, taller heels, and generally looking more awesome. We are also introducing a new girl to test these heels: the famous Liz Rainbow! She always has a different hair color, this time she had blue hair. We gave her a blue jewel butt plug to match her hair, before she attempted to wear the new Steel Heels! Check out the video and picture set to see how that went!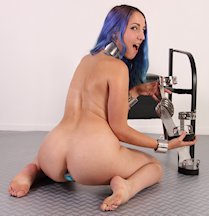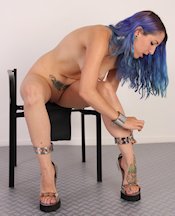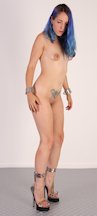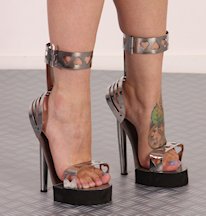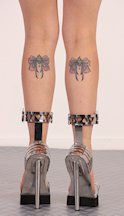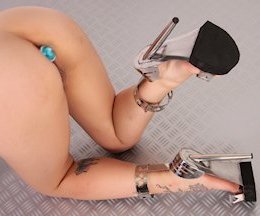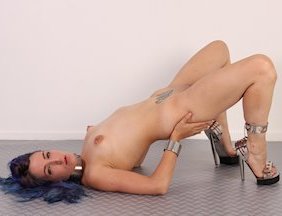 New girl! Bad Dolly is a tiny cute blonde with great boobs! She is quite naughty, like her name suggests, so it is time to put her in some metal for a while. When she was locking herself in all this gear, she had no idea what we were planning, but soon she was in a very awkward metal predicament. Her neck was chained to her ankles, and she had to support herself with her arms to avoid being choked. Not much of a problem at first, but her arms got tired quite quickly…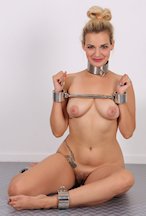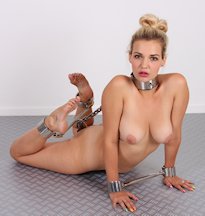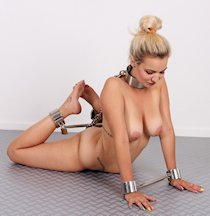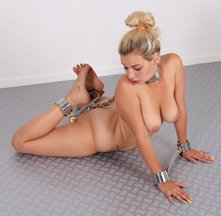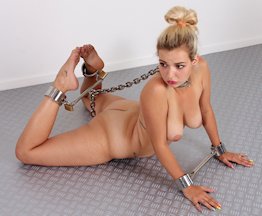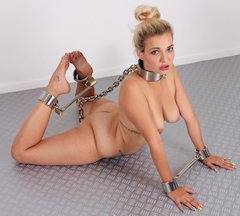 Yes, we know we already put Little Caprice on the Sybian. But it's Little Caprice. On the Sybian. So we had to do it again. We just love vibrating this cute girl when she is unable to stop the super powerful Sybian because she is locked in metal. Her neck is locked to the pipe, her ankle cuffs are chained so she can't stand up, and her wrists are cuffed behind her. Little Caprice is going for a ride again! One of the most popular babes on the net, and we are fortunate enough to shoot with her and let her have a good time. She will always come back for more, or in this case: more of the same.