All updates for
January 2015
Natalia Forrest is such a drama queen! She is one of our favorite models to chain up, because she just loves to complain about her predicaments! Most of the time, when she visits us, she is locked into her tight chastity belt, so she can not touch herself. This makes Natalia even more frustrated, which is always great to watch! Today, we lock her into a very extreme pose, the dreaded strappado! Maybe we have hoisted her arms a bit too high, but you never know with Natalia, she would complain anyway. She can't take off her heels though, that would really hurt her shoulders too much. Nice predicament complaining!!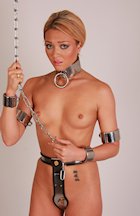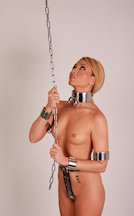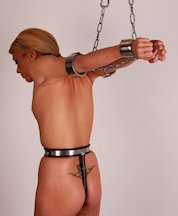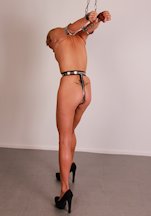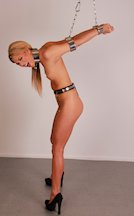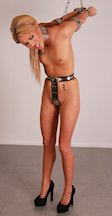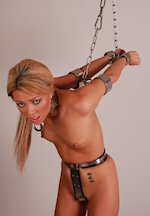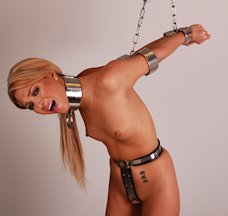 It is so much fun to lock Yvette Costeau in metal bondage!! She is one of the toughest girls out there, and she will definitely give everything in her struggles to get free. So it is necessary to restrain her really really tight in the heaviest metal gear we have! Yvette is nude and corsetted with a heavy waist belt locked over her corset. Her wrists are padlocked to the sides of the belt and her elbows are locked in super tight steel! There is no way she can escape, so we throw her the keys to make her even more frustrated! Watch her mad struggle and cursing (in German)!! Yvette is so much fun to restrain!!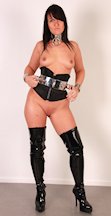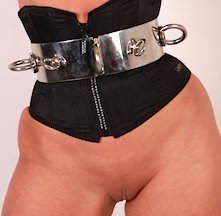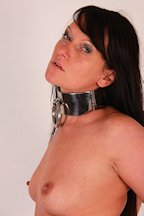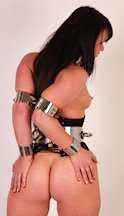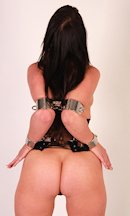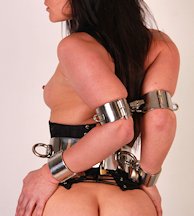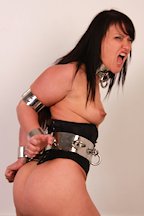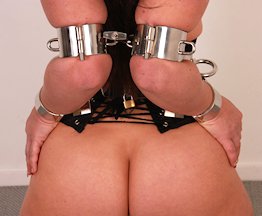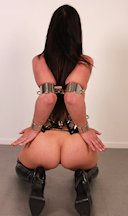 The gorgeous Sylvie returns! Possible one of the most beautiful faces on this planet, the tiny framed Sylvie is not afraid to try anything! We have her locked in a chastity belt and chastity bra, and she is going to take on the extreme Posture Fiddle!! This is going to be good! This custom built tall heavy fiddle is locked with two different block padlocks. The height and the rigidness are severely limiting, it is hard even to turn from side to side! We can leave Sylvie with the keys, she won't be able to escape… it will just be a lot more frustrating!!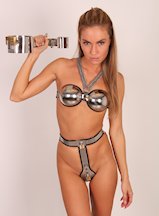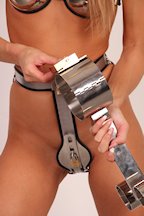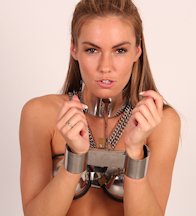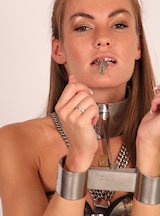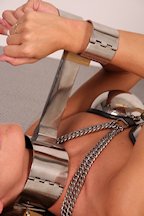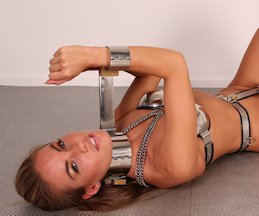 As explained on ChastityBabes.com, these two incredibly gorgeous girls from the Ukraine suddenly found themselves in my studio, looking for a way to make some extra money. They were so shy! Katee and Ally (names changed) were holding on to each other, visibly afraid, their huge heavy metal collars were the only things they were wearing. I did not have to do anything, or say anything. All I did is give these girls two padlocks. The rest is amazing… just watch the video! I have never seen such naturally submissive girls! I was sorry they couldn't stay longer, I wanted to keep them, they are so cute!!