All updates for
June 2020
Can a girl be locked in a back bend like this? In metal? We weren't sure if it could be done, but if anyone could make a good attempt it would be the awesome Josie from the UK! She is flexible! Josie was doing a Chastity Deal for ChastityBabes.com anyway, so we had some time to kill with her. Her ankles locked to the pole, we tried to bend Josie far enough so her wrists (locked in the Space Cuffs) could lock to the top of the post. It is a very hard position! We could only do it for a short while, but she did prove it is in fact possible!! Amazing!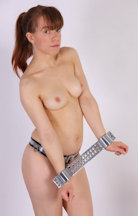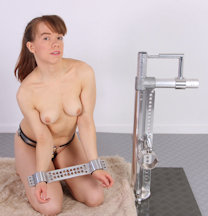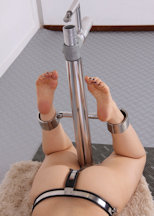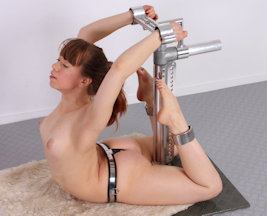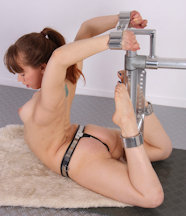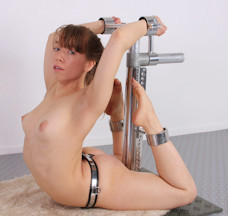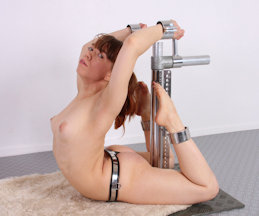 Gorgeous playmate Yasmine is back! She has been shooting with us for very long, since the beginning of this website. Somehow she only gets more beautiful, with her fantastic natural body and sensual lips. We locked her in a hip-style My-Steel belt today and then got her into the Rigid Box Tie Device. Yasmine is so submissive, her big eyes were looking at the camera, almost as if she was afraid. Don't worry, Yasmine is used to bondage, we have locked her in metal many times, and she even tries her best to escape when we toss the keys on the floor, even though she knows it's impossible.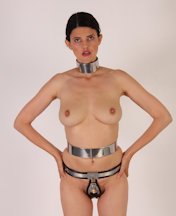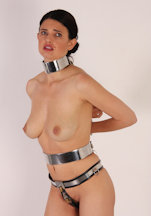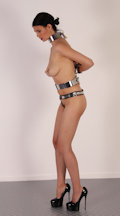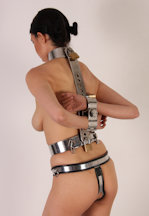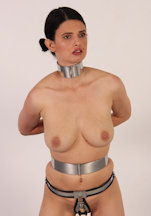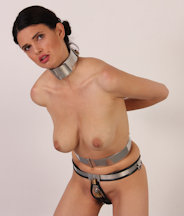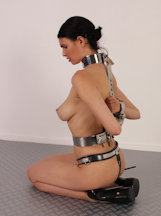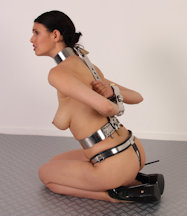 Time for a new invention! The Blowjob Machine! It might be an even better trainer than the spring loaded predicament! Darina Nikitina is the first one to try it: it is a fucking machine with a collar attached to it, instead of a dildo. The dildo is mounted a little higher, and Darina will be on her knees with her wrists and ankles locked so there is nowhere to go. She doesn't even have to do anything! The machine moves her neck back and forth and Darina is giving a blowjob whether she wants to or not. We can even regulate the speed of the machine, it will go on forever and Darina is unable to stop it, she just has to keep sucking!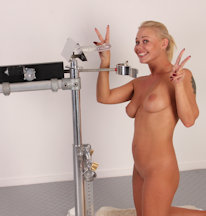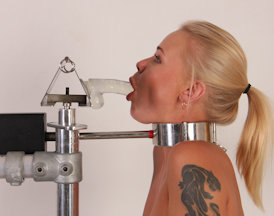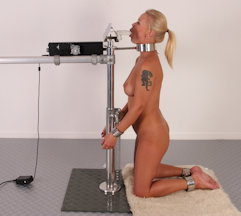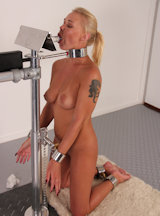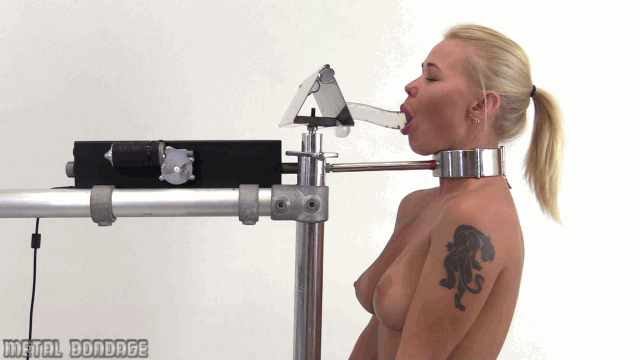 We finally did it! We got the spectacular Katie Thornton impaled on the One Bar Prison! She was there for a long time, because she looked so amazing and we have always imagined her as the perfect mannequin. Perched in high heels, there is no way Katie can step off the One Bar Prison as she can't raise herself up high enough. High heels are essential for a One Bar Prison! Locked in a tight heavy collar and locked boob bands, Katie wasn't very happy about her predicament. Especially because this shoot took extra long. Well, after so much convincing, we were not going to let her go anytime soon! Enjoy!