All updates for
September 2014
Lady Roswell Ivory is so composed and graceful! That's why it is such fun to lock her into a chastity belt, naked, and padlock a very heavy collar on her neck. Not at all lady-like, although she still will try to pose in a dignified way. Let's see if we can make her a little more submissive and worried… Some members have suggested we should try this locking breast press. We didn't build it, we bought it, and that was probably a mistake. It doesn't work really well, as the arch of the metal press plates is too big. But it is locking in the back, and it does work well enough to make Lady Roswell a little concerned about turning those wingnuts more and more… We will have to build one of these ourselves!!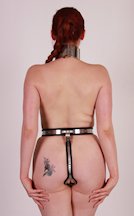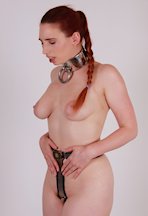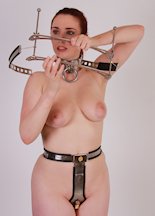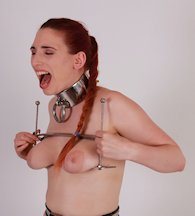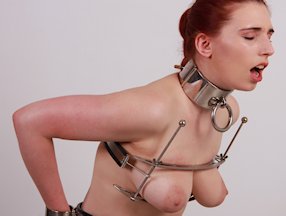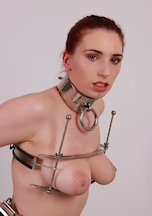 Heavy breathing in heavy metal gear. Poor Birdy Dee has lots and lots of unforgiving metal locked onto her. It is a predicament in itself, as time goes by she is struggling more and more against the weight of her restraints. The heavy chastity belt is cinching her waist super tight, and her wrists cuffs are locked to the sides of the waist belt. She can not lie down, because the Sleepless Collar prevents her head from touching the floor. She can not stand up, because her ankles are padlocked together. Birdy is getting so out of breath, we finally decide to give her the keys to the wrist padlocks. Even more evil, because after a long struggle to unlock herself, she still can not get any rest with the belt and collar still locked on! Birdy was totally spent after this ordeal, she is such a tough girl!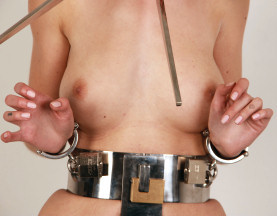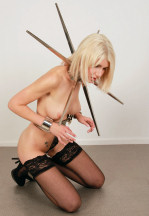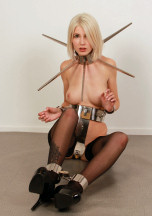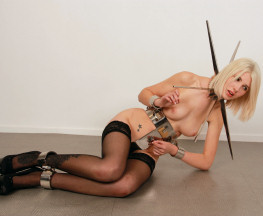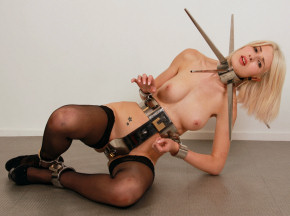 For years, we have been hearing rumours about a way to restrain a girl using only 1 steel bar!! So we finally decided to build this device, to see if it is true that a girl can not escape this diabolical contraption. We needed a large metal dildo on an adjustable pole, and a girl in high heels. Natalia Forrest happened to be hanging around our studio, so we grabbed her to test this new device. She didn't believe that it would hold her in place, and neither did we. But amazingly, Natalia was unable to escape from the One Bar Prison! She couldn't get off it. Wearing high heels meant that she was already on her toes, and the dildo was in too deep. Her hands were cuffed behind her back to prevent her from reaching the pole's adjuster. We left a camera running and sneaked into the other room. Her reaction was priceless! It is true! One bar can hold a girl!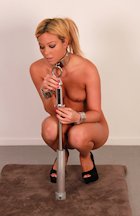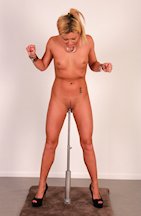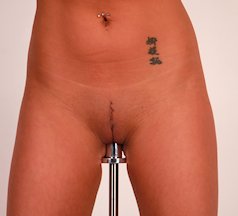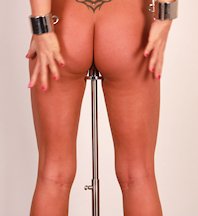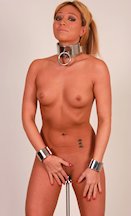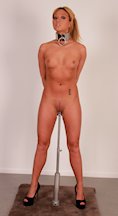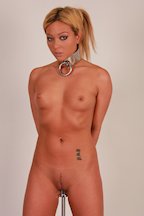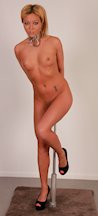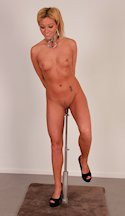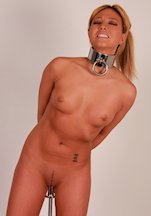 When Chessie Kay applied to be in metal bondage, we just knew we had to invent something for those incredible huge round boobs of hers! This is the first prototype of the Boob Bands! These flexible padded bands are custom made for Chessie, and they are very tight! They lock onto her boobs using a clasp and padlock system. The video will show you how they are applied. A chain runs behind her back to make sure the bands are pulled tight. Boobs aren't straight, so the bands taper a little bit to fit snugly. Chessie was so amazed by having her boobs locked up, she even forgot about the chastity belt she had to wear. Cuffing her wrists behind her back turns her into a perfect little boob bound slave girl!