All updates for
January 2013
When we saw Ruth's antics at ChastityBabes.com, we just knew we had to get her into some bondage! This tiny latina girl is so much fun, she enjoys every moment and every item we want to lock onto her slim body. Locked in her chastity belt, Ruth is waiting for today's surprise. Her eyes go wide, shocked by the sight of the extremely heavy custom stocks. Before we can even help her, she already worked out how to remove the pin and put it on her own neck. When she is completely locked in, Ruth's expressions are priceless, a huge smile breaks through, this is the stuff she LOVES! We don't think it is possible to go too far with Ruth, so we will have a blast coming up with future predicaments for her! Tight ballgag anyone?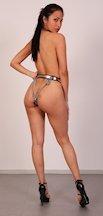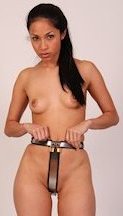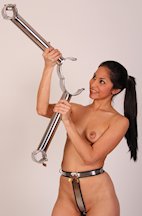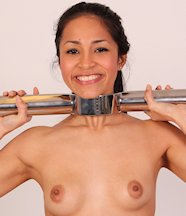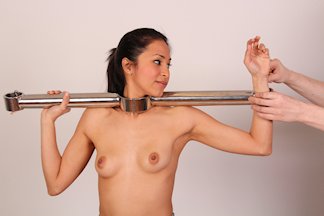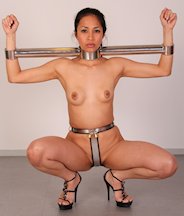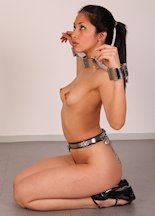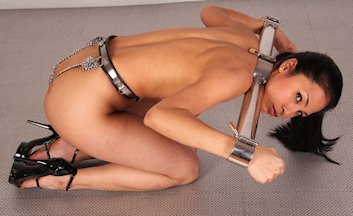 We just had to invite Lily for this experiment! She loves this stuff, so it would be great to test her in this position! We locked Lily in heavy cuffs on her waist, ankles, elbows, and wrists. Her hands are locked to the back of her belt, so she can be chained to the frame by her ankles and elbows! In this position, there is not much Lily can do, and we even got a chance to shorten the elbow chains by a few links to make her bend a little more! This is a good hogtie setup, no rolling over, no hope for escape! Sure, there's room for improvement, we learned from this one to make the next one even more spectacular! Now who should be the next victim?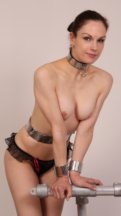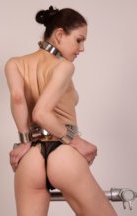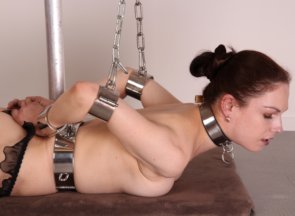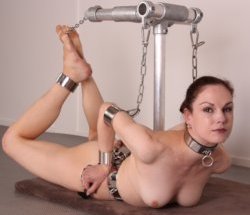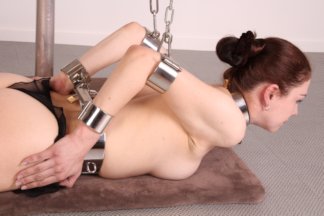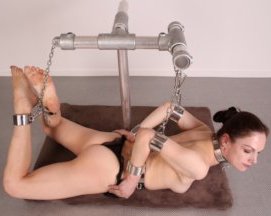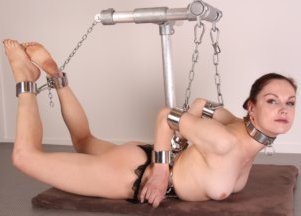 Inspired by some member requests, we built another crazy contraption that is more restrictive than it looks! This heavy steel upper body harness is held in place only by the (equally heavy) tight locking collar. A huge padlock makes sure the harness will not come off. Amazingly, this harness is completely open on the back side, but because of the collar construction there is no way to get it off. Two convenenient attachment points on the harness can be used to cuff a girl's wrists to her sides, or even better, arms crossed, like a straitjacket! Tiffany is the lucky girl to try this one out, and she is definitely not happy about the weight of this thing!!