All updates for
October 2012
Aah, it is Tiffany, the wonderful blonde we have been submitting to bondage for a few years now! She is getting used to our harsh gear, and not afraid to try anything new. So we created a little challenge for her: we lock her fists in our new Steel Mitts, and attach them to a spreader bar that is hooked to her tight metal waist band. We used snap hooks on purpose, this makes Tiffany's challenge more frustrating (as she can not use her fingers) and it is rewarding her for extreme struggling, because… she might unsnap a hook. We love new gear… and Tiffany in cold metal!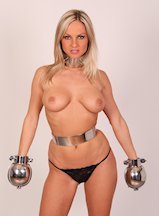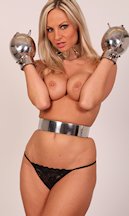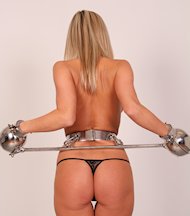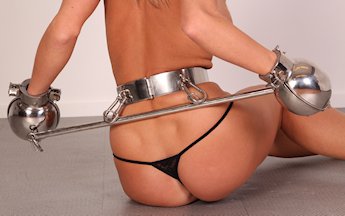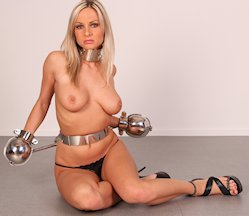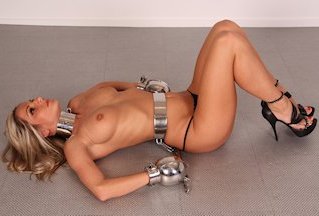 We love to use this neck spreader on two close friends! Why? Well, as we have seen before, chastity belts aren't enough to stop intimate things from happening, girls still have mouths (and tongues!) they can use. Gagging them is a good option, but this solution is way more evil! A rigid neck spreader with two heavy locking collars brings kissing sooooo close yet so far away. Moreover, they have to cooperate on every move. If one wants to sit down, the other has to sit down too. Claudia and Nelly have very slender necks, they can even turn in their collars, but that only makes things more complicated when you are cuffed together ;-)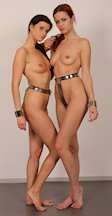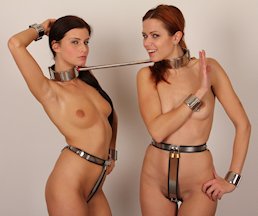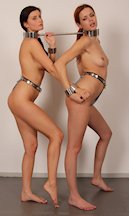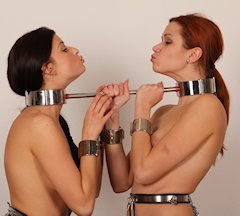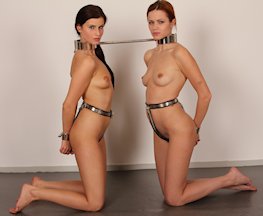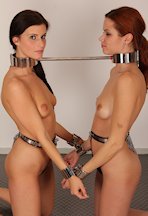 Remember this upper class lady? Roswell Ivory thinks she is royalty! And we happen to have the perfect custom metal gear for a true lady: the Iron Crown firmly locks wrists to the sides of the neck. It is a replica of a medieval design, very rarely seen, but it actually existed! Now this posh lady is powerless in her tall heels, trying to get out of this evil contraption. She is of course belted, so nothing can happen to her, but it seems she still wants to get out. As an afterthought, we decided to ballgag her with a huge 2 inch ball, not very lady-like, but hey… Roswell can take it!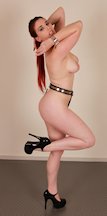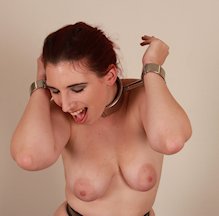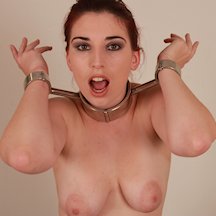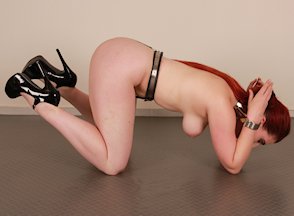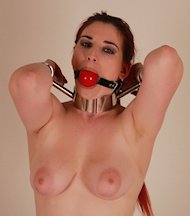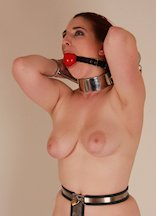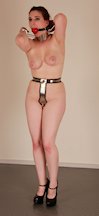 In the meantime, Brittany was belted over at ChastityBabes.com in a very unusual belt style. High security chain style! So now it is time for some good metal bondage on this very cute blonde girl! We cuff her to the metal cross using heavy metal restraints, while her neck is locked into a huge and heavy custom metal collar (it looks superb on her). That should teach her! Well.. actually it did not teach her anything. Brittany just pleads and complains about her predicament, and she plans on doing so until we give in and release her. All this submissive talk makes her even more cute and hot!