All updates for
January 2018
We proudly present (after many requests): the One Bar Prison with vibrator attachment! Now… a little warning here: don't try this at home! Using a strong vibrator on an impaled girl in high heels is not very safe! But that said, we are still going to show it to you, as so many people requested this and our model Darina is a real pro who can handle some stimulation without falling over. It is the ultimate simple bondage: a One Bar Prison and high heels. Girls can not escape from that. They just have to stand there until someone helps them, it can get a bit boring and frustrating. But at least now Darina has something to play with! She can just about grab the wire of the control unit and try all the different vibrator settings and modes. Darina had lots of fun!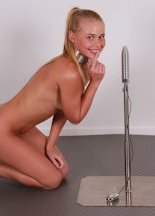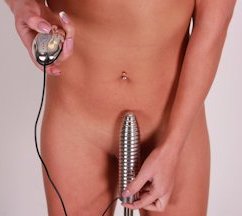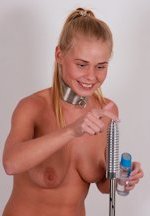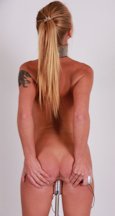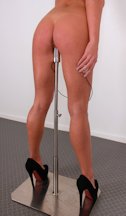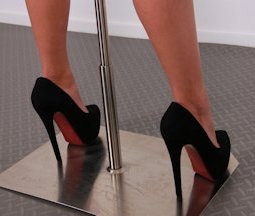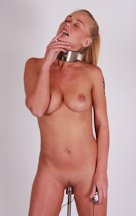 Remember cute Rosie? She only did 1 shoot two years ago and then she disappeared. But we got her back, and she is still as cute as ever! She just makes us want to use lots of metal on her, just because it is such a nice contrast with her cuteness! Here we go: full chastity outfit and locked collar, and our own creation: the Wonder Cuffs! Rosie looks absolutely stunning in this much metal! Her eyes can get almost anyone to do anything, but she couldn't quite convince us to let her go. It's hard to resist her cuteness, but we did it: here is Rosie in full metal, struggling in the Wonder Cuffs! Enjoy!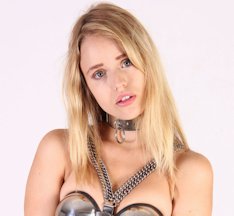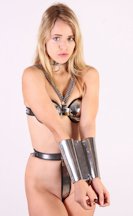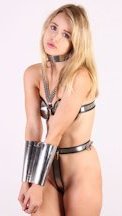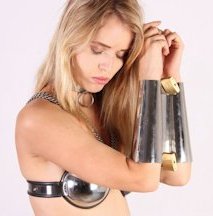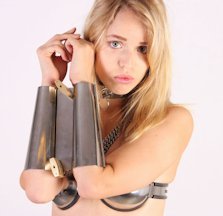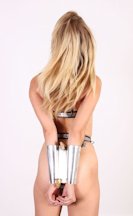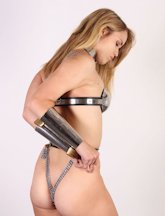 About 2 percent of girls can escape from a RigidFiddle. And Charlotte is not one of them. Her RigidFiddle is chained to the wall, and she is given the key but she just can't reach the padlock underneath. She is also ballgagged, but it's impossible to remove a ballgag when you're locked in a fiddle, so she will have to escape first. Charlotte is tall, which means her wrists are a bit bigger compared to petite models, so there is no chance she will be in the 2%. Frustrated, she throws the key at us and gives us the finger. Only to realize she just threw away her only chance at escaping…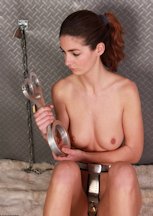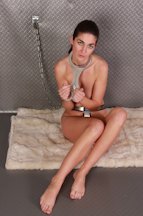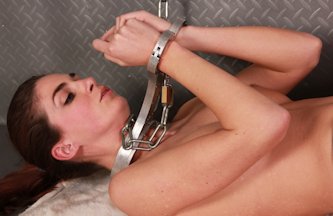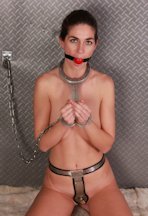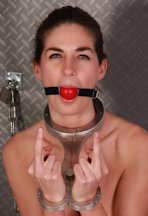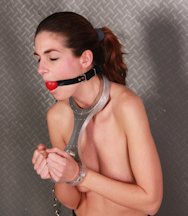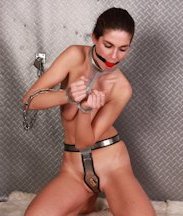 We got her! The famous funny sexy girl with the huge natural boobs: Katerina Hartlova! Of course, we had to cuff her famous boobs right away! Two big neck cuffs fit her perfectly, and there was no chance she could get those off without the key. We used the frame setup that was so much fun before with Hannah Claydon, but even better this time. Katerina was stuck, her wrist cuffed low so she couldn't stand up, held up by her boob chains. She is a wild one though, so it takes a lot of metal to keep her in place. Watch the video to see what happened, it's pretty funny!