All updates for
April 2013
Petite UK girl Kayla Louise was looking for a photo shoot, so we invited her over and gave her an experience she won't forget very easily! She did some bondage work before, but never did she see a device like our Iron Crown collar. It is so simple in its design, we just had to shoot Kayla completely naked to emphasize the helplessness of this device. Her hands are pinned in lady size manacles perched on little bars attached to her collar. Everything locks with padlocks, so there is no chance of escaping, and especially no chance of defending any private parts. Watch Kayla's hot body wriggle around in metal bondage, you'll like it!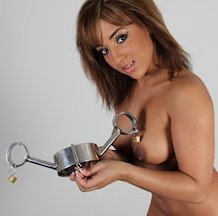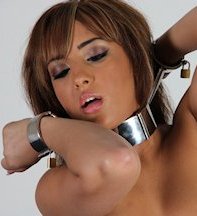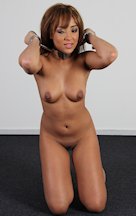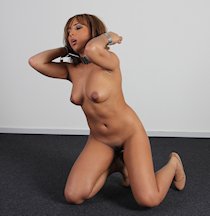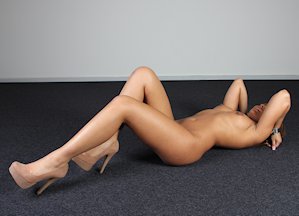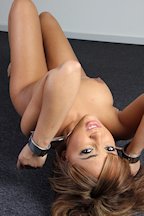 They are back! And we belted them! The very playful Nelly and Little Caprice are instructed to attach a chain leash to each other's collar and sit still in a kneeling position, like two good young slave girls. Well, they got the first part right… but as soon as they discover the joy of pulling each other down by the neck, a big tug of war is initiated. Both girls are submissive in nature, but when placed in bondage together, who will be the more dominant one? Or will they just wear each other out? Great to watch!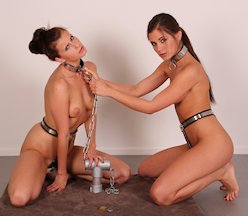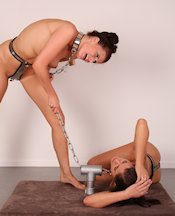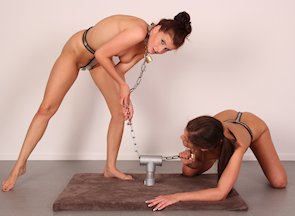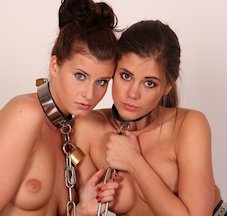 Victoria Sweet came back! We created a new bondage talent! This young girl was scared and even angry in her first shoots, but now she came back because she was still curious about our other bondage gear. From previous experience, we know we have to restrain this girl really well: she is a struggler! Let's see if we can chain her up so well that she can hardly struggle at all! We use our heaviest chains and restraints to lock her nude body to our metal frame: wrists, ankles, waist, and thighs! We put a lot of tension on her waist so she will stay nice and centered! She is not going anywhere!