All updates for
December 2010
She looks like a fairy tale princess, a mermaid, too perfect to be real. But we assure you: Ariel Piper Fawn is real, very real and perfect. We have been trying to add her to our pet slave collection forever, but she is very shy and even a little afraid of the heavy metal gear. After seeing so many of her friends model for us, she decided it must be safe and she agreed to be a collared MetalBondage girl (on screen collaring of course). We locked her safely away in our ergonomic chastity belt and added two spreader bars between her cuffs. That's all we needed to get Ariel in a really submissive and sensitive mood. She just loved the experience, and she will definitely be back for more!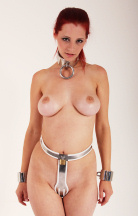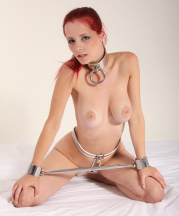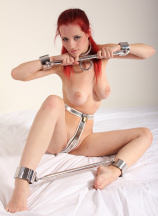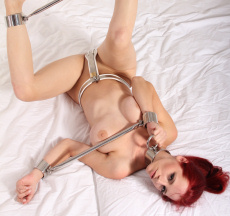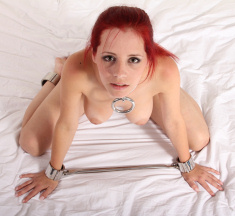 It's the super tall Penelope again! The extreme giraffe collar (on screen collaring in video) is not much of a problem for her elegant neck. So we try our latest custom item: a pair of chained thigh bands, secured to the back of the very tight waist belt. A kind of metal garter belt! We crucify this large boobed slave (she still has not lost that attitude) to a large pole configuration, running a chain through the top, so she can lower only one wrist at the time, pulling the other one up as she does so. A lot of rattling in this update, there are chains everywhere, like requested by a lot of our members. We like these new thigh bands! Any thigh band suggestions for future shoots? Please send them in!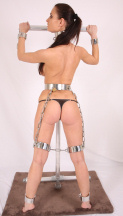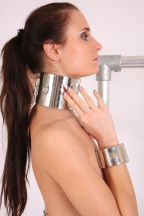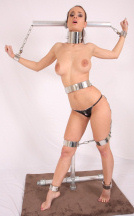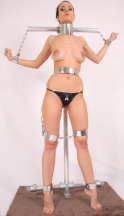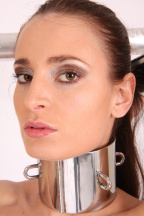 Hailey is definitely our most submissive pet slave. She really enjoys the heavy bondage and especially her chastity belt. Her friend Zoe has never been locked in a chastity belt before. This week, we decided to invite them both back and train them together. We locked huge steel collars on their necks, connected by a heavy chain. It turns out Zoe is enjoying this as much as Hailey is! The girls explore their bondage, their chastity belts, and each other in this steaming hot update. Prodding fingers examine the belts, touch the collars, pull on the locks. Hailey and Zoe softly comfort each other, visibly excited to feel the cold metal on their body. Remember our slogan: hot girls in cold steel!!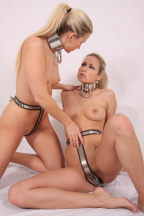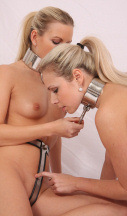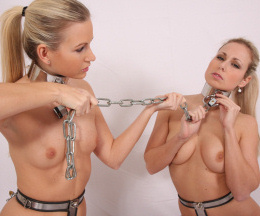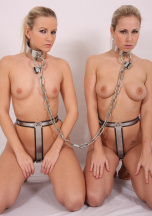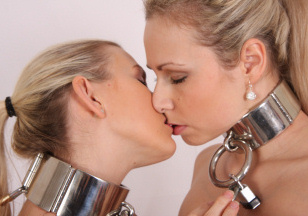 Please welcome Lizzie to MetalBondage.com. She has the most incredible body: beautiful boobs and a perfect ass. How can we improve on that? That's easy; we think all girls look better in metal, even if they are already perfect. A tight and heavy waist band has been secured onto her belly using our hex screw locking system. We then lock Lizzie into a RigidFiddle, even if it allows her to hide her boobs. We will see those next time, let's concentrate on her ass for now. How about locking her ankles to her waist, with chains that are just too short for Lizzie to stand up! It's Lizzie's first time, so we throw her the keys and find out how hard she will work to escape. This is hot!!