All updates for
November 2019
Young Kama Medea is a kinky local girl who wanted to try some metal bondage! Or actually: we wanted her to try it and she was a bit nervous but her curiosity won in the end. As soon as the heavy metal collar was locked onto her neck, Kama was in submissive mode. Nude and vulnerable, she was chained to the slave post and told to wait for her first ever metal bondage device. We picked the RigidSpreader as it would give her a nice escape challenge to focus on. Kama definitely had lots of fun struggling in this device, and we think she will be back to try a lot of our other restraints soon!!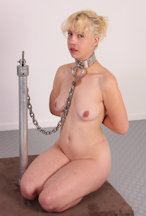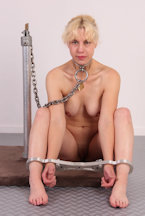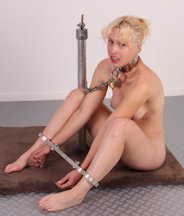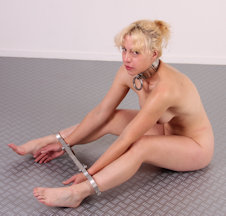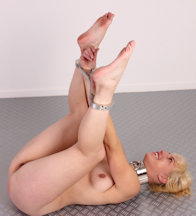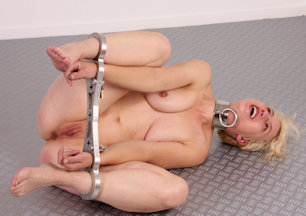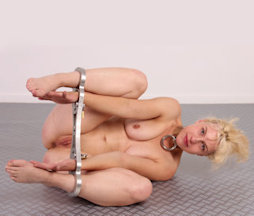 We made custom fitted boob bands for our pet slave Arabella! They are extremely tight, she keeps trying to get them off, but it's impossible without the key. She will be allowed out of her cage, on a leash, and she can have a little drink from her bowl. Arabella's eyes are begging us to unlock her metal boob bands, but we are not going to. She will have to get used to these tight cuffs on her chest. After all, they look awesome on her, don't you agree? Tight is right! Arabella will learn, she's a good pet.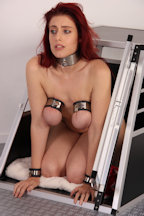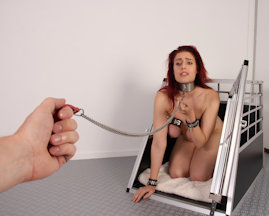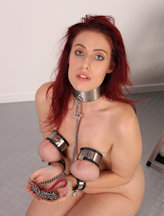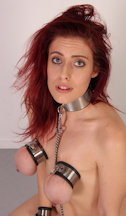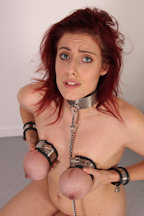 Remember Kerry in the Heavy Stork device? Get ready for some more over-the-top heavy metal bondage with a pretty girl, because this time we have managed to convince the gorgeous Sophia Smith to try this device! It is an insanely heavy device, because all pieces are massive (not hollow), the bars, the collar spikes.. Sophia couldn't even lift it. We placed the key next to her, but all she could do is just sit there. The collar spikes prevented her from falling over sideways, so her hands would never get near the key. Just sitting there in this heavy uncomfortable device, that's what they were originally designed for!