All updates for
October 2015
The super gorgeous fashion model Sylvie is back! She is so delicate and tiny, a tight chastity belt looks big on her! But she definitely needs a chastity belt, she is so naughty! She also needs nipple clamps. But Sylvie would take them off after a few minutes, because they hurt her poor nipples too much. So we need to get her hands away from her boobs. The usual RigidStock was locked onto her neck and wrists (a bit heavy for tiny Sylvie but hey), but much to our surprise she could still reach the clamps! So we had to take more extreme measures: we locked her hands into steel mitts! Geez, it's hard to make this tiny fashion model suffer a little!!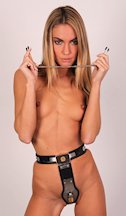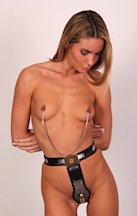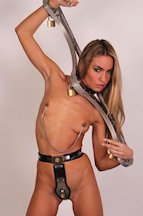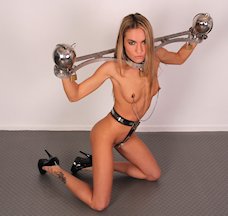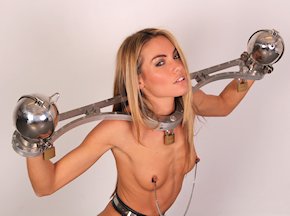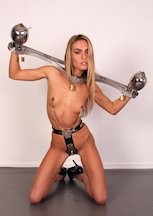 From the moment we locked Lily's legs to this frame, she was already stuck. She would never be able to get off this frame by herself. Locked in full chastity, our favorite gymnast was actually quite comfortable. This is an easy split for her, and she was not sitting on her chastity belt (it was resting between the pipes). So there would be no reason to let her down soon! We cuffed her hands behind the pole with big heavy manacles. And then her neck was rigidly locked to the pole as well. She could not move very much, but we added a ballgag, just in case she wanted to protest this 'flying' metal bondage position! Familiar? Yes, Yu did it too, don't forget to watch that one as well!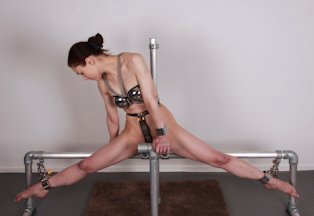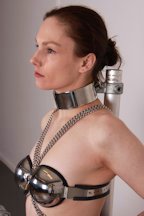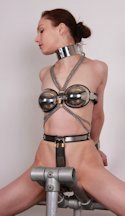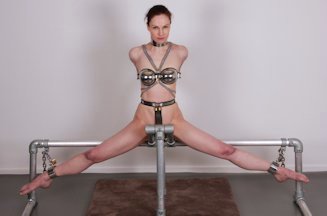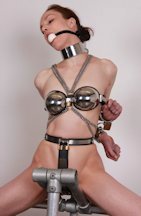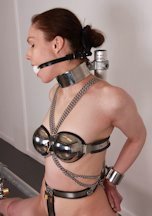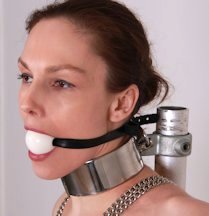 Tall Dutch blonde Mandy Slim found out about our One Bar Prison challenge on Twitter. Like many girls, she did not believe that one bar can be enough bondage to hold a girl in place. So she came over to take the challenge! I told her to bring her tallest heels, and she looked awesomely fierce! She was so curious about the One Bar Prison, touching it and lubing it up, so we got right down to business. The special metal plug was inserted very carefully, with Mandy halting the progress a few times to find her position. All she could do was stand up very straight. She tried and tried, but she could not escape this evil device! Another victim of the One Bar Prison!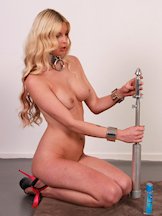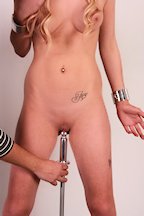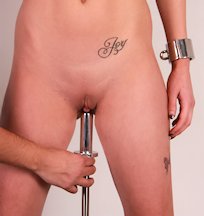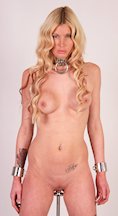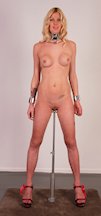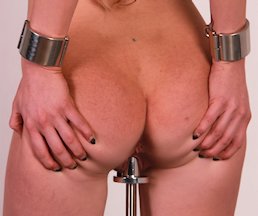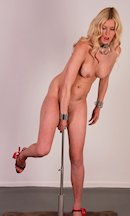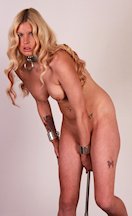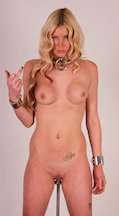 'What are these for?', new girl Dani asked, fingering a pair of dangling cuffs. We told her it would be a surprise, revealed after her wrists and ankles would be chained to the metal frame. Locked in heavy metal cuffs on her neck, wrists, and ankles, as well as a tight chastity belt, Dani didn't feel at ease. She doesn't really like surprises. When we cuffed her boobs very tightly, all she would say is 'let me out!'. So after a while, we let her out. Her wrists and ankles that is… but we (kind of) forgot to take of the boob cuffs. Interesting!!