All updates for
March 2013
Cute girl Tess Lyndon is wearing her nicest high heels today, especially for her first MetalBondage.com shoot. She is a little nervous, after being locked in her tightly adjusted chastity belt, and she is wandering around the studio aimlessly. We know… we said we would not belt first time girls… But we can't help it. Tess looks so innocent in her belt! We play a little fiddle trick on her, by NOT locking the RigidFiddle to anything. Her arms are JUST too short to escape from the metal pipe structure. When we lock her ankles to the crossbar, spreading her legs apart, Tess suddenly wishes she hadn't worn her high heels. This is a challenging position for a first timer!!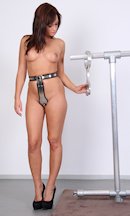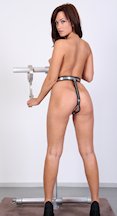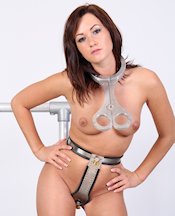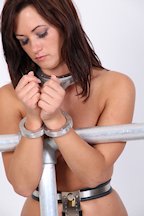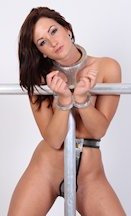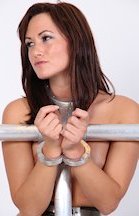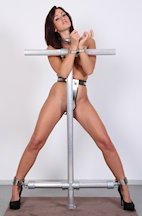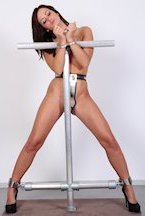 New girl Sylvie is perhaps the most beautiful girl we have ever seen! She is very tiny, with a perfect slim body. Usually we allow the model to wear some underwear on her first casting shoot, but we just HAD to belt her (sorry Sylvie). Sylvie looks incredible in a chastity belt! Of course we let her take the fiddle challenge to see if she is MetalBondage.com material, but we already know it doesn't matter if she escapes or not: we want her back!! Actually, there are only 2 models who ever escaped from a fiddle, and for beginners like Sylvie it's just plain impossible. But wow, does she look good struggling in a chastity belt and RigidFiddle!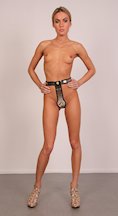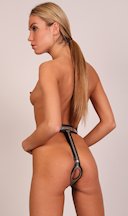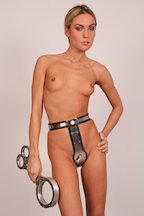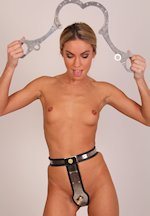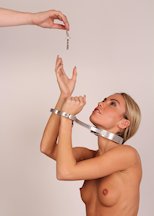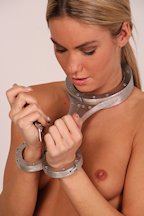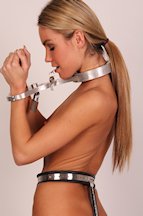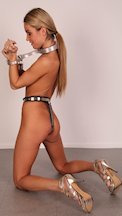 Ariel Anderssen returns for our 200th update! 200 sets of hot girls in cold steel! Time to do something special with this bondage goddess: make her kneel like she never did before! Locked in a tight chastity belt and chastity bra, Ariel has to kneel because her wrist and elbows are clamped to a metal cross. The finishing touch is to padlock her harness ballgag to a pipe above her head, forcing her to keep her head up. She can pull on the harness gag, but it only makes the ball go deeper into her mouth. Desperately, Ariel tries to find a more comfortable position than being on her knees, but she has to return to the kneeling pose every time. This is steel bondage at its best, let's go for the next 200 updates!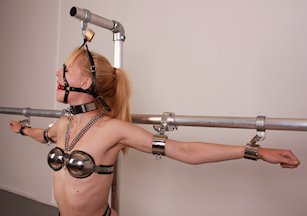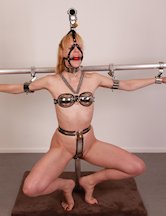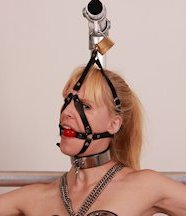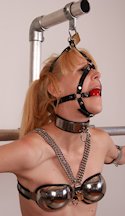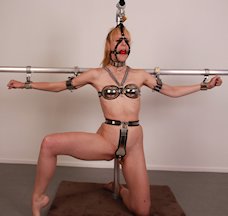 The simplest bondage can be frustrating, even torturous. Let's say we locked Jenni C in the super tall 'giraffe' collar. And then get the heaviest chains we can find to attach it to four metal posts. Everything padlocked, no escape. It is brilliant and simple. There are no wrist cuffs, ankle cuffs, waist bands, or gags. It's just Jenni C frustrated as hell, because she can not move at all, and the collar is so tall it hurts her chin when she moves her head down. Getting comfortable is just impossible. That will teach her! How long do you think she should be kept like this?