All updates featuring
Tess Lyndon
When a model comes back after FOUR years, fondly remembering the good times she had when she was here, that's always a great occasion! Especially if it is the (still) cute Tess Lyndon. This amazing girl did some great shoots with us in the past. And now she's back for more! We gave her a very hard challenge: can she remove her nipple clamps with her hands and neck locked in the Iron Crown? Probably not. But for Tess, this challenge was the hardest she has ever done, since her nipples are super sensitive, she can't stand the nipple clamps for very long. Unfortunately, she had to. There was no way she could take them off. Great struggles!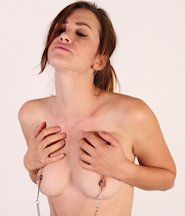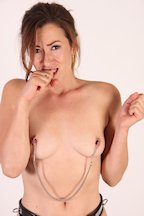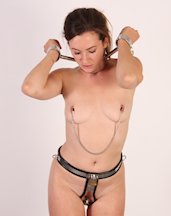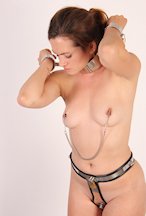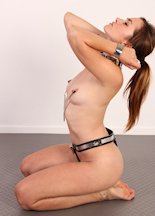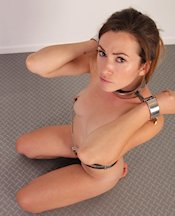 A young girl trying to be a bondage model, that's Tess Lyndon. But she is trying hard! Last time, she was nervous, but it was straight into a chastity belt and RigidFiddle for her! And now, she will be locked in our custom heavy stocks for a few hours. Possibly even more nervous than last time, she was again locked into her chastity belt. She posed a little with the stocks, but she could barely lift them. After she was locked into the stocks, she did not complain once about the weight! She had a hard time even picking up the little keys to the padlocks, but escaping this device is impossible anyway. Maybe she isn't a bondage model yet, but she sure looks hot in metal!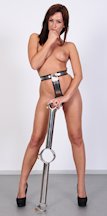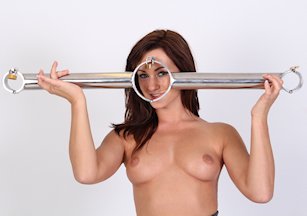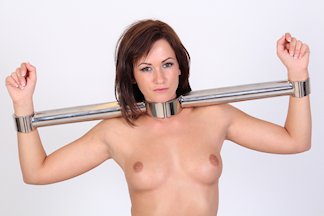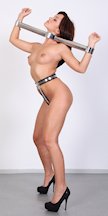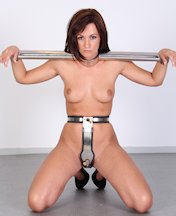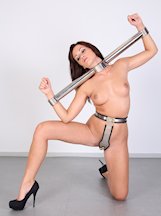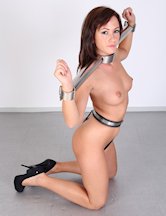 Cute girl Tess Lyndon is wearing her nicest high heels today, especially for her first MetalBondage.com shoot. She is a little nervous, after being locked in her tightly adjusted chastity belt, and she is wandering around the studio aimlessly. We know… we said we would not belt first time girls… But we can't help it. Tess looks so innocent in her belt! We play a little fiddle trick on her, by NOT locking the RigidFiddle to anything. Her arms are JUST too short to escape from the metal pipe structure. When we lock her ankles to the crossbar, spreading her legs apart, Tess suddenly wishes she hadn't worn her high heels. This is a challenging position for a first timer!!