All updates featuring
Ting
One RigidStock and one RigidSpreader. And two crazy Chinese girls. Let's see if we can make the most of this opportunity! Ting and WeiWei love strange things, but being locked together in heavy metal is new to them (well not entirely, but this time it's very rigid). It's so confusing, it takes a while to figure out how they intertwined they are if you look at the pictures. Ting's neck is in the RigidStock, WeiWei is sitting behind her with her hands in the same RigidStock. Ting's hands are in the RigidSpreader, while WeiWei has her legs wrapped around Ting with her feet locked in the same RigidSpreader. All 5 padlocks face away from their hands. There's a key, but they will have to cooperate very closely to move around and get it. And even then… they probably can't get out.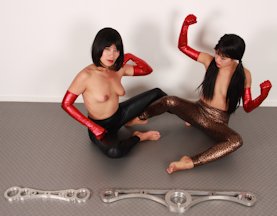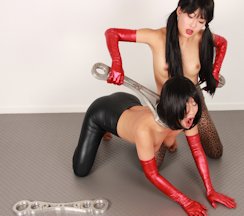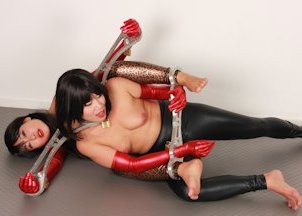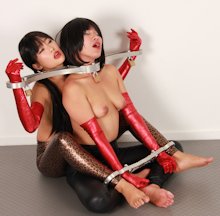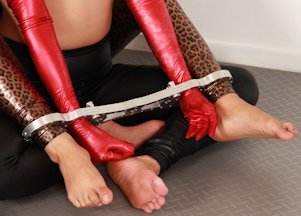 It is so simple! Two Chinese girls, two RigidFiddles, and a spreader bar! Even with the keys on the floor, they can not help each other since they are too far apart! Both fiddles have a different padlock, but it doesn't matter since they will not get out anyway. It's great to see them get more and more annoyed by the fiddles and by each other, since every move is felt by the other girl. Ting and new girl WeiWei are getting very frustrated, and we are not letting these tiny Chinese girls out for a while! Let's hope they don't start a fight!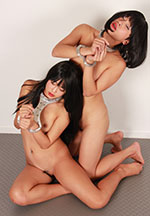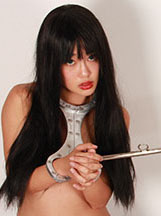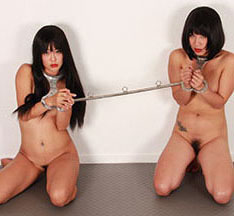 See no evil, hear no evil, speak no evil! The cute Asian trio is back! Ting, Maya, and Nancy are locked in tight chastity belts and very heavy collars, ready for their next assignment: three pairs of clover clamps (the ones that really grip and hurt)! These real-life submissives will do anything we tell them to do, so we leave their hands free to nipple clamp themselves and each other. Nancy seemed to have the hardest time, having the most sensitive nipples, but cute little Maya is in the middle so she is an easy torture target for the other two. Uttering loads of high pitched moans, the girls leave the clamps on for longer and longer, as they start to realize that taking them off hurts even more than leaving them on. Possibly one of the greatest sets we have ever shot!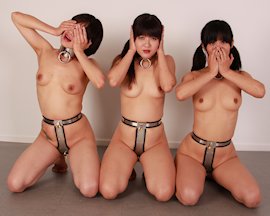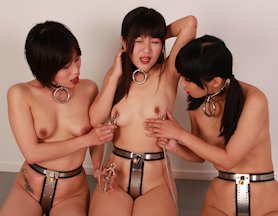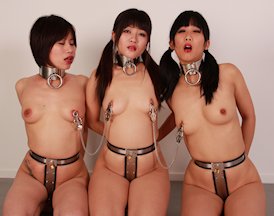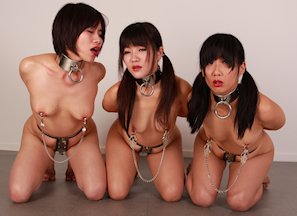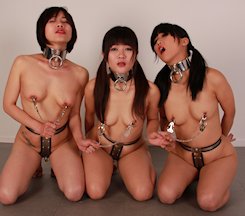 Remember Ting? She called to tell us that she had two friends over who would love to take a look at our RigidFiddles. Three cute little Asian girls curious about RigidFiddles? We invited them over right away!! These tiny bondage loving girls are so cute! One condition for playing with our fiddle collection: they would be locked in properly adjusted chastity belts. No problem for this trio, they love to try anything that is new and exciting! Watch Ting, Maya, and Nancy carefully lock each other in RigidFiddles. We did not give them the keys to the padlocks and they did not even ask. When they were on their knees, fiddled, and looking up to the camera we knew we would not get those keys out for a while! If only we could keep these pet girls forever!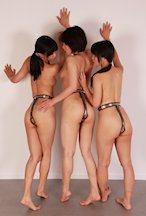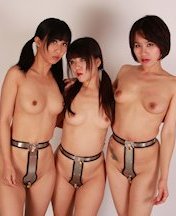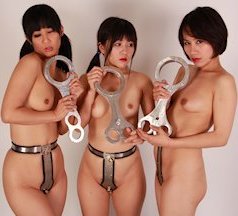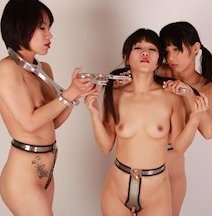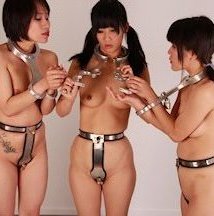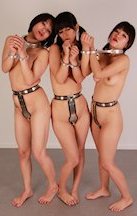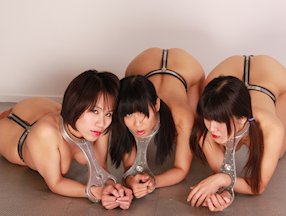 Last time we invited Davon Kim and her girlfriend Ting, they could not keep their hands (and mouths) from each other. So we locked them in chastity belts as soon as they came through the door. It didn't help. These Asian girlfriends are just so horny they try everything to get some satisfaction, even exploring the chastity belt's anal openings. So we had to take more extreme measures, locking Ting in a RigidStock and Davon Kim in a RigidFiddle. Still there was no stopping them, they just used their tongues and mouths to lick and suck each others boobs. Two shiny tight red ballgags put a stop to that, but did we stop love? Nope, these two just continued their sexual games, even trying to hump each other to get off on the belt's friction, while drooling a lot!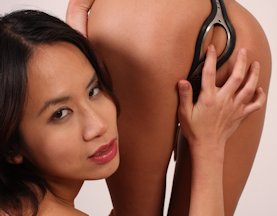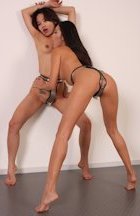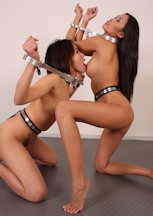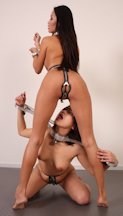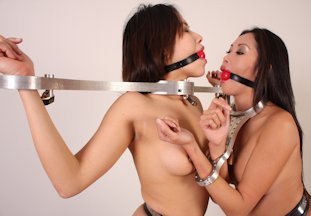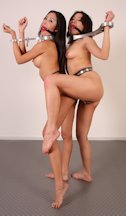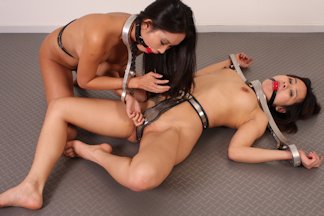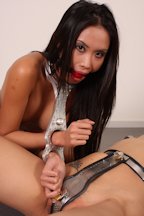 Davon Kim returns to MetalBondage.com and she brings her girlfriend Ting! Let's put this hot asian duo in a nice challenge! Our plan is to see who is more dominant of these two metal slave girls. We locked them both in tight fitting heavy metal collars and cuff them in our wrist cuffs. Then we chain their necks together, with the chain threaded through a fixed piece of pipe on the floor. When one of them sits up, the other girl has to bend down all the way to the floor. We expected a tugging war, but these girls get so turned on by bondage that they had other things on their minds!! Next time we will definitely have to gag them!