All updates featuring
Cory
Cory is a tiny girl, but she is very tough! You can add kilos of metal to her and she will just keep struggling and moving! So she would be the perfect candidate to test if it's possible to walk in heavy thigh bands on the treadmill! Well, she will have to! There is no way she can stop the treadmill since her wrists are cuffed behind her! The thigh bands are so heavy they pull her waist belt down at the back, but the waist belt is also held in place by chains to the metal frame. Cory is in high heels on this unstoppable machine! Can she manage this with her eternal smile? Or will it be too much?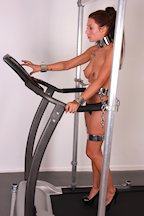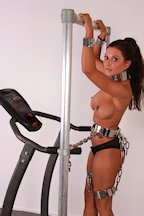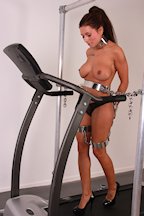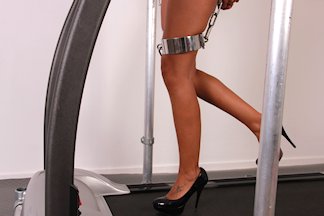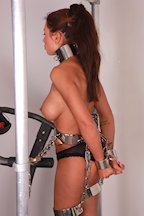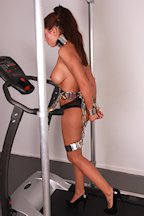 Tiny big boobed Cory Spice is back! New black hairstyle, but same submissive little bombshell! Of course she is locked in a chastity belt… and a very heavy tight steel collar. But the biggest challenges is on the floor next to her: the incredibly heavy steel hobble dress! We just know that this device is the perfect size for Cory! She can barely lift it, but with some help she manages to get locked into the dress. It's perfect! She can not even bend or kneel! And with the chastity belt AND this dress, Cobie is ultra secure!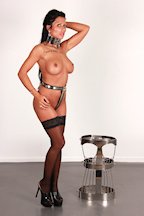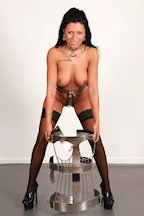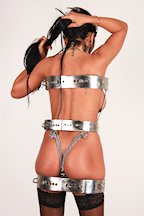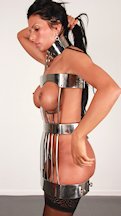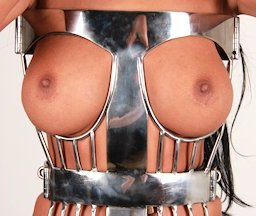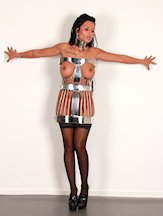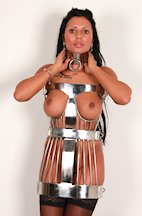 The aptly boobed Cory is back, locked in a chastity belt of course, and she is about to test our RigidStock model TL! Cory is a very tiny girl with great boobs, so we need to take away her defenses to get a proper view! That's right: her hands tend to cover up her breasts, and we have just the gear to prevent that! With a little help, Cory manages to get the stocks onto her own neck. We drop the keys on the floor next to her, but she knows just as well as you do that escaping is impossible. But don't be so sure! Keep in mind that Cory was the first girl ever to do a documented escape from a RigidFiddle! That was over 5 years ago, let's hope she did not improve!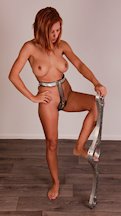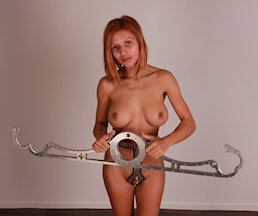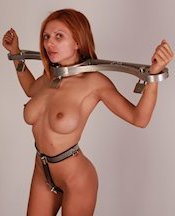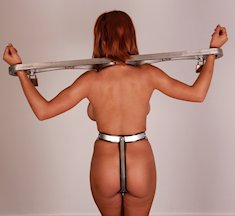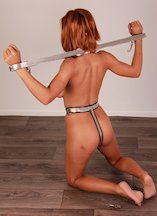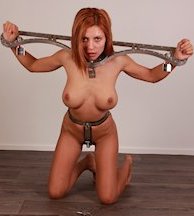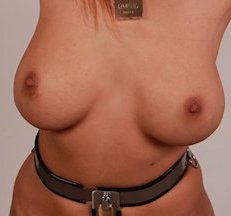 Pictures don't really show how petite Cory Spice is, but we managed to find her a collar and chastity belt! And to get out of those, she will have to take the nipple clamp challenge! Training Cory has been going pretty well, she even obediently folds her arms behind her back when she is waiting for instructions. Her huge boobs have very sensitive nipples, so this self clamping will be pretty hard on our poor slave girl! Will there be a sound? An expression of pain? Will she take them off right away or can she manage a longer clamping? And does she realise taking them off hurts even more than putting them on? Don't miss it!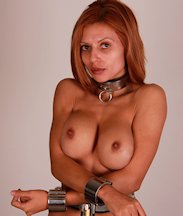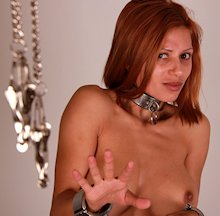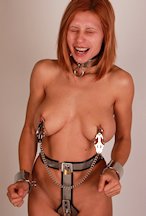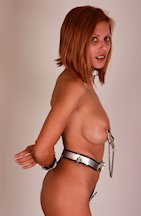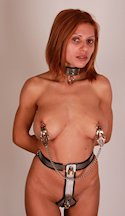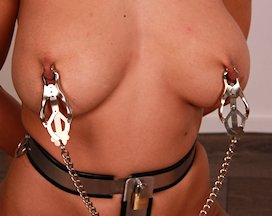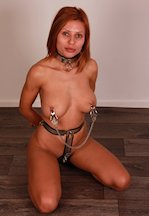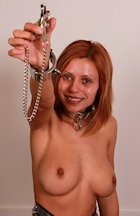 Interesting! We had this idea to attach tiny girl Cory to a metal frame by her neck and waist, and then bending her over a piece of horizontal pipe. Her ankles and wrists chained wide in spread eagle style, she should resemble something that goes on the front of a ship! And she did! It all worked amazingly well, Cory's huge boobs dangling happily between the steel frame! Cory couldn't move an inch, even though this position looks fairly easy (just bending over), you have to keep reminding yourself that her neck and waist are connected to this huge contraption! It was too heavy for Cory to get her upper body upright again, so she was just stuck there, in a perfect position! Next time we may bend a girl over even more, so she will have to stand on her toes!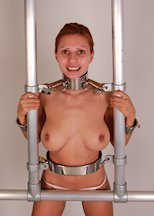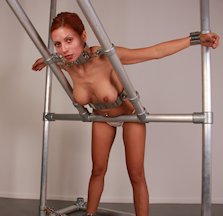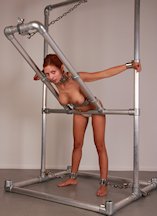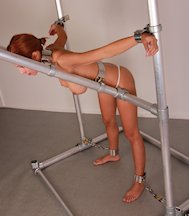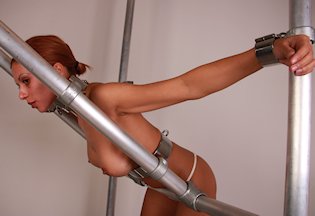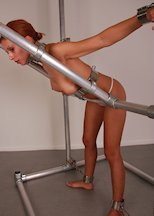 Locking petite bombshell Cory Spice into a tight chastity belt was incredible. Cory is known for her free spirited sexual personality, and to see this tiny big boobed girl in a tight chastity belt is a real stunning image. Her pussy lips are neatly locked inside the secondary shield, as members will see in the downloadable picture set. Of course we added some frustrating heavy bondage, because we still needed to discipline Cory for escaping the RigidFiddle last time. Cory is kneeling, ankles locked together, unable to stand up. Her arms are stretched high over her head by steel cuffs and a heavy chain. We add a shiny red ballgag to keep her quiet, so this time Cory is a perfect slave, no escape, no talking, not able to protect herself from groping hands…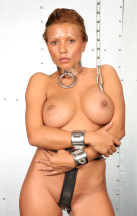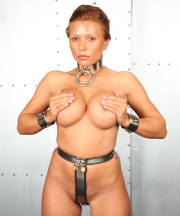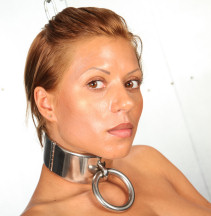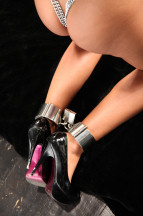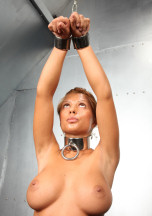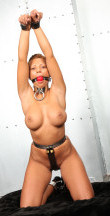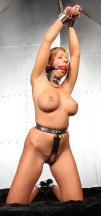 As far as we know, Cory is the only girl on the planet ever to escape a RigidFiddle model '8', all by herself. So we just HAD to invite her for an escape challenge at MetalBondage.com! We use the RigidFiddle model 'oo' on her now, because it is even harder to escape. And we spread her ankles using the RigidSpreader 'Jo-2'. Surely Cory can not escape her tight fiddle, with the padlock underneath, well out of reach? If she can do this, she would be the first girl (again) to escape a RigidFiddle 'oo' and we will have to think of restraining her VERY well next time…