All updates featuring
Stella Cox
We tried something new with Stella Cox: we chained her to the wall in quite an unusual way! She was told to insert a steel buttplug with a ring so we could padlock her ass to the wall. Stella would of course be able to pull it out by tugging on the chain, so we did a little crotchchain thing to keep the plug inside her. Technically, she was still chained to the wall by her ass, we think. Stella couldn't escape, and that was the main goal. She was so glad when we handed her the key!!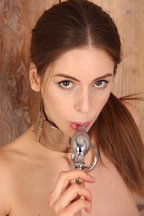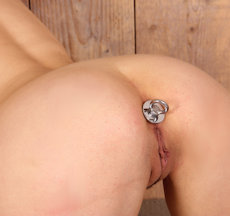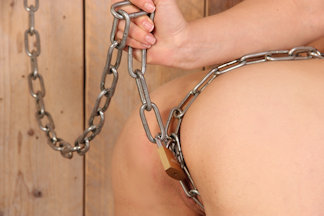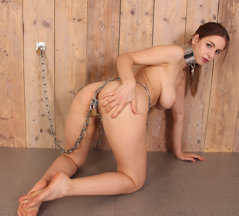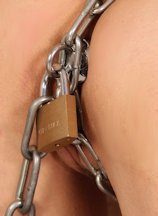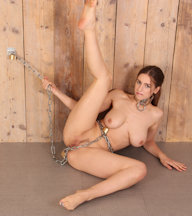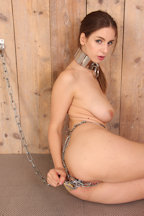 You have probably seen the ongoing Chastity Deal with Stella Cox over at www.chastitybabes.com. She is locked in custom made boob cuffs! And a chastity belt of course. Perfect opportunity to show you how submissive Stella actually is. Here she is displayed as a metal bondage pet, collared, boob cuffed, belted, and caged. She is also wearing a fox tail butt plug! Steel mitts are added so she can't pry at her belt, take out her buttplug or play with her boobs. Yes, this is all very necessary, because Stella looks cute, but she really can't stop masturbating. It's true, google it :) She's been told that if she behaves like a good pet slave, those clunky mitts might come off. Maybe…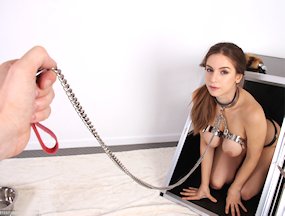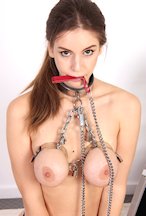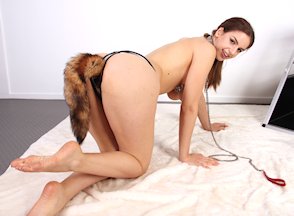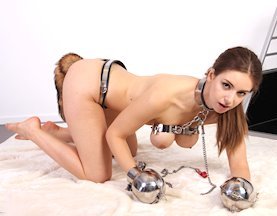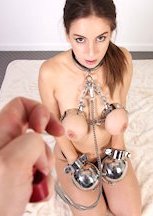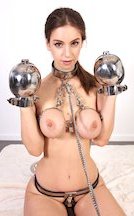 Stella Cox is back for more! And we have more! Some new items for this perfect bondage pet girl today, like a brand new gag with silver strap, a pair of cuffs on her boobs, and an ass hook that is locked to her large steel collar! We love playing with Stella, she is a true submissive, and anything goes! She absolutely loves to squirm around in the tightest bondage and the craziest gear, she is super flexible, cute, and her natural boobs are perfect for bondage! Definitely one of our best models, and she is in an interesting predicament today! Drooling, painful nipples, and a straight posture! Watch her struggle!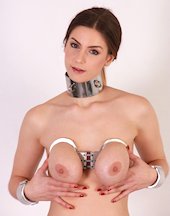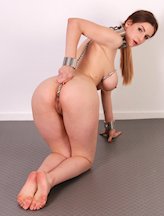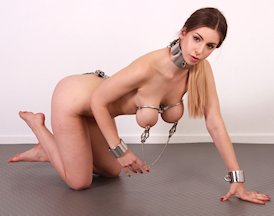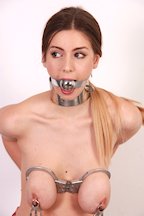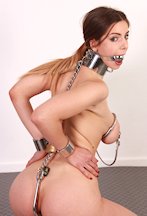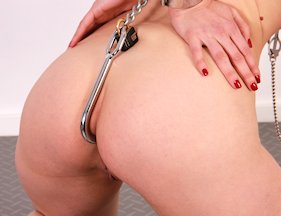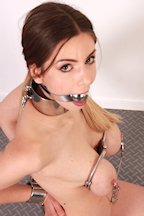 Stella Cox is so cute! She wants to try everything in our studio! Really everything? Yep, she loves it all. She had seen the One Bar Prison with the solid missile head, and she really wondered if it was inescapable. Stella asked if she could have a go, and we were happy to let her try. But not without a few modifications though! We changed the missile head for a much larger (and longer) 3-ball dildo. And we also added a spreader bar with heavy ankle cuffs to make sure Stella wouldn't go anywhere. Actually, the ankle cuffs were not needed of course, it is a One-Bar-Prison! There is no escape, even without any other bondage going on! Stella loved it, she exclaimed: "I'm impaled!!". That's a good thing apparently.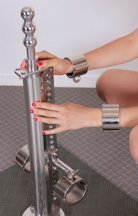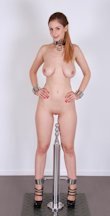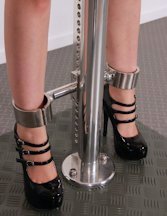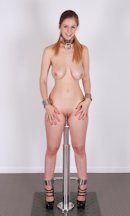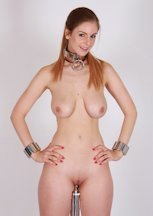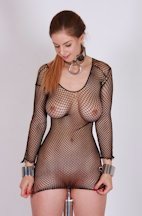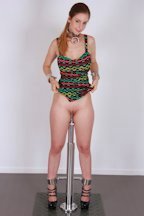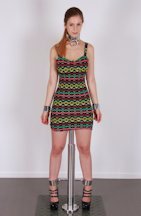 When the fabulous Stella Cox was over for a ChastityBabes.com challenge (check it out!), she got really frustrated and horny, so we decided to finally give her what she wanted. We chained her ankles and wrists to the wall so she was completely helpless. A magic wand was positioned and bolted down, resting on her sensitive pussy. All we had to do is turn it on and sit back to enjoy the fun! Stella got what she asked for, but maybe a bit too much?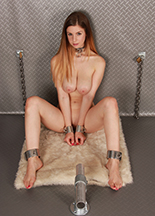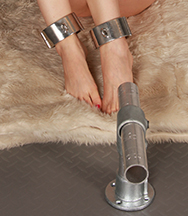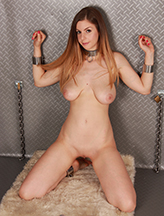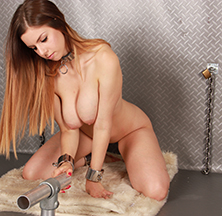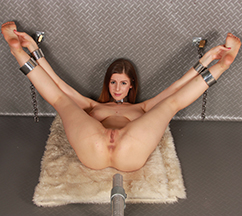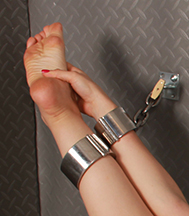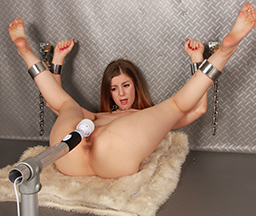 After a lot of testing and building, we can finally reveal our latest device: The Spider!! It is a very evil metal device, designed to make our models completely helpless. Stella Cox will demonstrate just how helpless the Spider can make her. First a waist band is locked on, with a rigid pole extending back. Stella then lies on her stomach, and the rest of the Spider device is attached. Her ankles and wrists are locked in the device above and behind her, so she is in a nice arched position. This is inescapable, and the beautiful thing is: we can arch her even more by pulling the Spider up and repositioning the pin on the vertical post. How much can we bend Stella? Just watch the video and see for yourself!