All updates featuring
Short Stocks
My new resident model River is so gorgeous! She hasn't been in bondage much, but that's all going to change of course if she keeps modeling for me! River is very enthusiastic about trying out all of my equipment, so she will have plenty to do in the next years! These short stocks are very restrictive, as River finds out. All she can do is sit on the floor, nude and helpless. Even when I threw her the keys, she couldn't get out of this contraption!
River is available for custom shoots of course!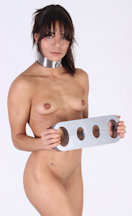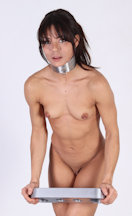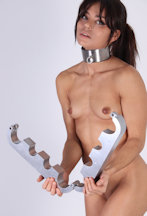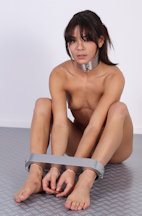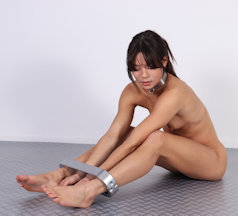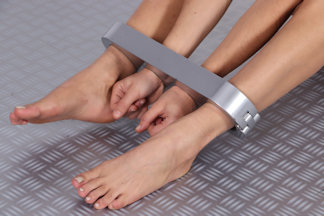 These short stocks are a new addition to our collection. They are very heavy and they consist of ankle cuffs and wrist cuffs welded together at the shortest possible distance. We knew we would need our most flexible girl to try these stocks, so we invited the amazing Lily over to lock her into some impossible positions. Unfortunately, one of the positions we had in mind really is impossible with these stocks. In our similar RigidSpreader Jo-2, a hogtie position is possible, but only very few models can do it (piece of cake for Lily). But with these short stocks, the angle of the ankle cuffs is just not suitable for the ultimate position. Oh well, we tried. Actually Lily tried, and she was very disappointed, but rest assured: we have more crazy challenges in mind for her flexible body!