All updates featuring
Alisa
Let's do a little escape challenge with tall brunette fashion model Alisa! It's easy: escape from 5 pairs of handcuffs and a pair of heavy wrist cuffs (behind the back) and she can go! But we know Alisa does not have any escape experience, she does not even know how cuffs work exactly. For us it is just an escape to watch this stunning model struggle in metal bondage. Because we just love a beautiful woman in chastity and collar, trying her best to escape her restraints (but failing).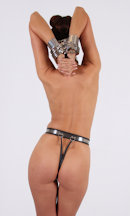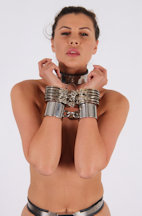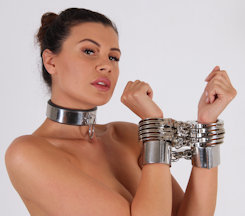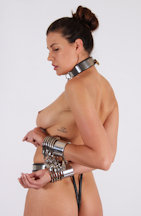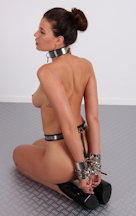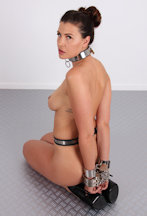 Remember Alisa? Well, here is a secret: her name isn't really Alisa. She is a fashion model with a very strict agency, who would never allow her to try this. But still she came back for more, she must really like it! We locked her in the same chastity belt again, chain style in the rear, because it was such a perfect fit. This time we make Alisa try the very heavy stocks. They are heavy, but once locked on the weight is not too bad. Escaping is impossible, as Alisa found out. Even when we helped her a little, she was still stuck!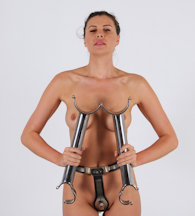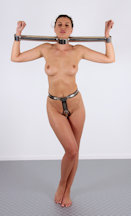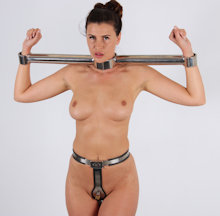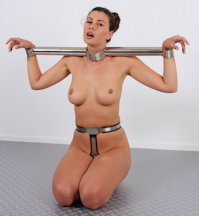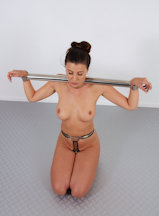 New girl Alisa was doing a Casting over at ChastityBabes.com, and she had to wait for a few hours in her belt. So we just asked her if she was flexible at all. She didn't know what we meant but as soon as we pushed her arms together she knew what was going to happen. She would be tested for her elbow bondage skills! In metal of course. Impressively for such a broad shouldered strong girl, Alisa's elbows go together all the way! Making her elbows touch in heavy steel restraints was a lot of fun, as Alisa tried to work out how to escape from these cuffs. We even handed her the key, but she still couldn't escape! Alisa is a stunning beauty, let's hope she will be back for more bondage tests soon!