All updates featuring
Handcuffs
Poor Polina! She is the most flexible girl we have ever seen, and the only one who can do reverse elbow bondage! She also HATES nipple clamps. Which is quite unfortunate, because she can not reach the clamps when we keep locking her in tight elbow bondage devices. The Bagno arm screw makes her elbows touch, and a double hinged handcuff locks her wrists into place. Now it is time for the nipple clamps again, with an added padlock for weight. Polina soon starts crying. But don't worry, she asked for this training herself! She wants to improve!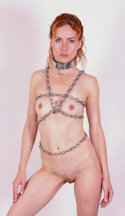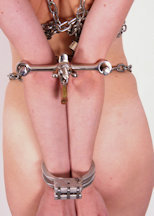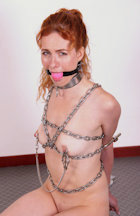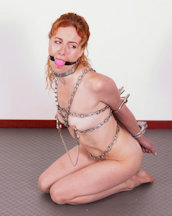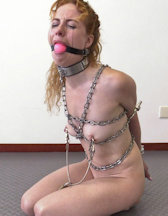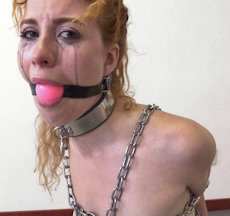 Tiny 19-year old Lina Roselina is very brave! This teen girl looks very innocent, but she does love some kinky things in her private life! We told her to clamp her nipples and labia, add a heavy ankle spreader bar, and then cuff herself with her hands overhead. We harness gagged her too! Lina was completely helpless, and she couldn't remove those evil pinching clover clamps anymore. She tried moving around, and even turning, but it only caused the clover clamps to swing violently, hurting her poor nipples and labia. Quite a predicament!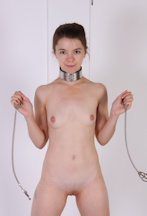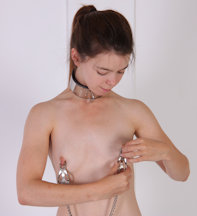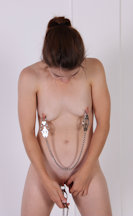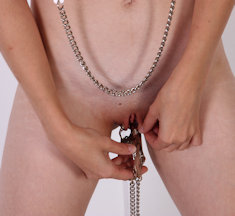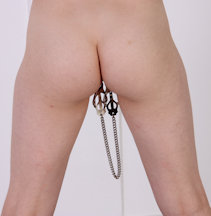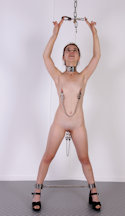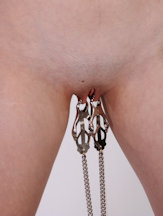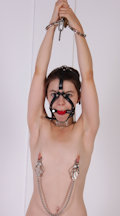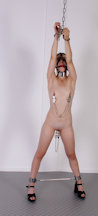 Remember our young neighbor girl Roxy C? She is literally the girl next door! So innocent, she doesn't know the different between a collar and a waist belt. She just smiles and has a HUGE curiosity. Today, we are going to show her a lot of restraints at once: it's the best way for her to learn! A nude Roxy nervously waited in her heavy collar, waist belt, and wrist cuffs. We locked the Scold's Bridle on her head and we locked her wrists to her waist belt. Then we attached the steel mask to a special frame, so she would just have to stand there like a doll. We pull her elbows back with a pair of handcuffs and Roxy is ready to be admired, naked and in steel, unable to move!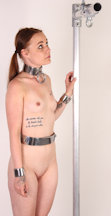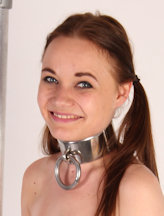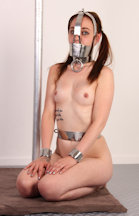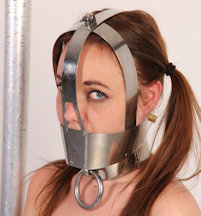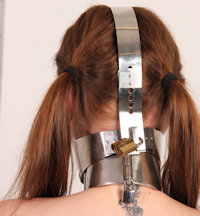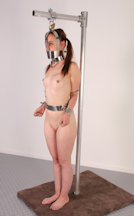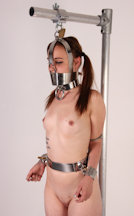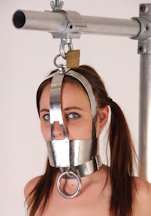 Tall dancer Britney is back for a new challenge! She will try the Wheel of Steel, the bondage device that makes your ass stick out, and prevents you from standing up straight. We cuff her hands to the top of the Wheel of Steel, and we also cuff her elbows. Britney is so flexible! Must be all that dancing! Let's see if those endless legs and arms can be flexible enough to get to the keys on the floor. Of course, it's an impossible challenge, but we didn't tell her that…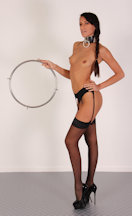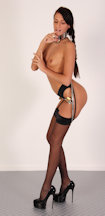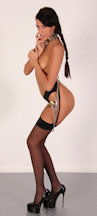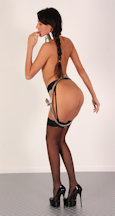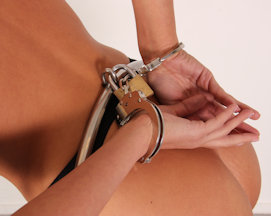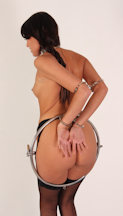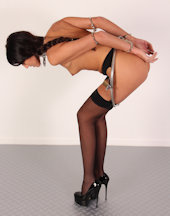 Nelly has a new girlfriend! We saw pictures of them together on social media, and Nina looks like a fun girl. We decided to invite them over for a duo shoot, we just love female couples. It is fun to think of ways to separate them in a very frustrating way. These hot girls just can't stop touching each other. Fully nude, Nelly and Nina were locked into heavy locking collars, and cuffed with 4 pairs of handcuffs each! Then we told them to padlock themselves to the slave bar. They didn't realize they would be JUST too far apart to kiss. So close and frustrating!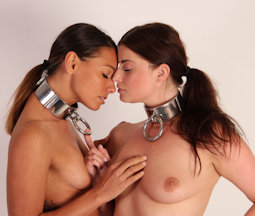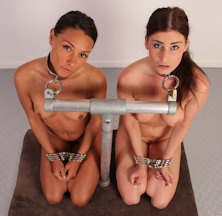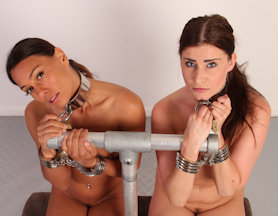 We found a new model with a perfect body for metal bondage! Arabella is a stunning red head diva, with some very unique bondage skills. Her small waist, super flexible arms, and her ability to open her mouth really wide are surely going to be a lot of fun for tight belts, extreme elbow bondage, and huge gags. But her most fun feature are her natural boobs that can be cuffed and locked! Arabella did not expect her boobs to be cuffed in this update. In fact, she did not know what to expect at all. But with her boobs chained to an overhead frame, balancing precariously in her super high heels, Arabella must have been wondering what she had gotten herself into!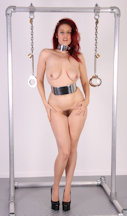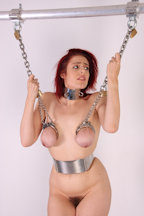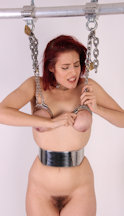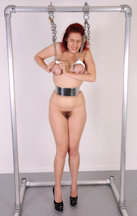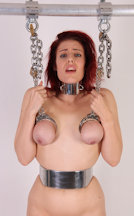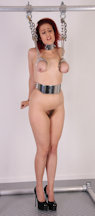 Let's do a little escape challenge with tall brunette fashion model Alisa! It's easy: escape from 5 pairs of handcuffs and a pair of heavy wrist cuffs (behind the back) and she can go! But we know Alisa does not have any escape experience, she does not even know how cuffs work exactly. For us it is just an escape to watch this stunning model struggle in metal bondage. Because we just love a beautiful woman in chastity and collar, trying her best to escape her restraints (but failing).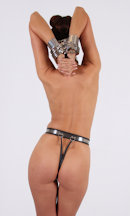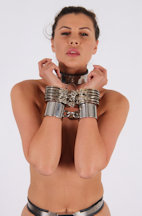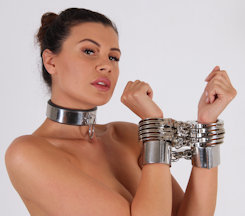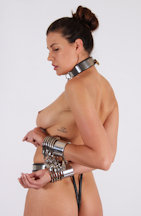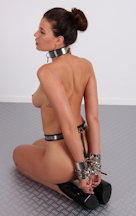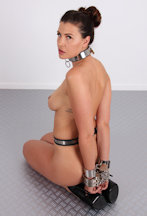 Surely 2 boobs cuffs will fit on each of Katarina's huge natural boobs? We cuffed her boobs with 1 cuff each before, but two makes it more secure. Katerina in a chastity belt, boob cuffed, wearing a heavy collar, that's something you don't want to miss. To make this a bit harder for her, we cuffed her left wrist to her right boob and her right wrist to her left boob! Behind her back! With double handcuffs of course. Then we gave her the key and watched her struggle, those giant natural breasts swinging as she tried to reach the keyholes. We love Katerina. She should be in bondage permanently. Especially her boobs. Did we mention boobs?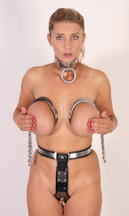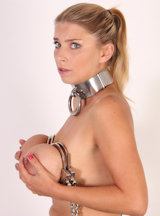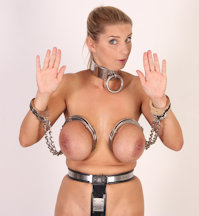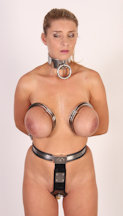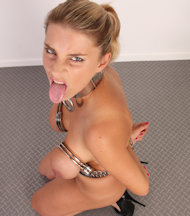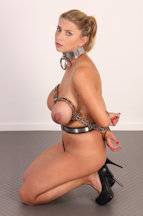 Darina is now used to getting locked in a lot of restraints, but what we have in store for her today was a bit too much, even for her! She could barely move! We used two pairs of SteelBound wrist cuffs, and then a regular pair of handcuffs in front of those and a pair of heavy Clejuso handcuffs behind them. Darina was struggling to lift her arms, it was a lot of steel. Then we added the ultra heavy ankle cuffs, flanked by two pairs of leg irons for good measure. With her heavy steel collar and all these restraints on her arms and legs, all Darina could do is sit there and wait. It was exhausting just trying to move!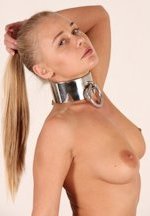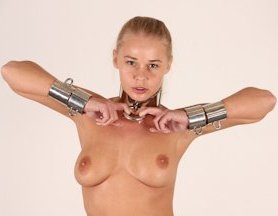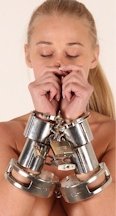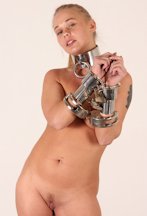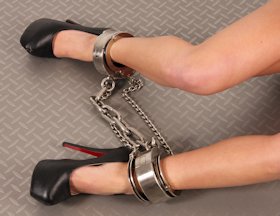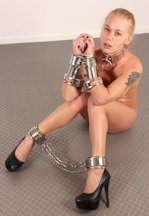 We thought it would be fun to lock heavy metal onto Cobie's slender arms until she literally couldn't move them anymore. Cobie thought that would be fun too, but after a few minutes she realised that this wasn't an easy predicament. We placed the key inches away from her fingers, but she simply couldn't move her arms to grab the key. The metal was tight and heavy, handcuffs alternated with custom wrist cuffs, and a pair of handcuffs on her elbows plus heavy elbow cuffs above those. Cobie is easily flexible enough to have a regular pair of handcuffs on her elbows, and to be honest, that would have been enough to restrain her without hope of escape. But we like overdoing it, and Cobie loves it too!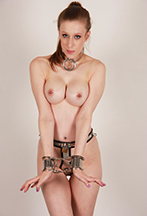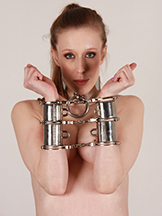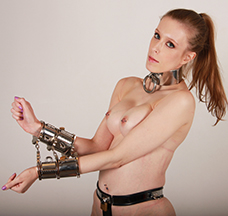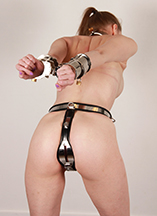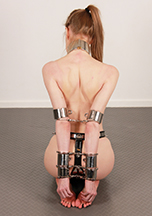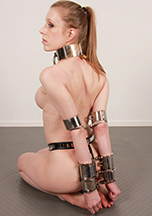 Cute bombshell Melissa returns to test our newest piece of equipment: the Gimp Cage! As always, she is in a chastity belt, and this time she is even locked in a chastity bra as well! Melissa is used to that, so that's no problem. She was really intrigued by the cage! It is very small, but Melissa manages to get inside, her head sticking through the top bars, the rest of her trapped inside. We even handcuff her wrists to the cage, so she is really stuck. The cage closes with some hex screws, so Melissa will need a handcuff key and a hex key to get out. She works very hard to free herself again… only to realise she is still in full chastity :) For which she gives us the finger… of course.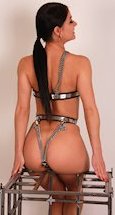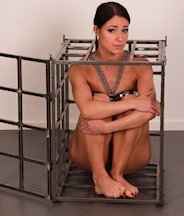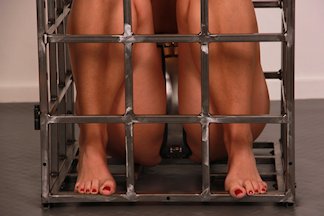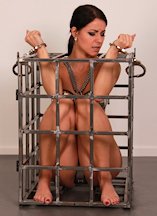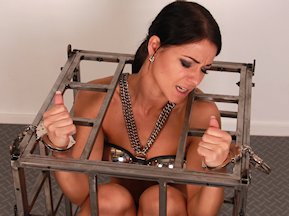 Let's see… a chastity belt, metal posture collar, 15 pairs of handcuffs, 1 pair of elbow cuffs, 1 pair of thumbcuffs, and 6 pairs of ankle cuffs. That ought to slow Christina down a bit. She has troubles even lifting her arms. With all of this metal locked on to her, Christina is now starting to understand what we mean by 'metal bondage'. We finish decorating her with our latest diabolical item: the unique metal 'tape' gag!