All updates featuring
Bella
Can you believe Bella wrote me again after more than a decade to be back on the site! That's crazy! Remember her fun updates when this website was just starting up? She was so nice! Now Bella is back again and she still looks great! But things have changed here at MetalBondage. No more panties, and there's training challenges. Like wearing painful clover clamps. And then there's me trying to figure out how to prevent models from removing them. Like this update, where I just added tons of gear to Bella until she finally couldn't reach the clamps anymore. Did I overdo it?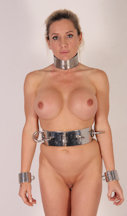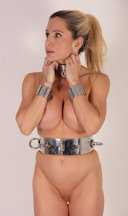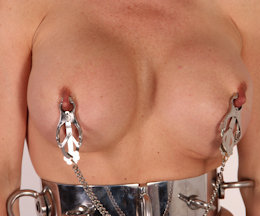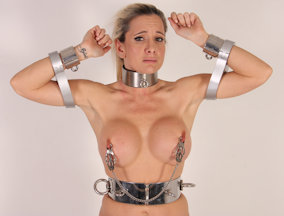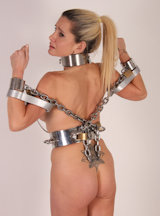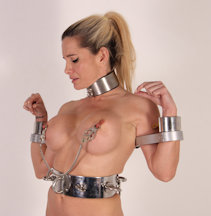 Remember Bella? The girl who is afraid but curious? This time our brave slave girl does some research on our RigidSpreader. And she is doing an incredible job! It may not look like it is hard, but the RigidSpreader puts a girl into a sitting position that does not really work when you are in a rigid chastity belt! Bella does not seem to mind, she keeps rolling over and stretching her legs out in the air. Investigating the RigidSpreader's escape possibilities is not so successful, however…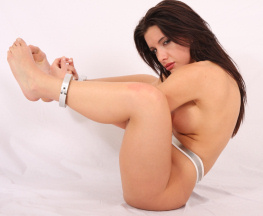 Last time Bella was with us, she was so afraid of our metal gear, we thought she would never come back. So we were quite surprised she wanted to have another go, even when we told her the condition for a second appearance: a chastity belt. Bella is a small girl, and she looks great in a chastity belt, although she seems to have some trouble getting used to it. As part of her therapy, we tell her to cuff herself this time, so she can overcome her fear. Bella does not protest, she seems intrigued by the simple locking system. The wrist and ankle cuffs are so easy to close without any tools, but they will not open that easily!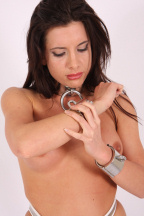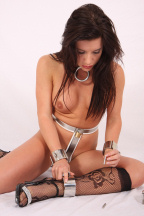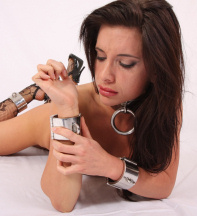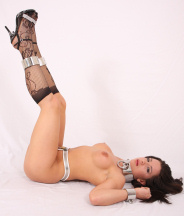 Most people would be far more terrified of taking their clothes off than to be locked into metal bondage devices. Our models never seem to be 'most people'. In fact, our newest bondage slave girl Bella was mortally afraid of any of our items. She would have given anything to do 'just' a topless shoot. But that's not what we want to see, and neither do you. Locking this petite girl into metal took quite some convincing. We used our heaviest wrist cuffs, collar, and waist band… not to shock Bella, but because they were a perfect fit. Bella calmed down a little when she was collared. And having her wrists secured to her sides made her even more relaxed. Now that's therapy!