All updates featuring
Heavy chains
Can you believe Bella wrote me again after more than a decade to be back on the site! That's crazy! Remember her fun updates when this website was just starting up? She was so nice! Now Bella is back again and she still looks great! But things have changed here at MetalBondage. No more panties, and there's training challenges. Like wearing painful clover clamps. And then there's me trying to figure out how to prevent models from removing them. Like this update, where I just added tons of gear to Bella until she finally couldn't reach the clamps anymore. Did I overdo it?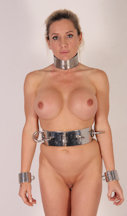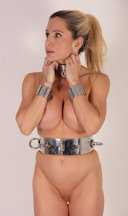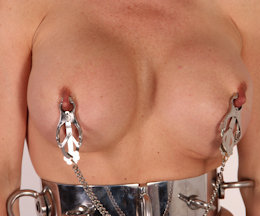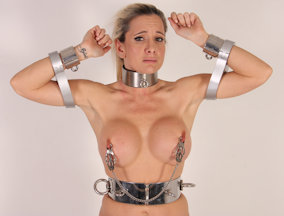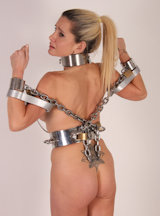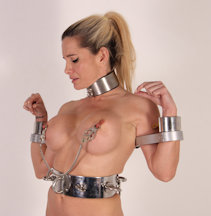 In this picture and video set, Aubrey is in a prison cell, locked in millions of kilos of steel. She does not enjoy this at all. It is very painful and unnecessary. There is so much steel, she can't even move. She is afraid to lie down. Aubrey is locked in a full chastity outfit, including belt, bra, and thigh bands. She is also locked in super heavy SteelBound restraints: a collar, wrist cuffs, ankle cuffs, and elbow cuffs. Two pairs of cuffs are added to each of those heavy steel cuffs: on her ankles, elbows, and even 4 pairs on her wrists. A pair of thumbcuffs makes her set complete. The guard comes and locks a chain to her collar and pulls her out of her cell. She is moved to a wall, where she is restrained even further: Aubrey is chained to the wall by her elbows and ankles, and an X-chain to finish off the position. Poor Aubrey!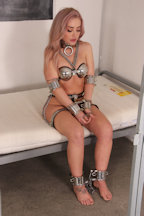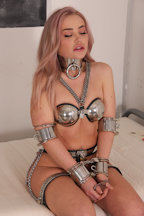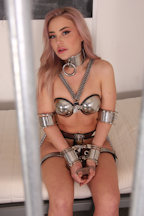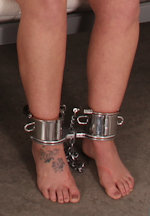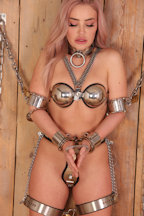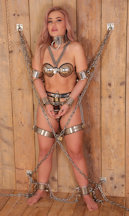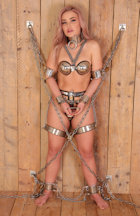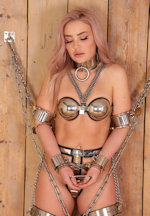 Cute Abi was very curious about everything in my studio. Locked in her own elegant chastity belt, she hopped around to look at all the metal gear. The rotating display seemed to intrigue her most. There was a bar on top of it and I told Abi to lean against it while I would turn on the rotating platform. She took a few spins with her ankles locked to the post. And then again with her arms chained behind her. Then I got the idea of connecting her wrists all the way down to make her bend over backwards. This was seriously hard! Do not try this at home!! Abi is world class, one of the most amazing display positions I have ever done!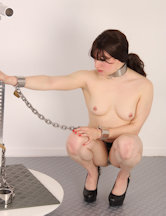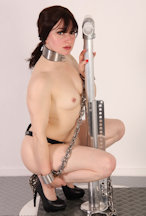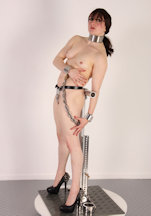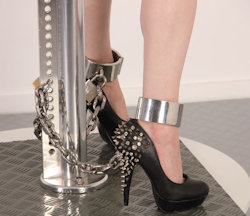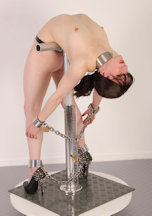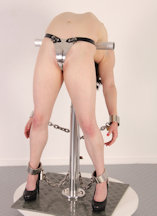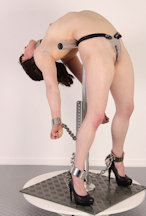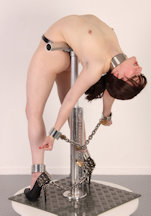 We found this new incredible life style submissive called Ballet Sub Ella! She is every bondage rigger's dream! Ella has been trained for decades to walk on her toes and she always does so. She is incredibly flexible and can be tied and restrained in any position! Imagine a professional ballet dancer gone full time nude bondage slave, that's Ella! Of course, we put her in a heavy steel collar and cuffs, and then we just chained her to the wall in a full split pose! Wouldn't everyone just love to have a wall ornament like Ella? Stay tuned for more Ella soon! The possibilities are just endless!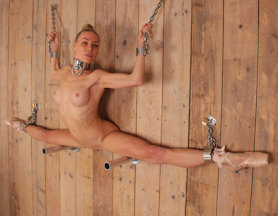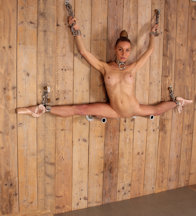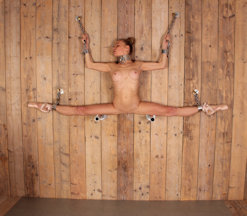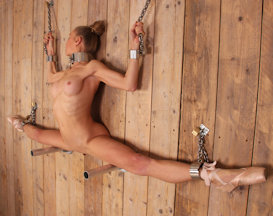 So Keira Lavelle is not very submissive at all. Last time, we tried to make her into a serving wench, but she did not like the cold tight metal very much. She seemed more interesting in doing her own thing, and her favorite thing is touching herself! So we fitted her with a Carrara chastity belt. Obviously she hated that too, so she tried to pry her way into the belt, testing the lock, pushing her fingers under the belt… We had to take some extreme measures to stop her from touching herself, but we did it! If you want to see pure frustration, watch this update!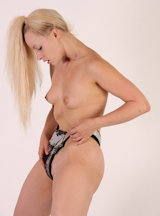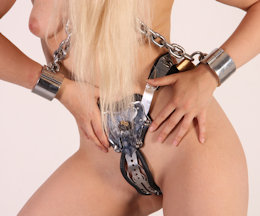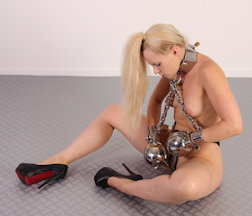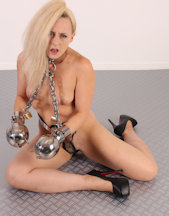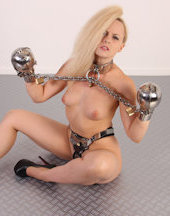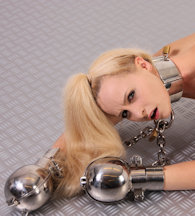 Can 8 chains hold Cobie? We will have to try it! This was actually her own wish, she wanted to see how it would feel to be held by 8 chains. It turned out to be very interesting, because a chain on all 4 sides of her waist and neck means that she can not move at all. She is held in the middle, unable to even wriggle. It was a lot more restrictive than Cobie had expected! Also, the tall Giraffe Collar meant she couldn't move her head, and we locked her wrists behind her with her arms spread out. Yes, it is safe to say Cobie was very stuck in this spectacular position!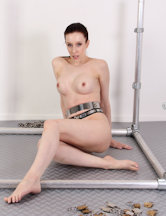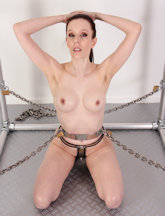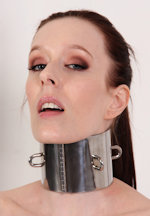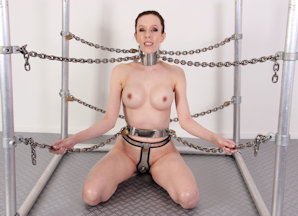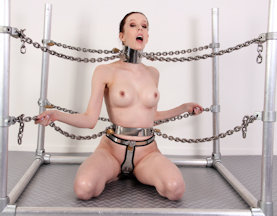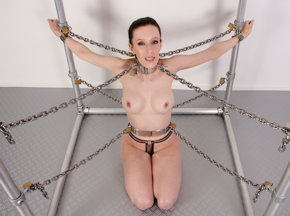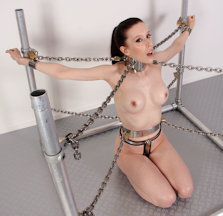 Tall Latina dancer Britney is back! She is all arms and legs! Super long slender arms, long legs, and awesome flexibility and grace. She is not into bondage though, which might explain why she doesn't really like us using her flexibility for some extreme elbow bondage. Her neck is chained to her waist with heavy chains. Her wrist are locked to her waist. So far so good, but then we locked her elbows all the way together! Suddenly Britney was in a very harsh predicament, struggling to get out. She had no chance fighting all this heavy steel!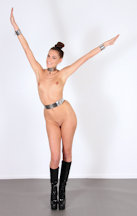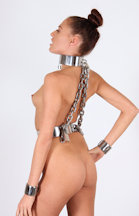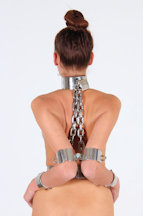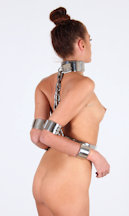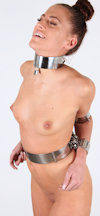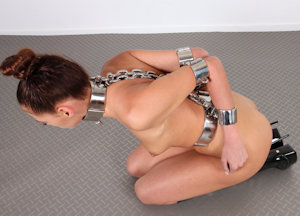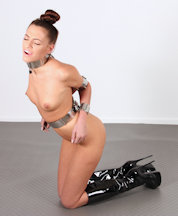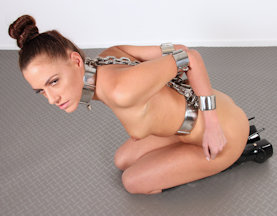 When we had Ariel Anderssen over for a Chastity Deal, we decided we might as well 'use' her for other things, like a bit of metal bondage! Ariel had previously commented how much she liked the update with Rachel Adams in a steel hogtie, so we went ahead and put Ariel in the same position. She literally could not move an inch. And as more time passed, she started drooling uncontrollably. Yes, this is an extreme position, and it starts to take its toll after a while, but we all know Ariel loves this kind of predicament more than anything in the world! The famous Ariel Anderssen, completely stuck, don't miss this update!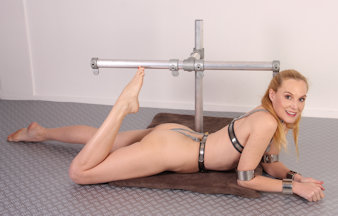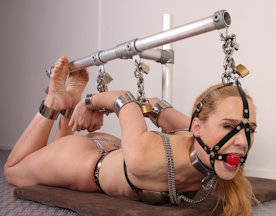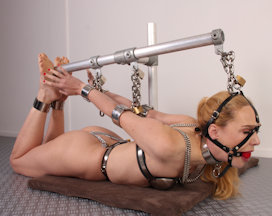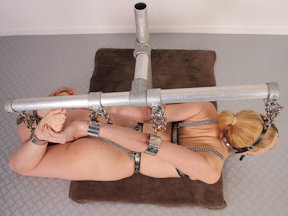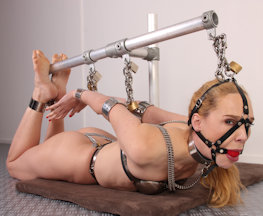 Muriel loves steel bondage so much! She is going back into the dungeon for another challenge, she will be locked in a lot of steel for the afternoon. But even when she is waiting for what is going to happen, one pair of thumbcuffs already changes her breathing. She is almost moaning in anticipation for more heavy metal. Soon, a lot of gear is locked onto our lioness girl. First, her neck is locked in metal stocks and chained to the ceiling. Then a RigidFiddle is added to her neck and wrists. Muriel is getting more and more excited. A spreader bar keeps her legs apart, and finally a chain is locked from her fiddle to the bar so she has sit in an awkward position. But it's awkward for Muriel at all, she's loving it!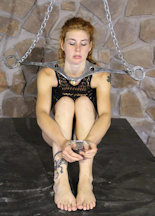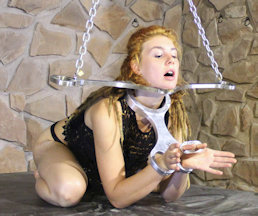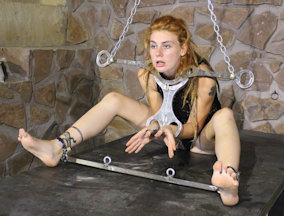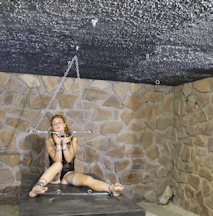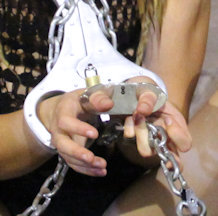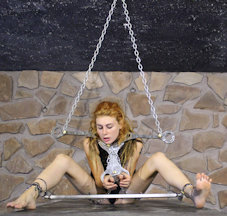 After our metal bondage exercise series on the treadmill, we thought we'd invent something new for the girls to have a workout. Chaining them to an exercise bike would be fun! Not releasing them until they burn a set number of calories. So we invited our friend Natalia Forrest to try this. Just before she arrived, we thought it would be even better to replace the seat with a steel dildo! Natalia was not so sure about this… and she was right. In her high heels, she was chained to the bike and she tried to get the pedals round, going up and down the metal dildo. It was a lot harder than she expected, but it also felt pretty good! Don't try this at home though!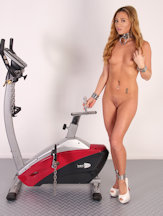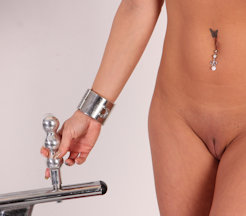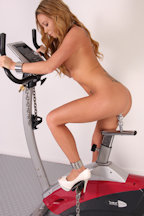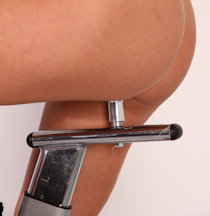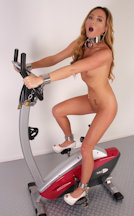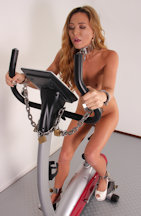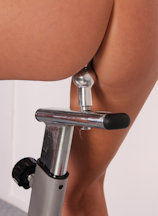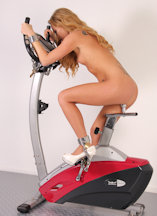 We have the gorgeous German bondage model Muriel again! And we took her into a newly built dungeon to do some raw photography and video. Muriel loves bondage so much, she couldn't wait to see what we had in store for her. She was a bit disappointed when we told her she just 'had to stand there'. Little did she know that standing can be a very harsh predicament. We added chains to her collar and cuffs, then chained her neck to the ceiling. Her feet were chained to a huge rock and her wrists were pulled up behind her back. Standing like this, with no option to rest or sit down, will become a very intense punishment very quickly! Muriel discovered that during this afternoon of fun!