All updates featuring
Vanessa
It has been almost 6 years since we caged Vanessa! Remember this update? Guess what? She is back! In more metal than ever! Tall steel collar, metal cuffs, a full chastity outfit and chained to the inside of the small gimp cage. Her head sticks out of the top of the cage, and there is nothing she can do to escape or even touch herself! It is a desperate situation, so much metal on this gorgeous girl! Welcome back, Vanessa! Stay a while!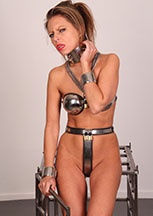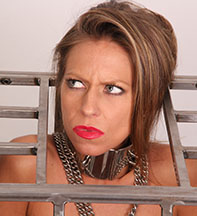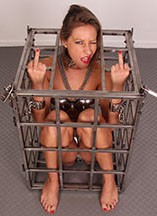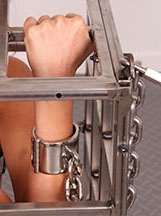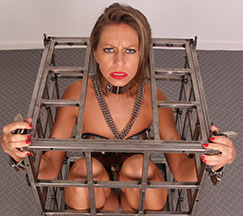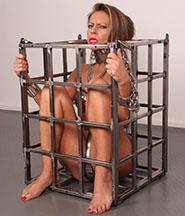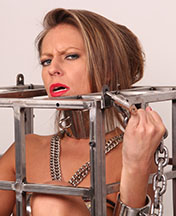 Aaah Vanessa… She always gets to test the best steel bondage devices here at MetalBondage.com! She has been with us over 4 years, and she was belted here for the first time in her life! Vanessa has tried many of our crazy contraptions, and she always regrets it, because we leave her locked in them for a bit longer than she can handle. A little mean, but we have to capture that angry struggle that we like so much! She will always be in a chastity belt, of course, and this time she is testing the versatile Connect-A-Model system. Be sure to check out this regular model: she is a struggler!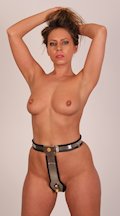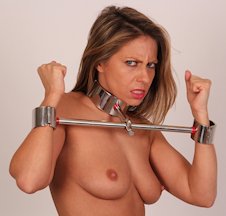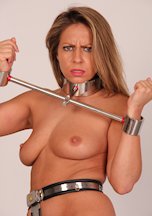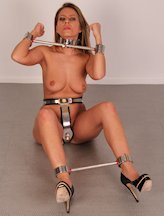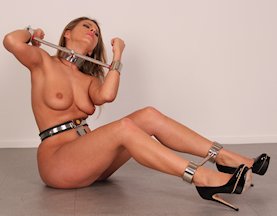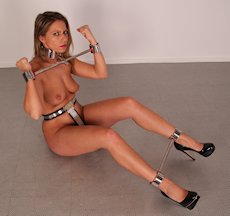 Ooops, we may have made a mistake here. We didn't really explain to Vanessa what we were about to do to her, and now she is extremely pissed off! We thought the frame on the floor and five heavy restraints on her body would make it clear, but apparently not everyone's mind is that kinky. Vanessa did not expect to be restrained in a doggy style position, and she was in it for at least half an hour to get all of the pictures and video. This is a pretty hard position, because her knees are very far apart, giving her almost no leg support, meaning all the pressure is on her shoulders and neck. She is fighting to keep her upper body up high, because the extreme collar is weighing her down. Still, she finds time to curse at us, so she should be alright, don't you think?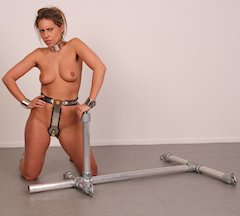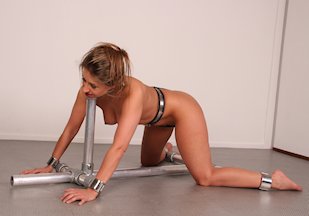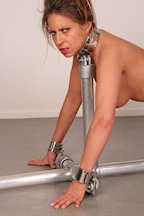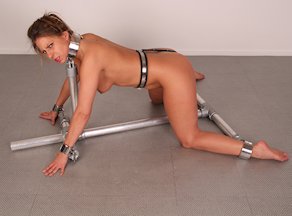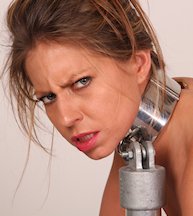 MetalBondage resident pet slave gets a good workout this week. We put her in a RigidStock and a RigidSpreader. She was in those restraints for quite some time, and although it is pretty hard on the shoulders, it was not much of a workout until Vanessa decided to lie down. Getting up in a RigidStock requires very good ab muscles, especially when your ankles are in a spreader. Then we threw her the keys… but only the keys to the spreader, because the RigidStock is inescapable anyway. Even so, unlocking a RigidSpreader while in a RigidStock is also quite a good workout! Vanessa was very tired and sore after this one :)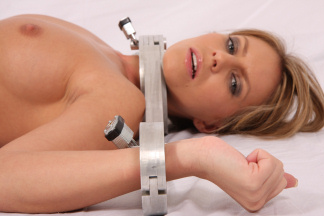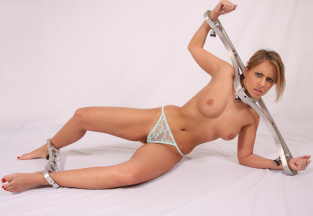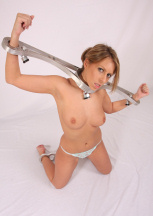 The iron crown returns! This time it takes Vanessa by surprise. The tightly chastity belted girl does not seem to like this device much. We don't understand, we love the iron crown!! What is not to like about having your wrists rigidly connected to your neck, leaving every part of your body completely vulnarable? We made this replica of a medieval restraining device for educational purposes, of course. Iron crowns had almost vanished from memory, so we had to keep history alive! Vanessa just thinks it is a stupid piece of metal, and she is not happy. Little does she know how fabulous she looks, like a queen… wearing her crown :-)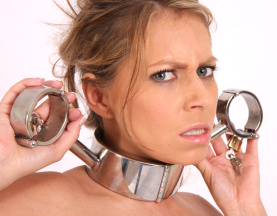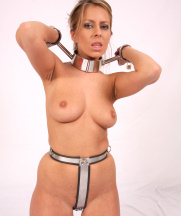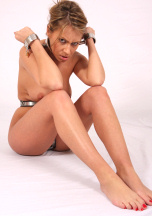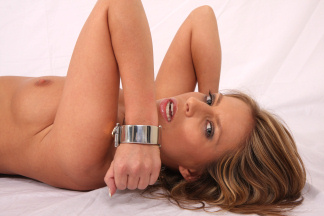 Our heavy bondage gear is not for the weak. Vanessa thinks she can handle it all: heavy collar, thick heavy cuffs on ankles and wrists and the big locking waist belt. We padlock her ankles together and her wrists to her waist. Her expression goes from happy to doubt to 'are you kidding me' to angry during the photo shoot… and then there's the video. Some keys, a good luck wish and Vanessa is on her own. A beautiful struggle, very nice to watch. We would be impressed if she even gets one padlock open, but you never know…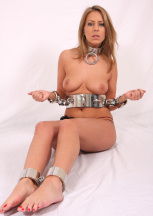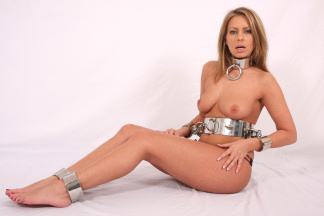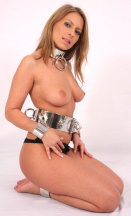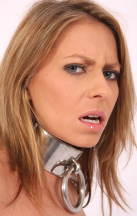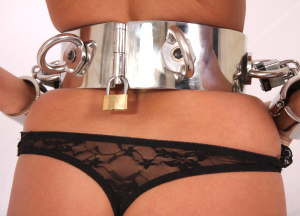 Vanessa is so glad she doesn't have to wear a heavy collar. Just the wrist and ankle cuffs and the chastity belt is bad enough, she thinks. We show Vanessa her new home. It's a very heavy and sturdy metal cage! Reluctantly Vanessa crawls inside, and the door is padlocked shut. Only then does she realise the cage has a built-in locking collar, and she's going to be locked into it! With her head sticking out of the cage, we then lock her wrists to the top corners of the cage, making her completely helpless. What would you do when you found her like this?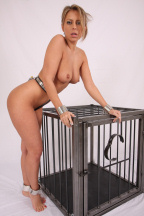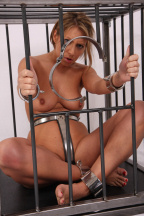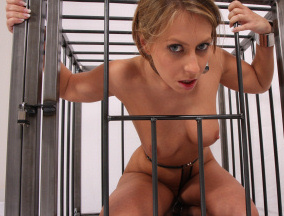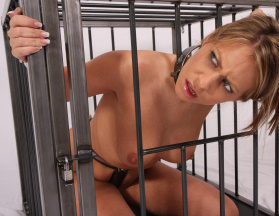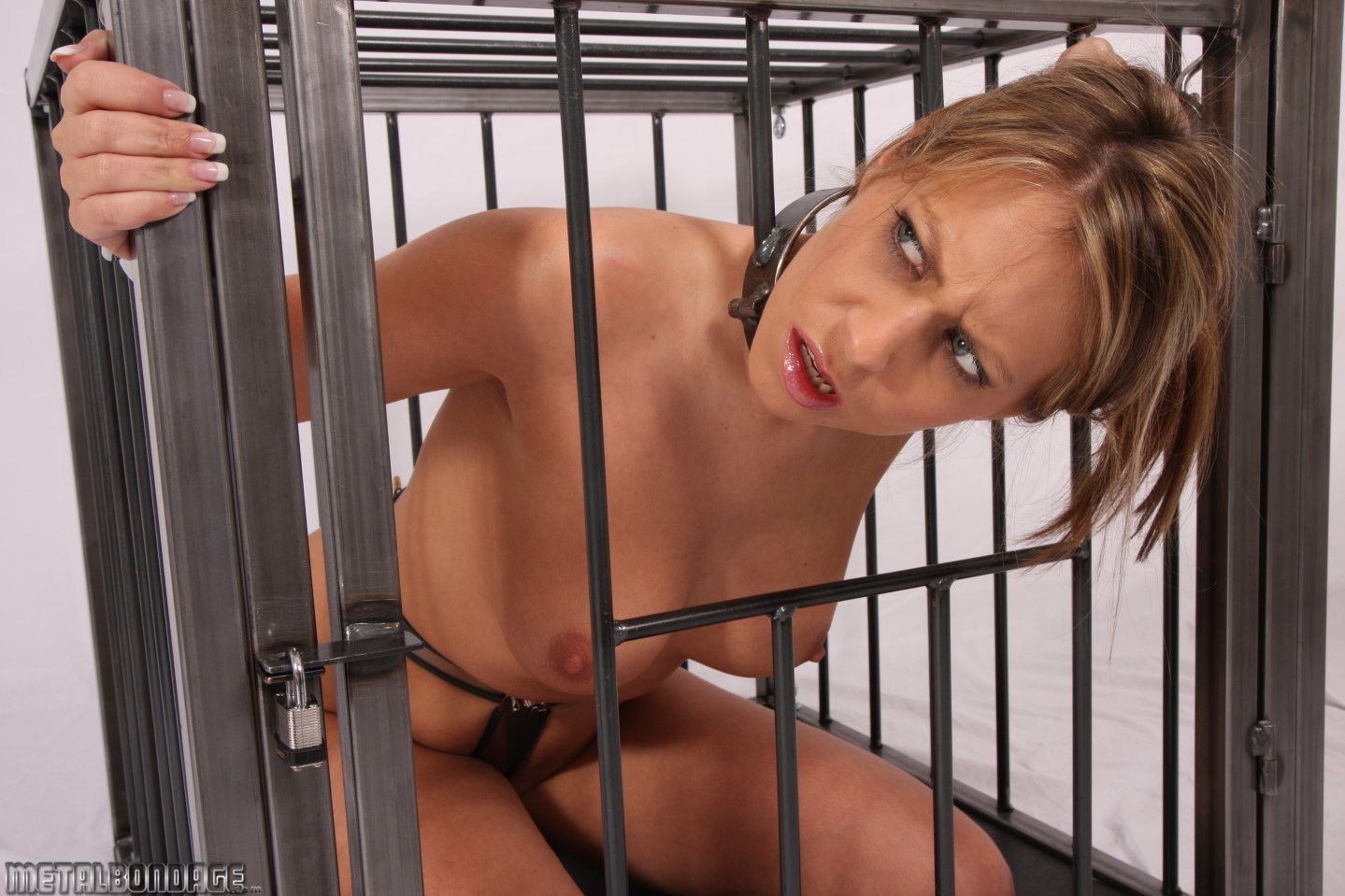 Another new girl at MetalBondage.com! We convinced first timer Vanessa to be locked into a chastity belt. Just a belt, nothing more, like a few of our members have requested. It's great to watch Vanessa as she realises what a chastity belt is for… and that there's no way to get it off. She tries though, she pulls and tugs and even punches the chastity belt, but it remains firmly in place. She will get used to it eventually… we hope.