All updates featuring
Cage with Collar
Aah the cage with the built-in collar! A fan favorite and one that we didn't feature for a long time. Let's get one of our pet slaves to lock herself in the cage again! With her bright blue eyes and massive boobs, Leyla Gold is a perfect play thing (well, she would be if she wasn't locked in a chastity belt for her own protection). Submissive and sultry, Leyla manoeuvres herself into the small cages, locking the door with a padlock. She then locks herself into the built-in collar, leaving her completely helpless. To make sure, we even lock her wrists to the corners of her cage, so she will have to stay on her knees, boobs dangling, big blue eyes pleading… Nice!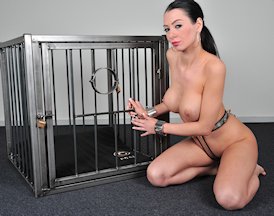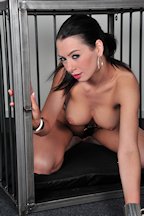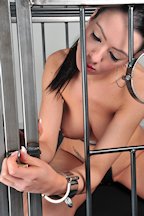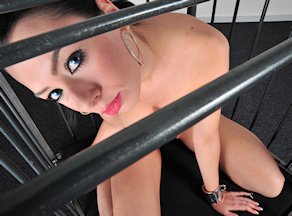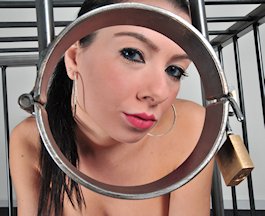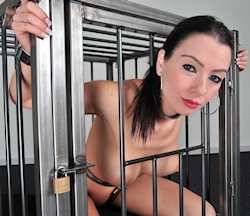 Roswell Ivory is back, and there is no excuse this time: she needs to belted as per popular member request. We barely give her time to get used to the metal chastity belt, presenting her with her next assignment: to lock herself in the cage and its built-in collar. The padlocks are provided, the keys are not. Once she locks the heavy cage door and then the collar around her neck, there is no escape until we release her. But Roswell Ivory is a very tall lady, will she fit in the cage? It will definitely not be comfortable, belted, on her knees, neck locked in unforgiving metal. And then we cuff her hands out of the way… What a lovely view, we are not going to let her out for a while, that is for sure!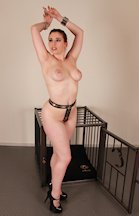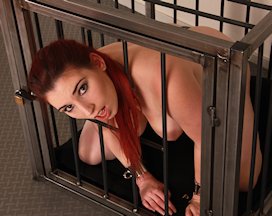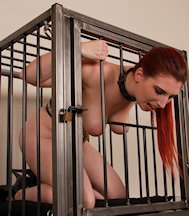 Marloes is getting used to the training here at MetalBondage.com. She knows she always has to wear a chastity belt, and to do the things that she is told to do. Now she is even starting to show initiative, by locking herself into the heavy steel cage. She even locks her own neck in the cage door collar! She can see no keys for these padlocks, so she is probably trusting us to let her out again at some point. But we are not satisfied yet, we lock her wrist cuffs to the top corners of the cage, so we get a clear view of those big natural boobs, leaving poor Marloes totally defenseless. For about an hour… or more… we're not sure yet ;-)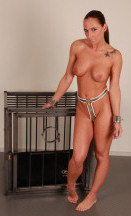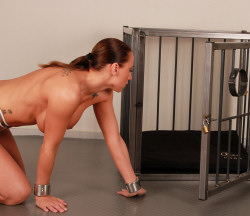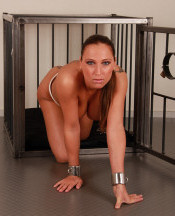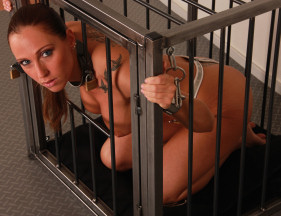 Jenni C is still locked in her very own chastity belt! Watch the perfect fit in this set, you can see the belt remains tight on her skin, no matter which way she moves. We would like to keep Jenni forever! And we have just the thing to do that: a heavy metal cage (it is actually heavier than Jenni). We lure this girl inside with a soft floor padding, and we get her to close the door padlock herself. However, she refuses to lock her neck in the built-in collar, so we just make her, grabbing her hair and clicking the padlock shut. This is great, we can now keep Jenni C forever!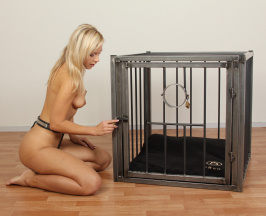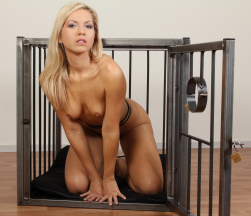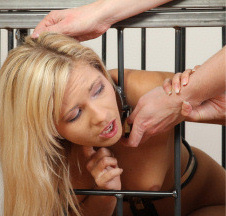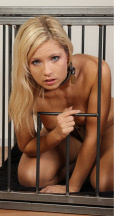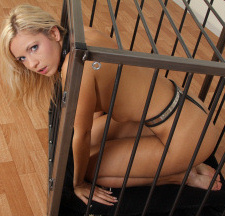 Allow us to introduce Yasmine! This Greek beauty is a curious submissive who loves the touch of cold metal on her skin. We use our hex tool to screw five restraints onto this new pet slave: wrist cuffs, ankle cuffs, and a tight waist cinching steel belt. Yasmine was very curious about this locking system, no visible locks, no keys, and still no escape. No collar either, but then we told her the cage would be her collar, gave her two padlocks and told her to figure it out. Curiosity got the better of Yasmine… watch her lock herself into a perfect slave position, with no hope for escape!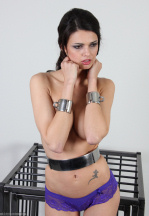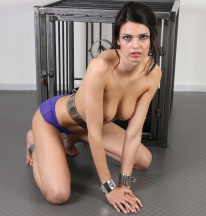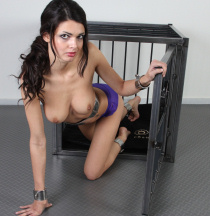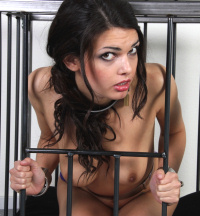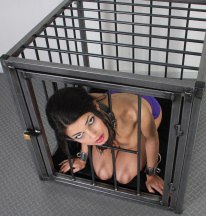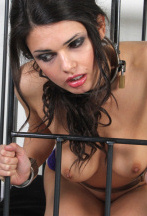 Ariel Piper Fawn is a natural submissive, we knew that even before she came to shoot for our website. Look at her progress: belted on the first shoot, belted herself on the second shoot, almost ripping the belt out of our hands. So when we told her to lock herself into the cage, she did not even think about it, she just does as she is told! The cage only needs two padlocks to lock a model in a very comprimising position, vulnarable from all sides. And Ariel closes both of them herself, without any instructions or hesitation! She is the slave girl everyone would like to own! Please give her some nice comments, she will be reading this ;-)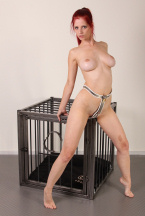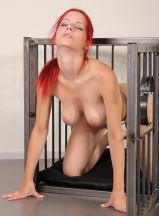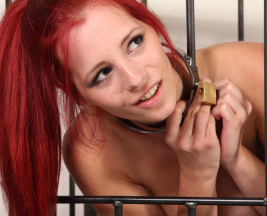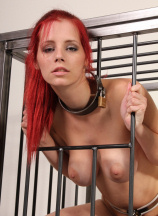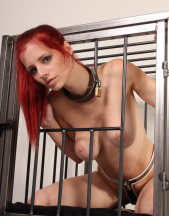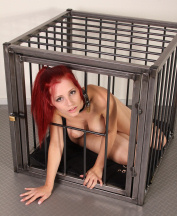 Tracy really loves to touch Ashley Bulgari's boobs. And we don't blame her! How come these girls are so horny all the time? Aaaah, of course, it's the chastity belts! And probably the heavy metal collars too… We try to separate these girls by putting Tracy in the cage and cuffing Ashley to the outside. But even then Tracy finds a way to fondle Ashley. We'd say the chastity belts really did their job! Cage fun with Ashley Bulgari and Tracy, a must see!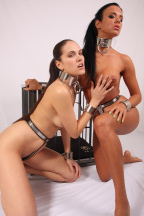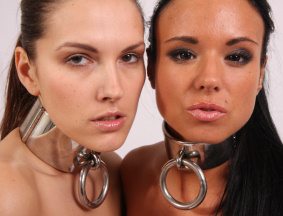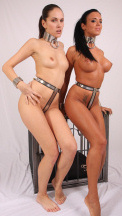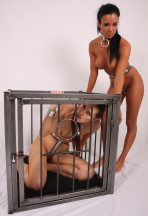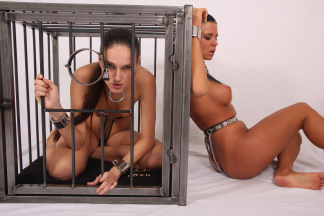 Carie is here for her second time, even though she is a little afraid the easy stuff is over. Last time she could roll around, be silly and have fun. This time she will be stuck in our heavy cage with no room for movement. We make her head poke out of the cage's small built-in locking collar. Young Carie starts to complain right away. It is too awkward to be sitting like this. So we just ballgag her. And lock her wrists to the upper corners of the cage. Carie moans and mumbles… she is very uncomfortable. A perfect moment to lean back and start recording some video. Come on Carie, the keys are right in front of you!! Hehehe…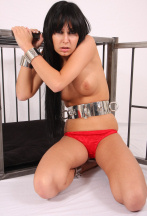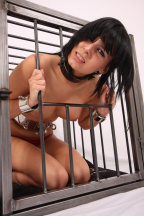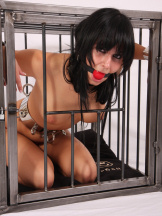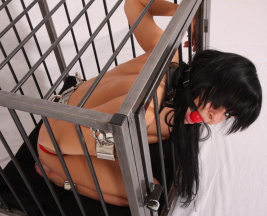 Vanessa is so glad she doesn't have to wear a heavy collar. Just the wrist and ankle cuffs and the chastity belt is bad enough, she thinks. We show Vanessa her new home. It's a very heavy and sturdy metal cage! Reluctantly Vanessa crawls inside, and the door is padlocked shut. Only then does she realise the cage has a built-in locking collar, and she's going to be locked into it! With her head sticking out of the cage, we then lock her wrists to the top corners of the cage, making her completely helpless. What would you do when you found her like this?