All updates featuring
Wheel of Steel
The gorgeous Ivy Red is back! This delicate girl looks a lot more innocent than she really is. Ivy is very kinky! She loves struggling in bondage, even though she is not very strong. But struggling in metal is a new challenge for her, and it can be very hard. Ivy will have to remove her nipple clamps AND get out of the Wheel of Steel to complete the challenge. It's so much fun to see her work hard, straining her elegant body against the cold steel.
Ivy Red is available for custom videos!!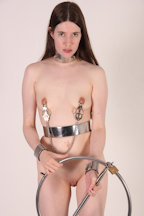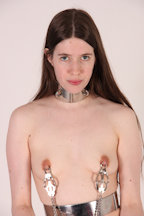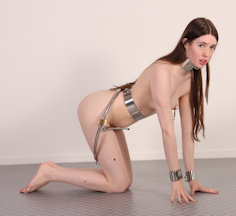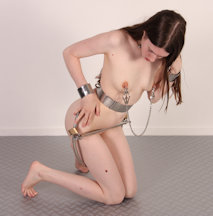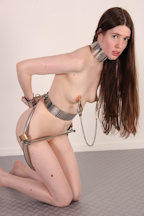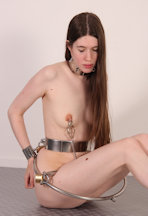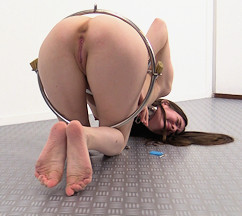 The Wheel of Steel is a crazy invention! This harmless looking circle is one of the most challenging bondage devices ever, as Dominique finds out. Locked in her trusty chastity belt, she is quickly locked into this contraption, making her butt stick out. It is a perfect posture trainer if you want your submissive to stick her butt out more. Dominique can't stand up straight anymore, and you can see her mind working to figure out how to get this thing off her. It is impossible to escape. Even when I threw her the keys, it was not so easy for her to get out, but managed in the end!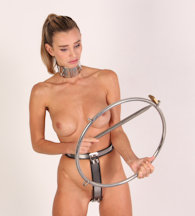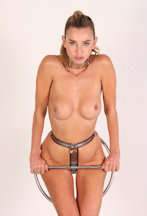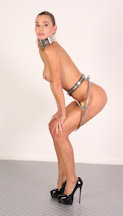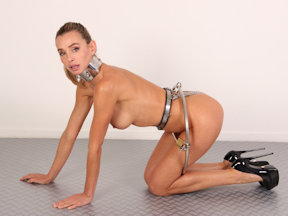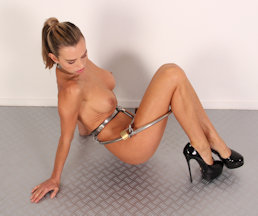 Tall dancer Britney is back for a new challenge! She will try the Wheel of Steel, the bondage device that makes your ass stick out, and prevents you from standing up straight. We cuff her hands to the top of the Wheel of Steel, and we also cuff her elbows. Britney is so flexible! Must be all that dancing! Let's see if those endless legs and arms can be flexible enough to get to the keys on the floor. Of course, it's an impossible challenge, but we didn't tell her that…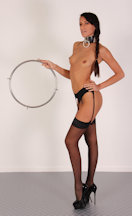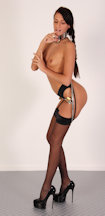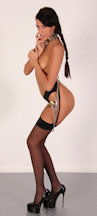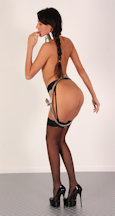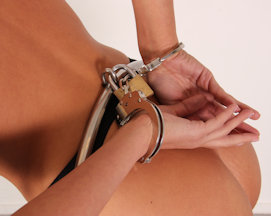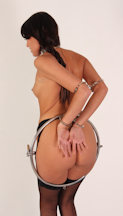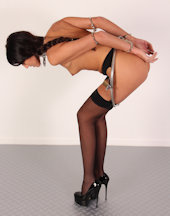 The gorgeous Lauren Crist came back! She was always here with a friend, first with Victoria Sweet, and then with Celeste. Now she was brave enough to come by herself. This tall stunning babe has a perfect body, so we got out a device we haven't used in a long time: the Wheel of Steel! It will prevent her from standing up straight, so she will have to stick her butt out at all times. Very sexy and also very frustrating. Lauren did not really know what to do, but the Wheel was locked on so she could only try to get as comfortable as possible. Not very easy!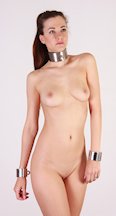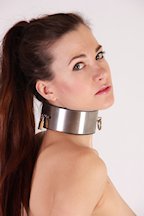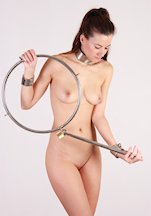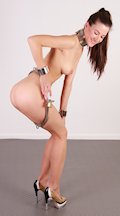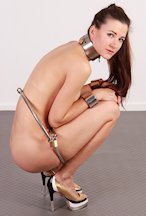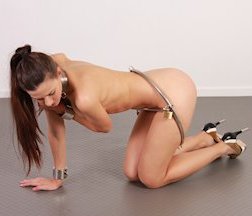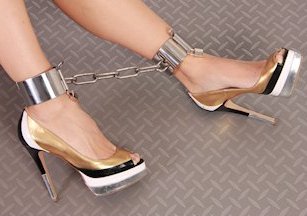 Gorgeous Natalia Forrest has such a nice ass! Fortunately for us (and you), we have just the device for her to display that round booty of hers. With the Wheel of Steel, Natalia has to bend over a little bit, so we can all have a nice view. Her wrists are locked to the sides of the ring, and there is a cross bar in front so she can't get out. It's just great! But of course, Natalia does not think it is so great. She does not like this position, with her ass sticking out for everyone to admire. She complains about it, but what can she do?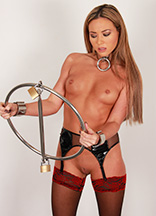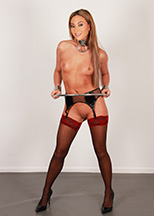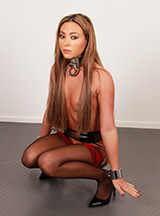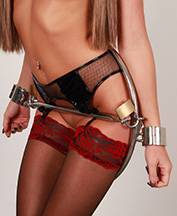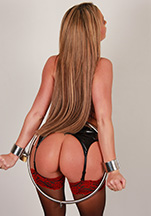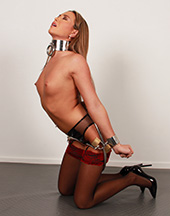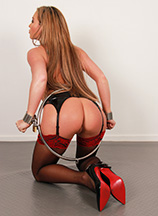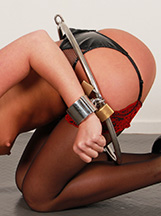 Lily is a bondage loving girl, sweet and innocent, but with some amazing skills. She will hopefully show off these skills in upcoming updates, but for now we have something very evil in mind. We dusted off our Wheel of Steel and locked a spreader bar to it. This metal ring is then fitted onto poor Lily who did not really understand what it was for. But she found out soon enough. This contraption prevents her from straightening her body, making it very hard to stand up (but she managed, with her ass sticking out). And lying down flat is impossible. To finish this update, we locked her wrists to the Wheel as well. Simple yet so evil!!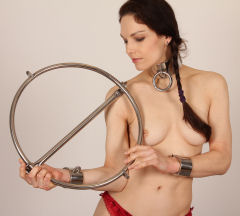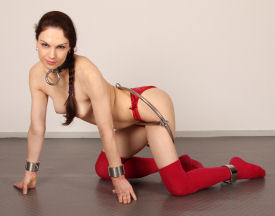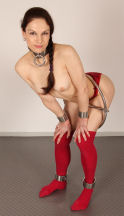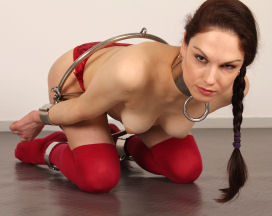 When Angela returned to us for another shoot, we showed her some of the work her fellow pet slaves had done. Angela got very curious about the all chastity belts she was seeing on our website. With a slight hesitation, she tried one on. It fit like it was made for her! We told her she had to pose in the belt now, since it was locked on and there was nothing she could do about it. She just smiled and seemed to enjoy the whole afternoon she was locked into the belt. We did some great subdued posing, her ankles and wrists locked to the Wheel of Steel, a kind of round spreader bar. The dark eyes under those incredible eye lashes tell you all you need to know..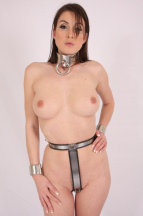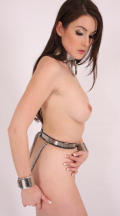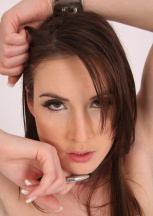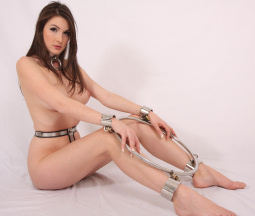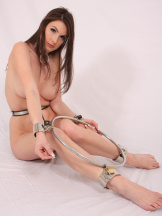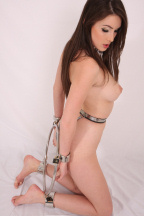 New slave girl Giovanna is initiated by our heavy shackle set: collar, wrist cuffs and ankle cuffs. She looks gorgeous! We padlock her wrists and ankles to our new 'wheel of steel', a heavy metal circle with four attachment points. It proves to be very effective, as we had hoped. Giovanna gets to try to escape our new contraption, we even give her the keys. Will she manage to do it?