All updates featuring
Tanya
Tanya came back for the fourth time, she just can't get enough of this! She was locked in her trusty white chastity belt in no time, and we told her we had something special in store for her. Cooperating with some members, we came up with a method of fully restraining a girl while still leaving her fully exposed (well… if she had not been wearing a chastity belt, that is). Tanya is made to kneel in front of a steel cross, her ankles are locked together behind the pole. With her wrists attached to the cross bar, there is no way she can stand up or even move much. Which in turn makes for a fairly non eventful video clip, but we just like to watch immobilized girls :-)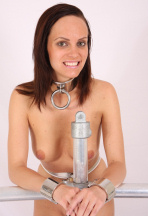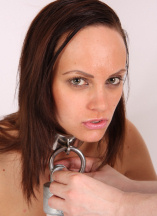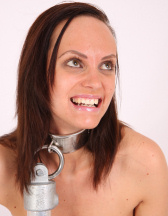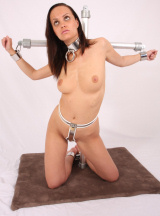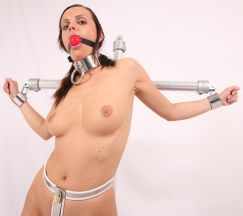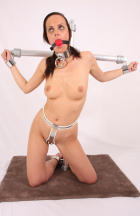 Even sweet Tanya will not escape our rule: third shoot equals chastity belt! Wide eyed Tanya does not seem to need any time to get used to wearing a chastity belt. She is a natural! We add a big steel posture collar and a locking ball gag to keep her occupied. Tanya has the best gag mouth of all our models, her lips are perfectly shaped to enclose a ball gag. She looks sooo beautiful with a gag, those big eyes pleading. Still, eventually we give her the key to the gag, can she work out how to unlock it?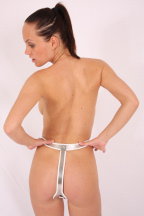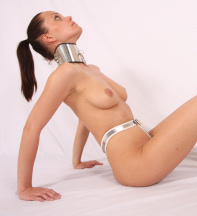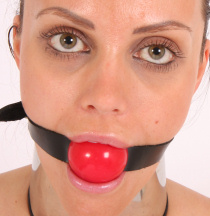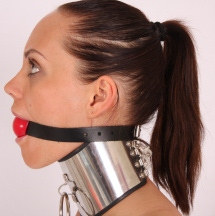 Last time Tanya was on our website, she had way too much fun. So let's get her into some strict metal bondage to wipe the grin off her face! Introducing a brand new collar: it's the tallest collar we ever used! It's not even a posture collar anymore, we had to think of a new name for this thing. Tanya said she felt like a giraffe, so we dubbed it the 'giraffe collar'! We lock Tanya into three bondage positions, to teach her some obedience. First it's wrists crossed behind her back, locked to her tight waist band. Then we lock her wrists to the tall collar, and finally a good slave pose… locking her wrists to her ankles. Our kneeling pet slave Tanya doesn't smile so much now, does she ;-)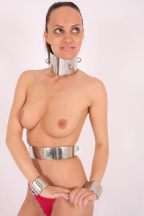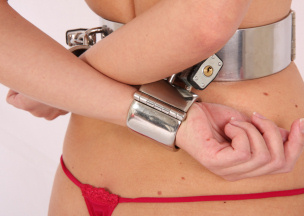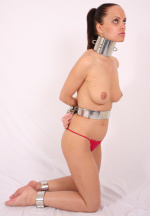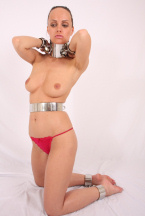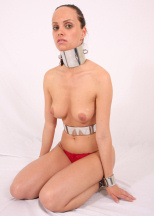 Oh dear, this one is going to be a lot of trouble. New girl Tanya seems to think it is all very funny. She even thinks a RigidFiddle is a cool and snug device for having lots of fun. We show her how we only need three padlocks to make her completely helpless, but Tanya does not seem very bothered. She plays around and investigates, completely undaunted by her limited movement and the rigid devices. It's okay, since this is her first time in metal bondage. But we had a chance to study her, and if you are like us, you will have noticed she has a very nice gag mouth ;-) Next time will not be funny! We promise!