All updates featuring
Posture Fiddle
My newest exclusive model River!! She is incredibly pretty and very curious. Once locked in a chastity belt, I let her roam around the studio. River quickly found a lot of my gear, and she was very interested in the Posture Fiddle. She soon found out how it opened (it is locked with two big padlocks) and I could see she was satisfied to figure out how it worked. Next thing she knew, River woke up in the Posture Fiddle! Not a problem, she thought, the key was right there and she knew how to open it. Or did she…
Do you want a custom video or picture set with River? Just let me know! She needs to try more gear on her muscular little body!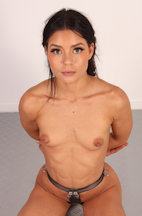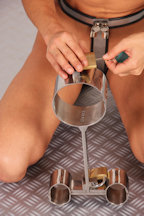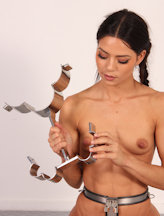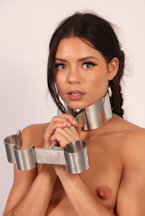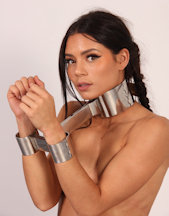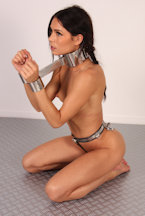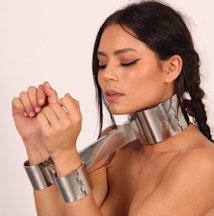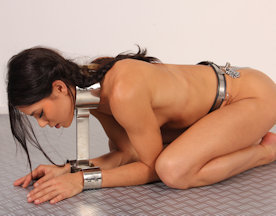 Sophia Smith is doing a Chastity Deal over at ChastityBabes.com. She is doing a lot of tasks and challenges there while locked in full chastity (belt, bra, and thigh bands). She was also locked in a collar, but we took it off for this shoot (which was also part of her Chastity Deal), because we had something more exciting for her! Our custom built Posture Fiddle is a very tough predicament device. It is small, with a very tall collar and oval wrist cuffs. Once locked on, you are really stuck in one position. With a big padlock on the back of the collar and another one beneath the fiddle, there was no chance for Sophia to escape this device. She tried though!! Such a fierce lady, she should be permanently locked in metal!!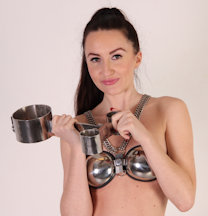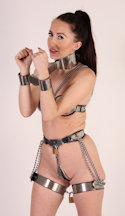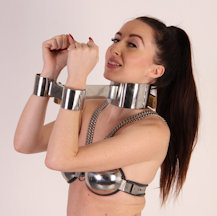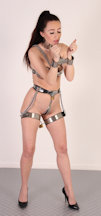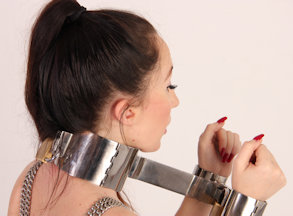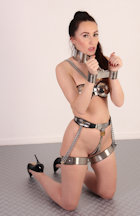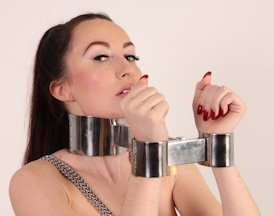 Gorgeous Liane continues her slave training. Remember her (first time ever!) bondage shoot with heavy clamps? That was so impressive. We think she has one of the most awesome figures in the world. Very tiny (smallest waist we ever belted) but great curves. She is special! Liane loves a nice challenge, so we locked her in the heavy Posture Fiddle. It has two locks, none of which can be reached, but we gave her the keys anyway, just to see her try. It's just beautiful to watch her, locked in metal, a bit shy but determined!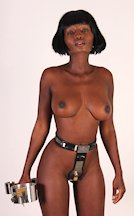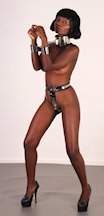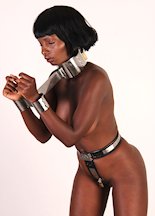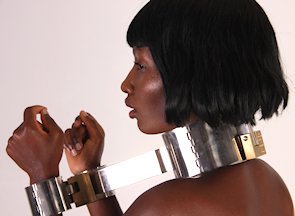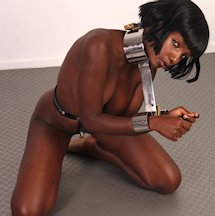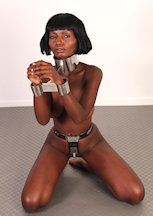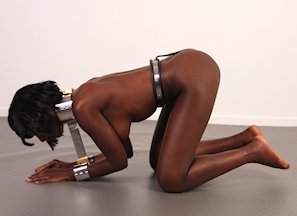 The awesome Little Caprice is back! Locked in a chastity belt, of course, she is way too naughty to go without some protective device. She wondered what would happen to her this time, and she soon found out. She was locked in the custom made Posture Fiddle! This rigid fiddle with a tall posture collar is very harsh. It is impossible to move at all, and Caprice was clearly hoping she wouldn't be in this device for very long. But it only got worse: her ankles were padlocked together with very heavy ankle cuffs. And she was chained to a post. When she tried to complain, a ballgag was added, much to her surprise. Don't miss this incredible update, it is Little Caprice in unforgiving metal bondage, it really doesn't get much better than this!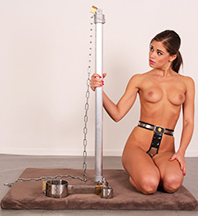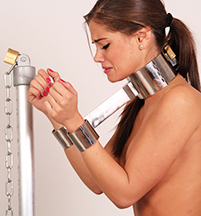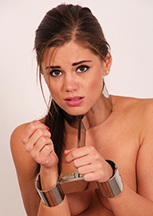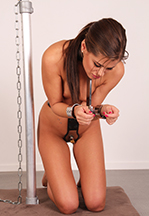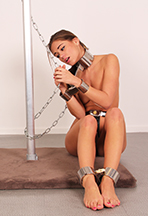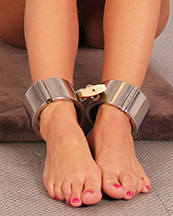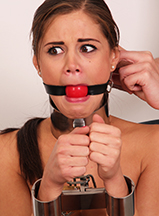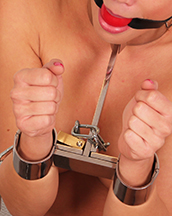 Beautiful girls in beautiful metal! We just love locking the world's most gorgeous girls in unique and heavy steel bondage designs. We haven't used the Posture Fiddle enough, not for all the work that went into it. It is a unique contraption and it's not easy to be locked into this piece of gear. It's almost impossible to move your arms, not to the side, and not up and down (because of the very tall collar). Jenni C finds out she is stuck in this device, but she can always run away. So we attach a pair of chains to her ankles and waist, making it very awkward for her to stand up. She is so beautiful when she gets frustrated!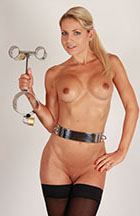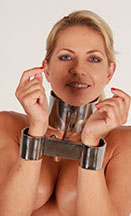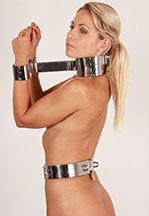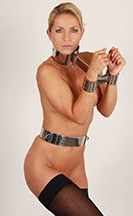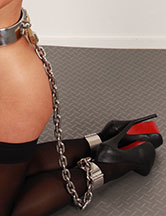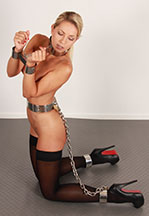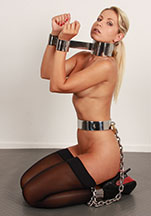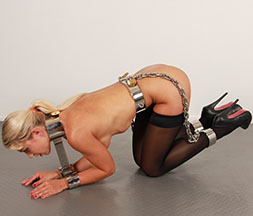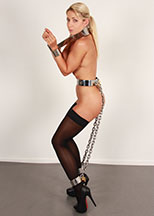 The gorgeous Sylvie returns! Possible one of the most beautiful faces on this planet, the tiny framed Sylvie is not afraid to try anything! We have her locked in a chastity belt and chastity bra, and she is going to take on the extreme Posture Fiddle!! This is going to be good! This custom built tall heavy fiddle is locked with two different block padlocks. The height and the rigidness are severely limiting, it is hard even to turn from side to side! We can leave Sylvie with the keys, she won't be able to escape… it will just be a lot more frustrating!!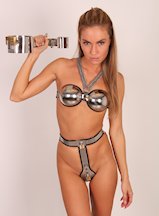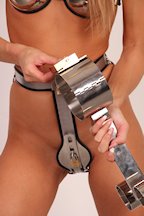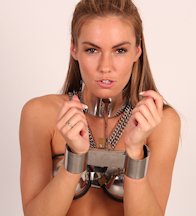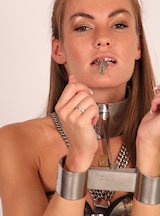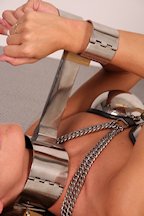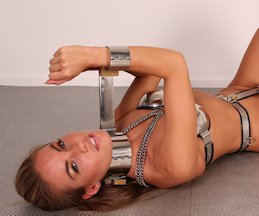 Basically, Cindy Dollar only had one question about this shoot: 'If I am going to be locked in this interesting looking heavy neck thing, why do I have to wear an ultra tight steel waist band?'. It was only much later in the shoot that she would understand, when we locked her ankles to her waist with chains that were just too short to stand up. It seems a little bit harsh to introduce a new model by locking her into one of the most rigid devices we have: the Posture Fiddle. The collar is extreme, and there is no movement in the arms at all (which you can only imagine after seeing the video). Don't worry, Cindy was alright, she is pretty though! And she even wants to come back for more, even though she knows she will definitely be locked in a chastity belt next time!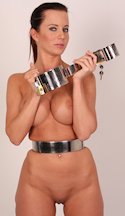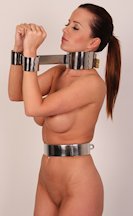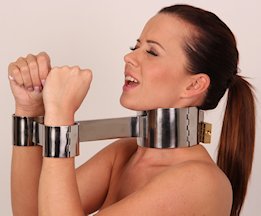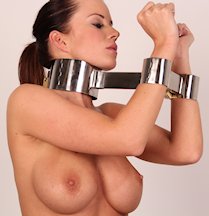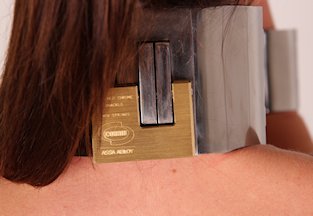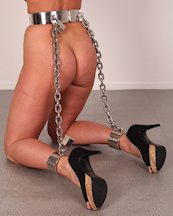 MetalBondage.com is very very proud to present its newest piece of heavy metal bondage gear: the custom built Posture Fiddle! We have used RigidFiddles since the start of this site, and they are nice quality products. But we always want to take things to the extreme. And to do that, you have to build it yourself! Our Posture Fiddle features a very tall double hinged posture collar that locks with a heavy padlock in the back. Then there's a rigid frame connecting two tall wrist cuffs, locked by another heavy padlock.
But there are more new things to play with today! We have found a young golden-haired girl called Tegan, who was locked into a chastity belt and this seriously restrictive device from the moment she entered our studio! Tegan is this year's bondage discovery! She is amazing, loves a challenge, and looks gorgeous in metal! She is inexperienced, but we have a feeling this will change in the next few months! Our very own bondage angel locked into our tight new Posture Fiddle! Don't miss it!