All updates featuring
Yvette Costeau
Uh oh, we have pissed off Yvette Costeau again! Her chastity belt is super tight, she is locked in RigidStocks, and we have padlocked her ankles together. And we had to gag her as well, because last time she was swearing and cursing so much!! She is furious!! We better toss her the keys and get out of the way before we get hit by these metal stocks! Yvette will try everything she can to escape, she will even try to break the stocks! She is a very powerful girl, but don't worry: these stocks are sturdy enough to hold her. She is mad! We are afraid to approach her, so she will have to stay like this until she cools down!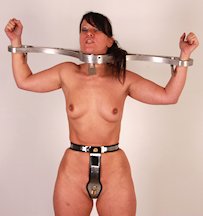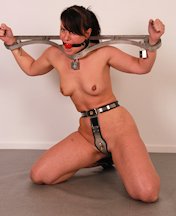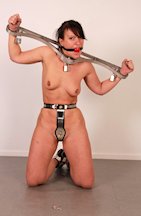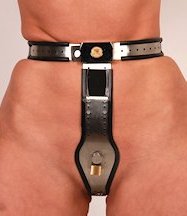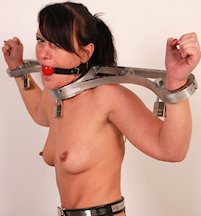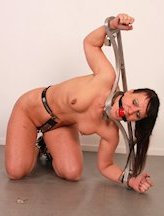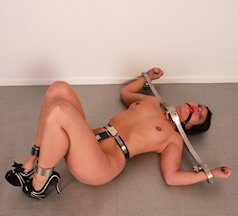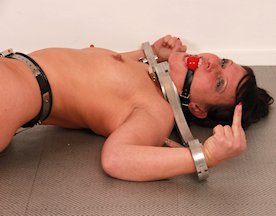 It is so much fun to lock Yvette Costeau in metal bondage!! She is one of the toughest girls out there, and she will definitely give everything in her struggles to get free. So it is necessary to restrain her really really tight in the heaviest metal gear we have! Yvette is nude and corsetted with a heavy waist belt locked over her corset. Her wrists are padlocked to the sides of the belt and her elbows are locked in super tight steel! There is no way she can escape, so we throw her the keys to make her even more frustrated! Watch her mad struggle and cursing (in German)!! Yvette is so much fun to restrain!!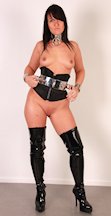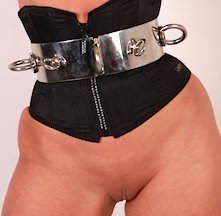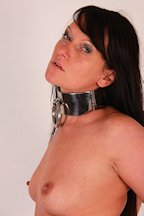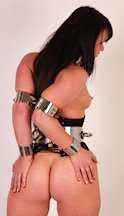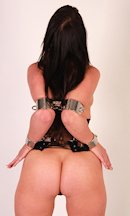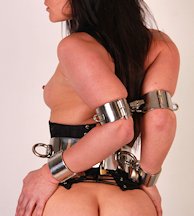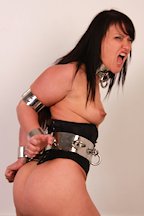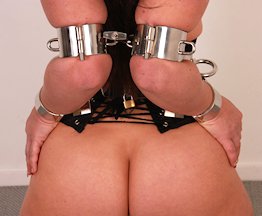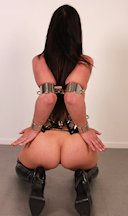 Yvette Costeau likes to call herself 'Yvette Extreme'. Well, let's test her a little to see if she can live up to this title! One of the toughest bondage girls in German, Yvette is used to being contorted in all kinds of rope bondage positions. But metal is different. It is unforgiving, and heavy. We built our favorite hogtie frame again and chained Yvette to it. Ankles, wrists, elbows, and her head. The heavy collar is a real challenge, because it is a bit too tall and heavy for her head to be tilted back by the suspended harness gag. This is the perfect storage device for 'extreme girls'. Let her struggle and drool (a lot!!) for a while. She will get tired eventually.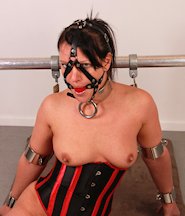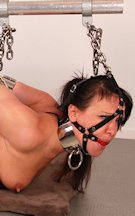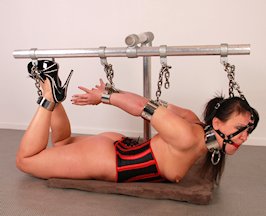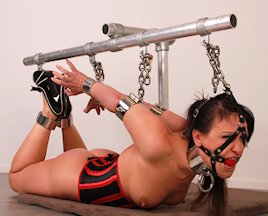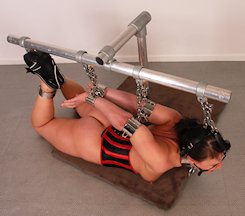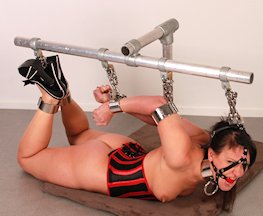 Even Germany's biggest bondage star, Yvette Costeau, was getting curious about 'this metal bondage website'. We are very proud to have her, she doesn't do many shoots other than her own! This is one of the toughest girls around, so we decided to show her our custom made Ballet Stocks. Yvette was intrigued, with all of her experience she had not seen anything like this before. We quickly locked her into it, and it was a very tight fit! It's a hard position, but Yvette liked it, until we nipple clamped her… because that's just the most frustrating thing to do to a girl in Ballet Stocks! Turns out Yvette does not like nipple clamps at all! Well, tough luck, try to get them off yourself! And stop swearing in German ;-)