All updates featuring
Little Caprice
Little Caprice is back and we stuck her on the One Bar Prison again! This time, the device is a lot more sturdy and we left her alone for a while to see what she would do. It was really funny (to us), because Little Caprice found out she was really stuck. Wearing high heels takes away the ability to lift yourself up, so a One Bar Prison becomes a proper bondage device. Hands are free, legs are free, and still Little Caprice is not going anywhere. We told her to put her dress back on and wait. She hates us now, but don't worry, we lowered the dildo… eventually.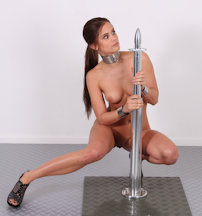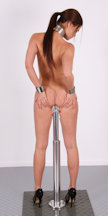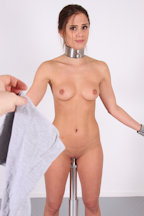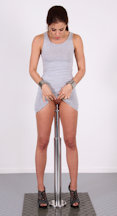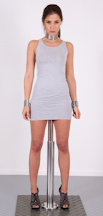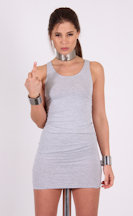 One of the world's most famous girls in one of our unique custom made pieces of heavy metal bondage gear! Just a stunning (and completely naked) Little Caprice trying out this bondage device. Hot girls in cold steel, that is our slogan. And it doesn't get much better than the super cute Caprice struggling, completely helpless with her arms up, in this heavy contraption. She didn't know whether to like it or hate it. But after a while she really got fed up with the position, and she tried getting the keys from the floor to plot her escape. Which is impossible of course, but it is so much fun to see her try!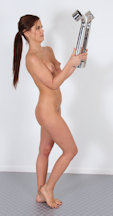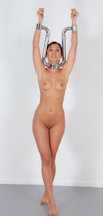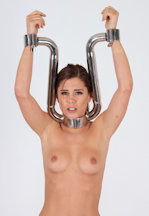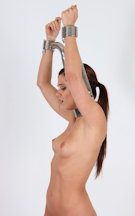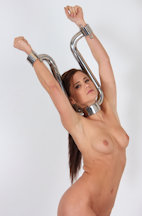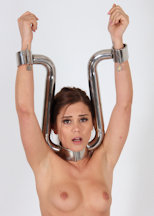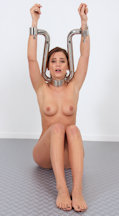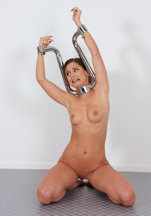 Yes, we know we already put Little Caprice on the Sybian. But it's Little Caprice. On the Sybian. So we had to do it again. We just love vibrating this cute girl when she is unable to stop the super powerful Sybian because she is locked in metal. Her neck is locked to the pipe, her ankle cuffs are chained so she can't stand up, and her wrists are cuffed behind her. Little Caprice is going for a ride again! One of the most popular babes on the net, and we are fortunate enough to shoot with her and let her have a good time. She will always come back for more, or in this case: more of the same.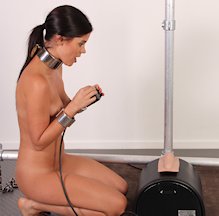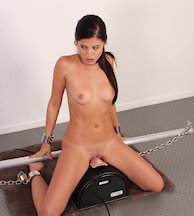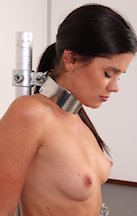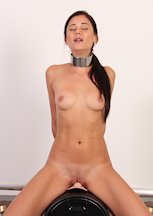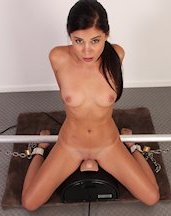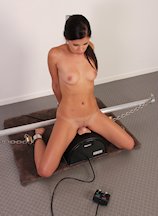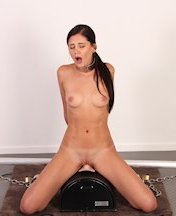 This famous cute babe is always horny. If you don't believe that, just google her! She is literally touching herself all the time. But not today! Caprice is locked in a super heavy and tight custom made chastity belt. She can't even get a finger between the belt and her skin. Still, we think this is not secure enough for her, so we locked her hands in steel mitts. Very frustrated, Caprice still tries to touch herself, but all she can do is bang her mitts against her belt. There will be absolutely no sensation for her, she can't even feel anything. This might seem a little extreme, but trust us, it is the only way to stop Caprice from being a naughty girl all the time.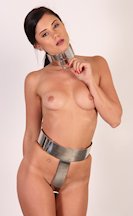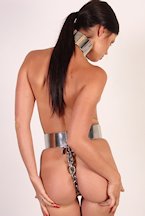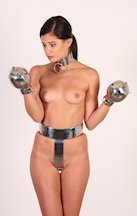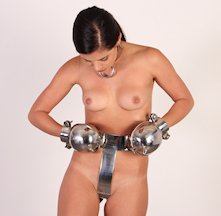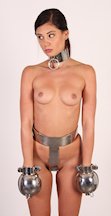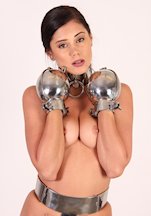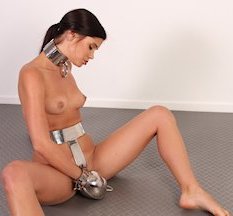 'I need to come over and try the frame!', Little Caprice wrote us in a cute message with lots of emojis. She must have seen the floor frame in one of our updates. Not many people know that the famous Little Caprice is actually a very submissive kinky girl. She loves bondage and especially pet training! She hates chastity belts though, she is way too horny for those. Well, we thought the perfect solution would be to give her exactly what she wants! The frame, but with a little extra bonus, to keep her happy. Turns out she does not like a magic wand when she can not control it. Oh well, she will have to deal with it now!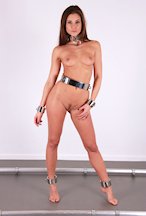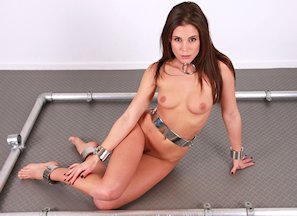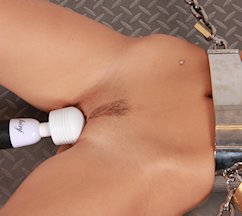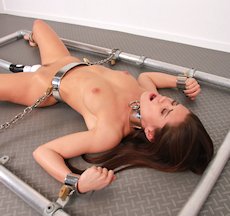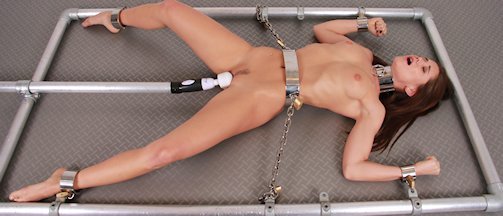 Don't search any further for your favorite bondage scene. This is it! Little Caprice in metal bondage, locked onto a Sybian! This machine is way more powerful than it needs to be, in fact it is the most powerful vibrator in the world. And Little Caprice is a very sensitive cute girl. Her waist and neck are locked to the metal frame, and her arms are attached to her waist, elbows folded over the metal bars. Her ankles are chained behind the Sybian, so she can't get up. The only thing we have to do is switch it on and turn up the speed! Caprice is in for the ride! It was a little too much for her perhaps, she couldn't even stand after this ordeal. Do not miss this, it is awesome!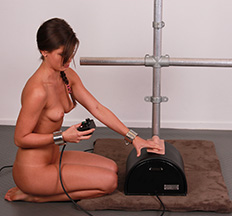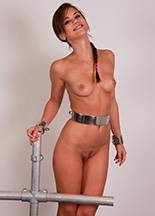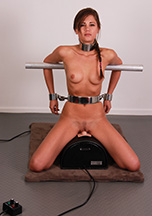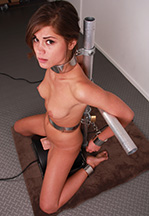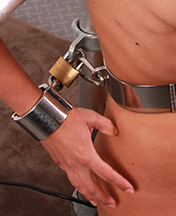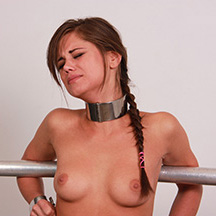 The awesome Little Caprice is back! Locked in a chastity belt, of course, she is way too naughty to go without some protective device. She wondered what would happen to her this time, and she soon found out. She was locked in the custom made Posture Fiddle! This rigid fiddle with a tall posture collar is very harsh. It is impossible to move at all, and Caprice was clearly hoping she wouldn't be in this device for very long. But it only got worse: her ankles were padlocked together with very heavy ankle cuffs. And she was chained to a post. When she tried to complain, a ballgag was added, much to her surprise. Don't miss this incredible update, it is Little Caprice in unforgiving metal bondage, it really doesn't get much better than this!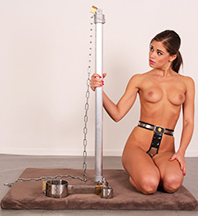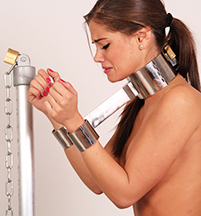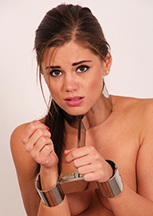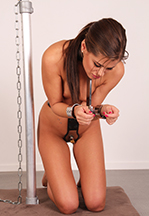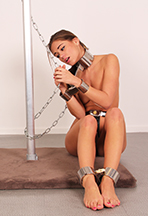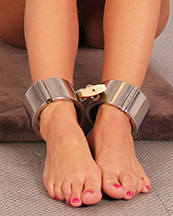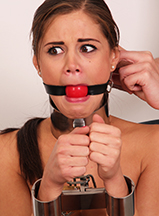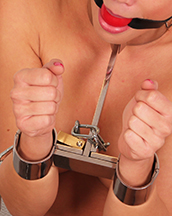 A member requested a girl on the One Bar Prison, in a RigidFiddle, and leg irons. Well, we did not just get any girl: we got Little Caprice! There should be a very very small chance of escape to make her try. But to escape, Caprice would have to get out of the RigidFiddle (something that has only been done by about 2 in every 100 models), and even then she would be stuck on the One Bar Prison. So we used the old version of the dildo pole. Should she somehow escape her fiddle, she would have to bend over and reach the adjuster knob. This all sounds very impossible, but Little Caprice… well she is as amazing as she is famous! Don't miss this!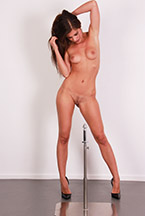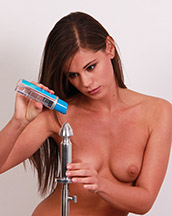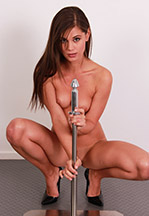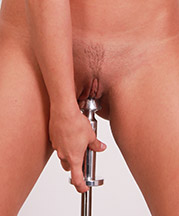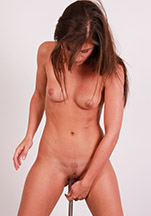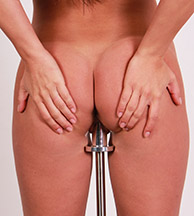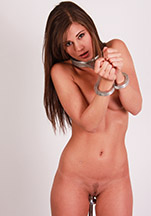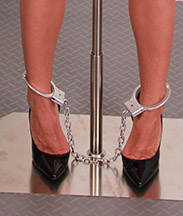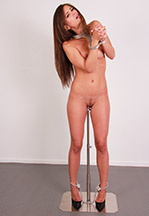 Little Caprice! Who doesn't know her :) She is back, all naked except for a heavy collar and wrist cuffs, and she is looking at the metal pipe construction we built for her! It looks scary, and Little Caprice isn't too sure if she wants to do this… But she has to! She is told to mount the horizontal pipe that makes her stand on her toes. We quickly lock her ankles in place, and attach her wrist cuffs high above her head. Little Caprice is now unable to escape this metal frame, she has to stay on her toes!. Watch her struggle as her legs start trembling and she has to rest her pussy on the cold metal bar.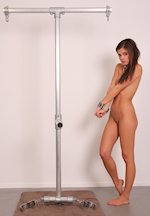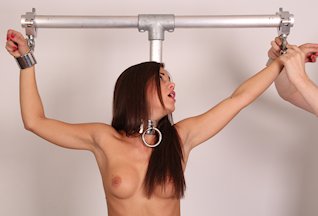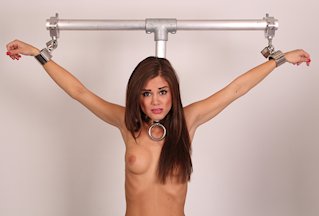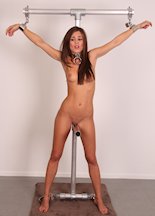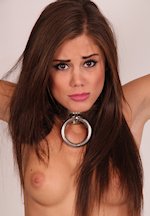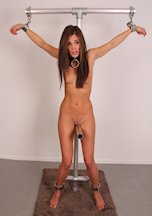 An interesting fact about Little Caprice: she has hyper sensitive nipples! She can climax from touching them. This is why you have never seen her on any website in nipple clamps. She would literally pass out from clover clamps (she tried once). We convinced her to give it a try, exclusively for MetalBondage.com, with a pair of tweezer clamps. Of course, we had to find a way to keep her hands away from them, or she would take them right off. The heavy custom stocks seem to be perfect for the job. Watch a frightened Little Caprice get nipple clamped in this unique update! This is pretty hard for her, even the swinging chain causes her to shriek!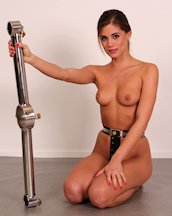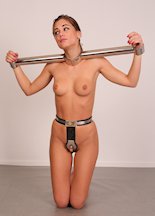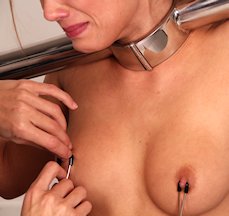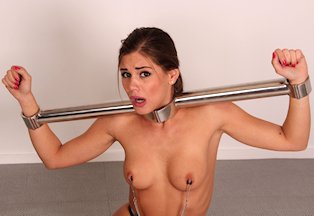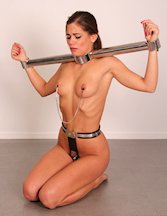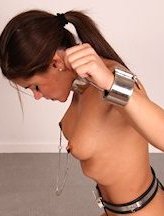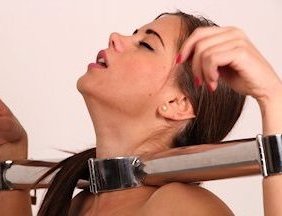 Look what we made with our Connect-A-Model System™! We found out we had enough pieces and cuffs to make a rigid collar connector (hanging from the ceiling) and two pairs of rigid handcuffs! We were so excited! We guess that our super cute young bondage girlfriends Nelly and Little Caprice weren't as excited. But we had to separate them somehow, because they were trying to get their chastity belts off, and we don't allow that. After a good while of precarious balancing on their toes, we decided to let them try to escape! One pair of cuffs requires a special tool that we placed on the floor. Will they work out how to free each other without getting choked? Don't miss this intense challenge! It's one of our best… and it's Little Caprice and Nelly!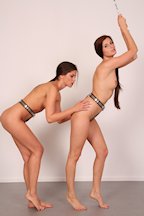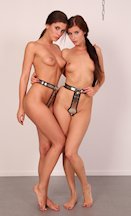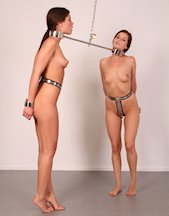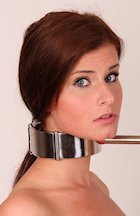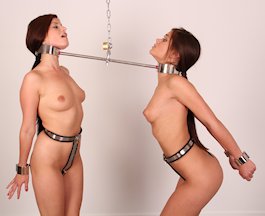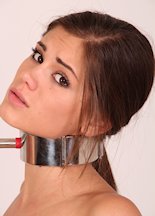 They are back! And we belted them! The very playful Nelly and Little Caprice are instructed to attach a chain leash to each other's collar and sit still in a kneeling position, like two good young slave girls. Well, they got the first part right… but as soon as they discover the joy of pulling each other down by the neck, a big tug of war is initiated. Both girls are submissive in nature, but when placed in bondage together, who will be the more dominant one? Or will they just wear each other out? Great to watch!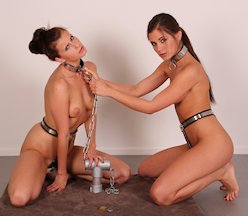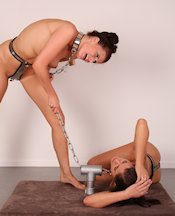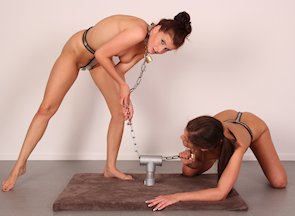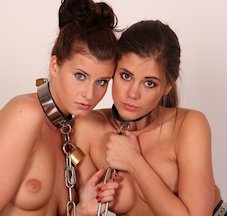 Nelly asked us if she could bring her best friend to her next challenge shoot, and it turned out to be none other than the infinitely cute Little Caprice! Now we had two of the world's cutest young bodies to lock into steel, and we made the best of it! Completely nude, these two super tiny girls are locked into giant heavy collars, tight broad waist bands, and heavy wrist cuffs. We then lock them into a hugging position, and toss them the keys to the padlocks. This is going to be a very hard escape challenge, but it is possible… once they realise all of the padlocks have a different key ;-)